When you talk about a "sleeper" pick, something like a late-round draft pick of some player no one else seems to think highly of, the idea is that this guy will achieve unexpected success or recognition. How to recognize such a player before the fact, however, is anyone's guess. Most of the time it's luck, or some bit of inside information gained during covert activities or via some extra-connected individual.
For this year's Ohio State football team, it's going to be hard to call a guy a sleeper, since most of these guys step on campus with big expectations and lots of high school accolades to back them up. So what I'm going to do is look at the depth chart plus comments from the coaches and players about who is standing out, and I'll try to talk about some guys who are not getting a lot of mentions. From there perhaps I can at least make an educated guess as to who will be this season's Rod Smith.
Last year Smith was not mentioned a lot coming out of fall; most of the talk was about freshmen Bri'onte Dunn and Warren Ball. Smith had started well his freshman year in 2011, but a bout of fumble-itis had relegated him to the bench and there were rumors of a transfer. But he rededicated himself in 2012 and ultimately surpassed both of the freshmen (in fact Ball did not see action), rushing for a nifty 6.7 yards per carry on his 32 opportunities.
In the same way, there will be players who are currently being overlooked but who will get their share of playing time this fall. Freshmen are typically hyped to the stars and then if they do not immediately make a splash they tend to be forgotten the next season in the wake of the latest freshman class. So in my opinion, the majority of sleepers will come from the sophomore and junior classes. That is where you typically find your late-bloomers and I-better-get-my-butt-in-gear-or-my-career-will-be-over types.
CAMREN WILLIAMS
The four-star linebacker prospect from Roxbury, MA got some playing time last season on special teams and earned his first varsity letter. He's in the mix at the Mike position this season but there has been little buzz about him. The focus has been mostly on the perceived resurgence of junior and former five-star prospect Curtis Grant, plus some well-deserved attention for freshman Mike Mitchell. 
Grant has been down lately with some concussion issues, but Mitchell has stepped up and is now listed as second team. Is it now time to forget about Williams? I don't think so. It could be that Mitchell jumps in and starts right away, ala Chris Spielman or Andy Katzenmoyer. But even in that case I think Williams will increase his playing time from last year and perhaps eventually surpass Grant at this position.
COREY "PITTSBURGH" BROWN
The secondary is expected to be a strength for the Buckeye defense this fall, and with good reason. The return (however clouded by recent events) of Bradley Roby plus both safety starters from last season gives the team reason for confidence. Doran Grant has assumed the starting role at cornerback opposite Roby and a lot of attention is focused on upcoming players like redshirt freshman Tyvis Powell and incoming freshmen Vonn Bell and Eli Apple.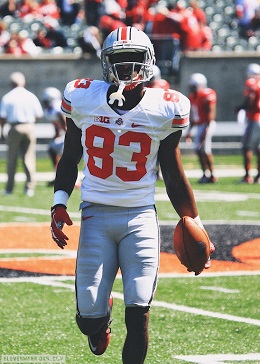 With the ongoing saga of Roby's legal troubles, the battle for the "star" position has taken a back seat. With all the focus on Powell and Bell, 5th-year senior Brown looks like he could get lost in the shuffle. But it could be time for the PA native to shine. He had an excellent spring, prompting Urban Meyer to remark that Brown could be this season's Reid Fragel. That would be nice.
BRI'ONTE DUNN
His name was all over the fall headlines last season, but in 2013 he is in danger of becoming the Invisible Man. The suspension of Carlos Hyde has opened up opportunities at running back, but it does not appear to have helped Dunn get back in the spotlight. The return of Jordan Hall, plus the rapid development of several freshmen and the resurgence of Rod Smith puts the sophomore letterman in a difficult position.
While I believe that Smith benefits the most from Hyde's troubles, I think eventually Dunn will find his way into the action. It could be at the expense of Smith, or Hall, or even Hyde. Ohio State has an embarrassment of riches at the running back position, but when one guy makes some plays then he tends to eclipse the others. Dunn could be that guy this season. 
Michael thomas
In 2012, Thomas was one of the stars of the Spring Game and it appeared that he was ready to make a splash in the fall. But his freshman year did not turn out like he planned. While he did manage to see action in 11 out of 12 games, he caught only 3 passes for 22 yards on the season. 
Lately the coaches have raved at the strides made by receivers Evan Spencer and Corey Brown, but no one is talking about Thomas. The second-year player originally from Los Angeles has been down this road before. Seemingly a late-bloomer, he exploded for 86 receptions for 1656 yards and 21 touchdowns on his way to being named the most improved player in Southern California his senior year in high school. From there, he went to Fork Union Military Academy and ultimately enrolled early at Ohio State.
While Thomas' excellent spring performance did not translate into success in 2012, that did nothing to dampen his enthusiasm for working on his game. Thomas had another outstanding spring in 2013 and, if busting your rear means anything in this game, he should be primed for a breakout year once again. Will he get the opportunity, with the improvement of the other veterans and the flashy speed of the newcomers? Time will tell, but I'm guessing there is a place on this team for a tall target who can go up and get the ball.