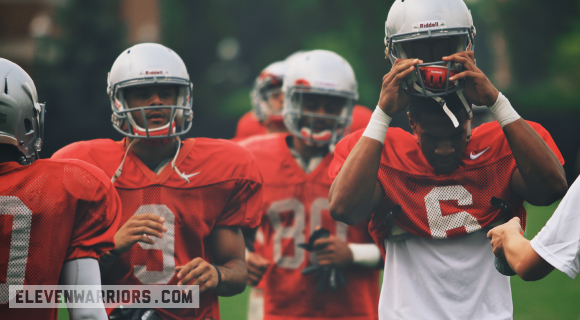 Any time Ohio State football players are available to the media, the scene is straight out of Jaws. Chum is thrown overboard and then surrounded by vicious creatures. In reality, though, sports writers are harmless. Still, when the wide receivers appeared for their question and answer session, they were walled in by eager reporters.
But they wanted to talk about Dontre Wilson. 
"Man, that little joker there is quick," said junior wideout Evan Spencer. "He is so explosive, and you never know where he's going and what kind of move he's going to make."
Wilson has been the story of fall camp. His skill set gives Ohio State the dynamic playmaker its been coveting. All the accolades have led to returning players being overlooked. One of those is Spencer, who finished 2012 with 12 receptions for 136 yards.
Reading those numbers might give reason to forget Spencer. But he heeded the warning that young talent would be arriving. The summer was used as a valuable resource, and Spencer has continued his assault on playing time during fall camp.
"What he's shown flashes of at times he's really done consistently," said wide receivers coach Zach Smith. "He's probably the one I'm most pleased with the step he took."
Urban Meyer echoed those same comments. When your position coach and head coach laud your performance, a boost in confidence ensues. Spencer said the area he's seen a rise in is his route running. Getting in and out of cuts and grabbing the ball out of the air, not letting it flutter to you, is where Spencer honed his skills. Having players on your heels only increases the motivation.
"We've got a lot of young guys that are really good," Spencer said. "We've got a lot of competition. That's what drives me and everyone else to continue to get better."
As a whole, the wide receivers were improved last season. After a nightmarish output in 2011, going up wasn't much of an issue. Meyer thought otherwise during spring practice when he uttered his famous "clown show" line. But inexperienced and untested are no longer appropriate words to describe the unit. 
"A year ago, I told everyone that it was a young group that needed to grow up and develop and get better," Smith said. "That's something they've done. Fast forward a year and they've had trials, tribulations, had hard times, had great successes. So they have grown and learned from mistakes to the point where they're able to be a mature group."
"We've got a lot of competition. That's what drives me and everyone else to continue to get better."
Smith's job no longer includes moments of panic. Few position coaches in the country faced as much uncertainty and pressure as Smith did in 2012. The wide receivers were a source of mystery ever since Meyer was hired. Now, Smith gets rewarding moments when he sees the development in practice.
There's Spencer's improved play, but also two returnees – Philly Brown and Devin Smith – who caught 90 passes between them. Brown and Smith showed they could make important catches during critical moments. Consistency is a want of Zach Smith and Meyer. Proper route running and chewing up yards didn't always happen last year. Some of that is one the quarterback, some falls on the receivers.
"It's so much smoother. Everybody's flowing faster. We all know what our assignments are and we're reacting instead of trying to think," Spencer said. "That's the biggest thing we've improved on since last year. It's really going to help us out this year."
When you receive the full impact of criticism from your head coach, going that extra mile – in the receivers' case, hours of practice – isn't so hard. When he's not coaching or recruiting, Meyer is motivating. And like the other two coaching tasks, he's an expert at getting his players to work hard. Breaking down and building up is included in the two-part process.
"He's given us more compliments this year," said senior wide receiver Chris Fields.
Zach Smith and Meyer knew the makeover was not going to happen overnight. Dysfunction doesn't dramatically improve in days, weeks or, sometimes, even months. But over time, the Buckeyes' receivers have become a reliable unit, some would even say a strength on the team.
"This year you can expect our offense to just shoot up the charts if we keep doing what we're doing and try to eliminate the silly mistakes," Brown said. "We can be one of the top offenses in the country."
One point of contention last year was Brown's inability to have 1,000 yards receiving after catching 60 passes. Meyer lamented his efforts at eluding and breaking away from tacklers. Brown deadpanned, "I'm skinny," when asked by reporters about his escapability before admitting that he put on some weight in the offseason with the help of Mickey Marotti. The added muscle should lead to more receiving yards.
"Philly was the first to say that for however many catches he had, the fact that he didn't have 1,000 yards receiving, he said that's a joke. I mean, what are we talking about? He's much better than that," Zach Smith said. "He's made the conscious effort to improve his body control, how quickly he changes directions, because the natural, physical ability is there and it always has been."
Still, Smith won't let complacency creep into the receivers' meeting room. Hearing good things all the time can have the opposite effect of the negative talk. Instead of working hard, players rest on their laurels. Don't expect that to happen with Smith in charge.
"We've taken a step, we're no longer dysfunctional, now lets really go be the best wide receiver unit in the country," he said.
Mission: not impossible.