Hello Ohio State. Welcome... TO DIE!
The first four games are complete. The Ohio State Buckeyes find themselves sitting pretty at 4-0, having easily dispatched the sugary treats that comprise the first third of their schedule. Looming is the Big Ten season, a veritable murderer's row of teams all ready and willing to inflict maximum pain on Ohio State in payback for years of beatdowns and humiliations. Wisconsin, Northwestern, Iowa, and Penn State are just the beginning of the football equivalent of the '27 Yankees lineup.
- No one, ever
LET'S GET COCKY! Some people are saying that aside from the annual anxiety attack that is the Michigan game, this is the supposed stretch of the schedule where an unexpected team might jump up and bite Ohio State on the ass. The name "Northwestern" has been thrown around without the modifier "-now there's a team Ohio State thoroughly and consistently has destroyed with almost perfect consistency for the past 29 years." "Hey maybe Penn State could surprise some people!" "That Gary Andersen knows how to coach kids up, they might be a threat!" "...Iowa's bad."
And maybe there's some truth to all of that. Especially the part about Iowa being bad. But if Ohio State can get through this part of their schedule untouched, it might be time to start thinking big. And not B1G big, but BCS big.
Wisconsin – 9/28
The aforementioned Gary Andersen takes over for my personal favorite punching bag Bret Bielema, making Wisconsin slightly more likeable as long as you forget about their fans and Jay Valai giving Dane Sanzenbacher all those concussions. Andersen comes from Utah State, which is my secret Mountain West crush, and he should do pretty well in Madison. But who cares, this is E2B weekend. Wisconsin's screwed.
OFFENSE: Doing "pretty well" is likely the extent of it for 2013. The Badgers return a decent amount of their core team from last season, but there also probably won't be a marked improvement in any particular area. The running game will continue to be an emphasis, mostly because QB Joel Stave kind of blows and they don't have any reliable wideouts beside Jared Abbrederis. TE Jacob Pedersen will probably help out, but the truth is that they'll only be as dangerous is Stave can make them.
So it's the James White show! Montee Ball is gone, and White will take over along with fellow RB Melvin Gordon, who shows a ton of promise. I'm personally not impressed with White: he shows flashes against bad defenses, but can also be completely shut down by good defenses. Don't be surprised if the James White show is canceled after testing poorly in the target demographic and Gordon is brought in to appeal to advertisers.
DEFENSE: Speaking of defense, the Badgers should be solid (especially up front and with the linebackers) but need to replace starters in the secondary, which could end up being a big area of vulnerability.
Still, linebackers Chris Borland and Mike Taylor are both legit football players; Borland alone had 104 tackles and 4.5 sacks in 2012. Expect those numbers to go even higher this season as Andersen will likely try to funnel his opponent's offense toward his most talented defensive players.
PLAYER to WATCH: Abbrederis. 17.1 yards per catch is pretty good, and honestly if there's anyone on this team of having a dominant, breakout kind of season, it's this dude.
Northwestern – 10/5
My college football spirit animal. Yes, Northwestern has lost to Ohio State 28 out of the last 29 seasons, and yes Jim Tressel beat them four times in a row by an average score of 51-9, and no, they still don't really have the depth to run with the Ohio States and Michigans of the world but this time will be different dammit! At Ryan Field! In primetime! They won a bowl game!
OFFENSE: And the reason why they won that bowl game was because Northwestern had and continues to retain the services of some extremely talented offensive weapons. Last season Kain Colter split time with Trevor Siemian at quarterback, but this season it's his show alone. Colter is a dual threat QB, and he should easily improve on both his 894 yards of rushing and his 872 yards of passing.
Helping him out at RB is Venric Mark, an underrated back who probably rushed for the quietest 1366 yards in human history last season. The dude didn't just beat up on the pink frilly panties of the schedule either: he had eight games of 100 yards or more.
Both of these guys should be a really tough 1-2 punch all season, and probably will be the main reason why Northwestern gets to 7-9 wins again.
DEFENSE: This is why people are starting to take Northwestern seriously. In the past, you could say "yeah they have Tyrell Sutton/Mike Kafka/Dan Persa/whichever cardigan-wearing tortured soul poet they find wandering the streets of Chicago and convinced to play QB... BUT..." and the "but" always meant a pregnant pause before a quick "theirdefensereallysucks."
The problem for Big Ten opponents is that their defense seems to be transitioning from bad to average to sort of okay. Their linebackers are productive, their secondary is occasionally competent, and now they can bust out senior DL Tyler Scott (he of nine sacks last season) to do some damage. They won't be great, but they could be decent, which will be enough to scare some people.
PLAYER to WATCH: Kicker Jeff Budzien is really, really good. If it's a close game, at night, at Ryan Field, in early October, he might... gulp... make the difference? No... no. That's crazy talk. Iowa.
Iowa – 10/19
Iowa's bad. Kirk Ferentz probably doesn't care, offensive coordinator Greg Davis might care but isn't good enough to do anything about it, and Iowa fans have mostly resigned themselves to seething in a quiet Midwestern rage while nursing a flask of moonshine. Kirk Ferentz made well over $3,000,000 dollars to deliver a 4-8 season to Iowa City in 2012. He will get paid slightly more to deliver slightly more wins in 2013. Maybe.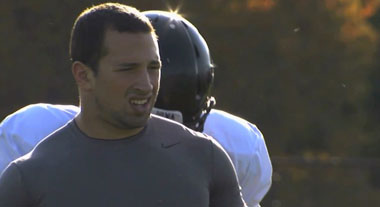 OFFENSE: And by "maybe" I mean he might win more games this season, not "maybe" he'll get paid more. Because he'll definitely get paid more, it's built into his contract. Anyway, no one is really sure who the quarterback is going to be that'll try and get him that one or possibly two more wins. James Vandenberg and his hot mom are no longer with us, so Iowa will get to pick from three dudes, all with zero experience whatsoever. Fun!
RB Mark Weisman is holding down the starting running back spot in defiance of God's will (or at least, the Angry Iowa Running Back Hating God), and is actually pretty serviceable. He's got the ability to hit 1000 yards rushing this season. Assuming there are no... accidents...
DEFENSE: Once a strength, now not a strength, the Hawkeyes are going to have to find a way to replace outstanding DB Micah Hyde and also figure out how to prevent teams from knocking their defensive line on their butts every single play.
The linebackers are good. Anthony Hitchens, James Morris, and Christian Kirksey are tackling machines and are very active all around the field. The biggest problem for them will be deciding whether to back up a poor-to-mediocre defensive line, or trotting back to help out a green secondary.
PLAYER to WATCH: Whoever pops Kirk Ferentz in the gob if Iowa loses six straight to end the season like they did last year.
Penn State – 10/26
Bill O'Brien is a goddamn saint. He took the world's worst job, did an impossibly good job at it given the circumstances, and then stayed in said job even though he knows it's only going to get worse. And boy howdy is it about to get worse.
OFFENSE: I like Zach Zwinak, I really do. He's scrappy, does a great job against bad teams and plays really poorly against good teams. Truly a latter day Evan Royster, and he'll get to continue to prove that this season because guess what, Penn State has exactly the same problem that Iowa does in that they have zero experience at QB. WR Adam Robinson was the Big Ten's best last season (accumulating over 1000 yards) and their tight ends are excellent, so that should help out, but overall this offense is going to operate in fits and starts.
DEFENSE: Penn State had a surprisingly good defense last season. They were one of the better teams at defending the run, allowing only 124 yards per game, but that was at least partially thanks to terrific linebackers like Michael Mauti and Gerald Hodges. Both of those guys are gone, which leaves a hole in the defense a mile wide. The secondary should be somewhat improved from last season to make things a bit easier, but expect them to lean on guys like DL Deion Barnes a lot more.
PLAYER to WATCH: Robinson. He was not given the pub he probably deserved last season, and though he'll be hard pressed to replicate what he did in 2012, he will still be one of the B1G's best wideouts.