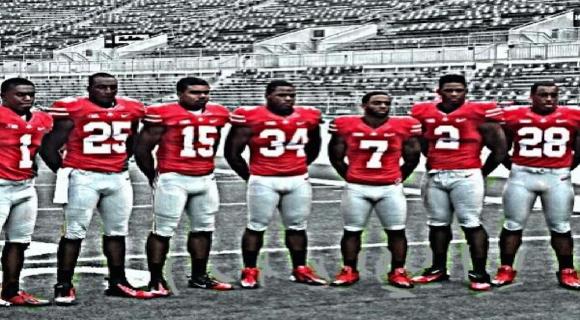 The offseason was buzzing along and all was well in Columbus until one mid-July night. Poor judgment was exhibited in Carlos Hyde and, suddenly, Ohio State's nearly 1,000-yard running back's season was put on hold. Hyde, a run-out-the-clock and pass protection artist, will miss at least the first three games of the season.
Initial thoughts verged more on panic than optimism. Losing any player for a considerable length of time is frowned up, even more so when it's an integral piece to a successful offense. A funny thing happens, though, when the heat rises. Competition and adversity creates advancement. They call it competitive excellence at Ohio State.
"It's a matter of adding depth, quality depth," said running backs coach Stan Drayton. "It's something we weren't able to do last season."
Now there may not be enough footballs to go around. Jordan Hall, Rod Smith, Bri'onte Dunn, Warren Ball, Dontre Wilson, Ezekiel Elliott and Hyde have all been mentioned as ball carriers for the coming season.
"I think we're going to be one the best [position groups] in the country," said Elliott, who received praise from Urban Meyer Tuesday on ESPN. 
It's Hall, though, who has been the forgotten man. Not anymore, at least not the way Drayton talks. According to him, Hall will be the Week 1 starter.
The past 12 months have been a whirlwind for the once-promising recruit. Pegged by Meyer as the team's biggest playmaker in 2012, things went awry when Hall stepped on a piece of glass during the summer, causing him to miss the season's first two games.
Once he returned to the field, Hall averaged 5.5 yards per carry. Then he suffered another injury. This time it was a knee, and season ending. Amid all the bad news, however, came a stroke of luck; the NCAA granted Hall another year of eligibility.
The question then became what position would Hall play, because Hyde had solidified himself as the team's starting running back. When spring practice commenced, Hall began learning the ins and outs of the H-back position. Some four months later, he is once again in the backfield.
"I just want to be on the field and help this team win," Hall said. "I'm ready for anything anywhere they put me. I'll never take anything for granted. It was hard watching the team last year. Every time I'm in, it's 100 percent go."
The plan all along, according to Drayton, was for Hall to be a rover, moving from H-back to running back. For the third season in a row, though, Ohio State's plans have needed readjusting. Hall was suspended two seasons ago and injured last year. So far, the audibles have worked out all right for the Buckeyes.
The man backing up Hall has traveled another unpredictable odyssey. From ballyhooed prospect to fan punching bag back to a starring role, one could say Rod Smith has seen it all.
"Who's going to be the most explosive on a most consistent basis? That's what it's coming down to right now, which is a great problem to have."
In his first career game, Smith was Ohio State's leading rusher. The following week he nearly became the ultimate goat. It's been 92 years since the Buckeyes lost to an in-state foe. But that streak nearly ended in 2011 when Smith developed a severe outbreak of fumble-itis against Toledo. He had four carries the rest of the season and was briefly moved to linebacker. But that wasn't the end of his troubles.
Smith missed the team plane for the Gator Bowl and never showed up in Jacksonville. Meyer encouraged transferring, but Smith dug in and earned playing time in 2012. Now he's slated to be one of the team's top ball carriers.
"Nothing has changed for me," Smith said. "I'm not surprised at all. I knew what I was capable of. Coming in with a group of great backs, you have to be humble. When your time is called, you have to be prepared.
"I'm just trying to go out, work hard, get better at my craft and be a leader for the young guys. It's a great individual opportunity for me, but the team goal hasn't changed. We're competing for something big this year."
That's why Smith worked during all hours of the day in the offseason. Among the areas he concentrated on was ball security. Smith says the dubious beginning to his career isn't in his head despite the summer work. 
"It's not a thing," he promised. "I don't know how to talk about it. It's never been an issue for me. I feel like the media made it a big deal, but you have to block it out and work on your game. You can't worry about what other people think."
The top priority, though, was learning Ohio State's complex playbook to perfection. He said he accomplished it – "I know it like the back of my hand" – which bodes well for playing time. Smith also improved his pass protection, one of the most underrated aspects of being a running back.
Elliott, who's also in the process of deciphering the Rorschach test that is the Ohio State playbook, agreed with Smith's assessment of picking up defenders that reach the backfield. There aren't many Adolphus Washingtons and Ryan Shaziers in Missouri.
"You have a lot of faster and bigger guys," Elliott said. "You aren't used to holes opening and closing that fast. The biggest adjustment is pass protection. That's a pain, having to make those reads and block guys like Adolphus and Ryan Shazier. That's my biggest adjustment to college football."
The infusion of youth on the Buckeyes is apparent at nearly every position, but especially running back with Elliott and Wilson. It remains to be seen how often Wilson is lined up as a tailback. At media day, Wilson revealed that Meyer recruited him to fill the hybrid role A.K.A. be the next Percy Harvin.
"I see myself when the offense needs a spark or big play, I can come in and change the game," Wilson said. "I think I can come out on the field and do great things."
The season is still more than two weeks away, yet it's already evident the freshmen have made an impact on the 2013 Buckeyes.
"They are a bunch of young guys who are not afraid," Drayton said. They're hungry and competing with the older guys. They're pushing this team to new heights. Any time you can have a freshmen class come in and pick up on what we're asking them to do and have a competitive edge, then you stand a chance at those guys getting on the field early."
Even as the low man on the totem pole, Hyde remains the ringleader of the group.
"He's been phenomenal," Drayton said. "He's coaching those young guys. Carlos is very smart. He understands the game. His vision is impeccable. He can talk to those kids and give true advice on knowledge and experience. That part of it alone has been priceless.
"He's handling the adversity well. It's going to hit any individual hard when you take away something they love. But I've been pleased with the way he's responded."
The same can be said for the entire cluster of running backs.
"You know they're going to bring a work ethic and bring a purpose. Now it's a matter of the dynamics," Drayton said. "Who's going to be the most explosive on a most consistent basis? That's what it's coming down to right now, which is a great problem to have."