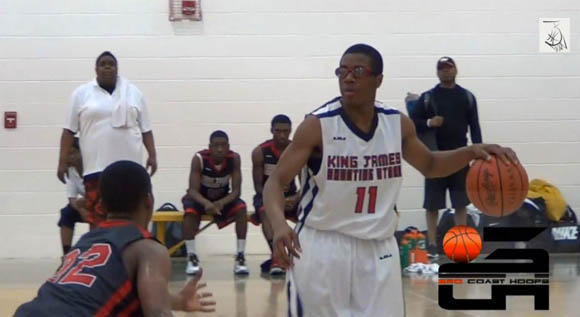 Class of 2015 point guard A.J. Harris committed to Ohio State after an unofficial visit to the school, becoming the first member of Thad Matta's 2015 class.
"At the end of my visit (today) they offered me and I was so shocked, because I didn't think they would offer me this early," Harris told Eleven Warriors, following his commitment. "It's so amazing."
Ohio State assistant coach Jeff Boals was understandably cryptically excited.
Boom!! Goes the Dynamite!! #Buckeyes

— Jeff Boals (@JeffBoals) August 13, 2013
Coming into the day, Harris – from Dayton powerhouse Dunbar High School – was merely hoping to receive an offer from the Buckeyes. Michigan also showed interest, although they didn't extend a scholarship offer. His visit to Columbus set the Buckeyes apart, in a field which included several Midwest schools.
The AJ Harris File
Size: 5-9/160
Pos: PG
School: Dunbar High School (Dayton, Ohio)
Composite Rating: N/A
Composite Rank: NA
Scout Rank: 3-star
ESPN Rank: 4-star
The 5-foot-9-inch, 160 pound guard committed to the Buckeyes on the spot. An AAU teammate of five-star recruits Luke Kennard and V.J. King, Harris aims to be the spark plug in this recruiting class – just like he is on the basketball court. He led Dunbar to an undefeated season and state championship as a freshman. 
Heading into his junior season, Harris will be one of the most highly regarded prospects in the Buckeye state and a pivotal player down the line for the Buckeyes. They will attempt to replace Aaron Craft following the 2013 season. Same goes for Shannon Scott after 2014.
Combo guard and 2014 commit D'Angelo Russell would, theoretically, be the only capable point guard on the roster when Harris arrives on campus. So, depth at the position was a concern. Getting a chance to fill that void was a pleasant surprise for Harris and Ohio State's needs in the back court certainly played a role in securing the pledge of the star guard.
"They don't have a point guard, and told me I was the only point guard they were looking at," he said. "They made me feel like it was my own home, and I know that Coach Matta has plans for me."
Now that he's the de facto leader of the 2015 class, Harris wants to clear up why he made the choice tonight, especially when he'd recently been vocal about wanting to hear from the Wolverines.
"It's true, I did want to hear from Michigan," he added. "But Ohio State was the better opportunity, they made me feel the most comfortable and it's only an hour away from home."
Harris will come in to fill the void. Here's some highlights of the shifty guard:
Scarberry Media's Zach Fleer thinks highly of Harris' leadership ability.
"[Harris is] the ultimate lead point guard. He said himself that he likes to get assists more than he likes to score, so that should tell you a lot about his play style," Fleer told Eleven Warriors. "[He is] lightning quick, decent jump shooter, and runs the break well. If he grows one or two more inches, he will be more than ready for B1G ball."
Fleer also conducted an interview with Harris in July and it's worth a listen.
Jordan Wagner and Jeremy Birmingham contributed to this story.
[Photo and video courtesy of 3rd Coast Hoops.]