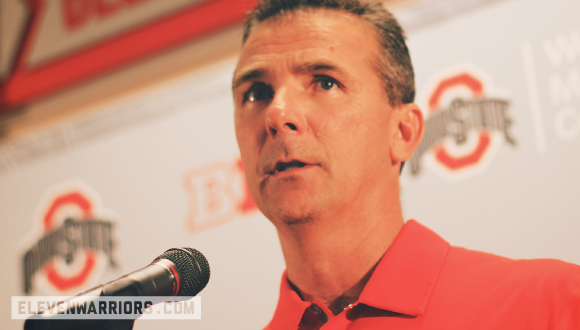 Camp is one week old for the Ohio State Buckeyes. And the reviews are what you'd expect for a team contending for a national championship. Head coach Urban Meyer addressed many positives at the team's annual media day on Sunday.
Not surprising, Braxton Miller, Dontre Wilson and the rest of Buckeye offense were a topic of conversation. Mechanics are still the top improvement in Miller's game, according to Meyer. The team scrimmaged yesterday and Meyer said Miller was outstanding.
Meyer is a very honest coach with his answers. He wouldn't speak so highly of Miller's improvements if they weren't true. When talking about Tom Herman and Miller, Meyer said "they have something special going on."
Like he did earlier this week, Meyer glowed when talking about Wilson. It's clear he's going to be difference-maker for the offense.
The next week will go a long way in determining the 2013 team's viability, according to Meyer. Ohio State will practice at Ackerman Road fields next week, simulating an NFL training camp. It's not an enjoyable experience for the players. Very hard work.
Meyer said an official will come in and talk to the team about the new targeting rule this week. Chris Worley had a helmet-to-helmet hit last week that was ruled an ejection in practice. OSU sent the tapes away to get a confirmation.
Zach Smith spoke highly of wide receiver Evan Spencer yesterday. Meyer did the same on Sunday.
Taylor Decker is the starting right tackle. Meyer said he solidified his spot.
"There's not a miss in that running back group," -Meyer. He went on to say the depth is huge.
Going back to the spring, Meyer has raved about the tight ends, Jeff Heuerman and Nick Vannett. That continued today. Meyer thinks they'll be big-time weapons in the fall. Best group of tight ends he's ever coached.
Donovan Munger is eligible academically. He has a health issue, though, and will not play this season.
Meyer said he's encouraged by the play of Tommy Schutt, Chris Carter, Michael Hill and Billy Price along the defensive line. Said they are really pushing the starters to play better.
On Najee Murray: Meyer said he is suspended. Did not elaborate on anything else. 
Meyer on Joey Bosa: "I'll imagine he'll play this year. We're playing with him inside and outside."
Kick returners: Jordan Hall, Dontre Wilson, Bradley Roby and James Clark. Philly Brown is the punt returner. Meyer said he'll be disappointed if the return game isn't "really good."
Jordan Hall is the top hybrid guy. He will also see some time at running back, especially in Hyde's absence.
With no real dynamic playmaker on offense last year, Meyer said the ability to make big plays was severely lacking.
"We were not a big hit team last year." -Urban on the 2012 offense.
"We're a faster team." -Urban
To emphasize how important Ohio State's past is, Meyer is bringing in former players to teach the current roster about traditions and great moments in program history.
Distractions are still the biggest roadblock to a potential national championship. Meyer used a personal example to convey his point. The 1987 Buckeyes were No. 2 at one point, but the season went kaput with distractions, including the ineligibility of wide receiver Cris Carter. Head coach Earle Bruce – and a young GA named Urban Meyer – was fired.
"Last year's culture was driven by leaders. If we have distractions, we'll be an average team." –Urban.