The 11W Community Interview is truly of the people, by the people, and for the people. You submit the questions, vote on them, and then we pass the top ones on to the biggest names in the world of Ohio State athletics.
Back in April, Kyle Trout shared his story with Eleven Warriors readers and let everyone know his role as a leader for the 2014 Buckeye recruiting class. Since then, the Buckeye class has grown exponentially and Trout has continued to lead the charge. He's also worked hard day in and day out on the field to put himself in a position to be a leader at Ohio State when he arrives next summer. He's camped anywhere he could, he's competed in every situation that's been put before him and he's earned accolades the whole way, culminating with an invite this summer to Nike's "The Opening" in Oregon.
As he gets ready to start his senior season at Lancaster, Trout sat down and answered your questions in this week's Eleven Warriors Community Interview series. One of the first to commit in the class of 2014, here's Kyle Trout.
How do you feel about the other offensive line recruits that are committed? What have you done to get some of them on board? - Golden Buckeye
KT: I love all of the guys who are committed, especially the offensive line commits. We are all big, nasty run blockers who are freakishly athletic and can pass block, or pick up the technique (referring to myself) very quickly. We want to become outstanding college players with a lot of hard work and coaching from the best offensive line coach in the nation.
Kyle, being at 'The Opening', what did you learn about yourself on what you need to work on?  Who worked with you during the week and what was the experience like overall? - Sin City Buckeye
KT: I learned that I had a lot of work on my pass protection that needed to be dealt with. I was making mistakes that I had never heard of. Former NFL players Tarik Glenn and Montrae Holland were the OL coaches in Oregon and they helped me tremendously. Overall the experience was simply amazing, I was living the dream in football heaven and so were the other 158 athletes there.
You and the rest of the commits have been extremely active on the recruiting front. Is this something that was asked of you by the staff, or just something you decided as a group to take on yourselves? - LuckyNutz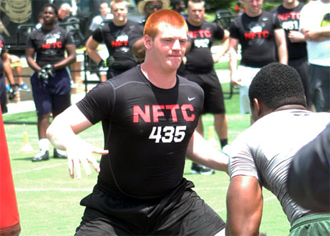 KT: Dame and I have taken control of the recruiting game. I was the first one to tell coach Meyer I wanted to have the No. 1 recruiting class and Dame followed up with websites, Twitter, and other cool technical things that help us stand out. I have been on campus the most, doing what I can to lead the way with recruiting by spending time with other recruits since I'm only 30 min away. I am definitely trying to spearhead things as much as possible.
What uncommitted recruit, if any, are you talking to the most to join the '"Dream '14" class? - PCuzz1
KT:  Right now I'm working on some kids that the coaching staff wants.  I'm going to keep that confidential though, because I'm not trying to burn any bridges (laughs). Just know that "The Dream '14" has the best interests of the football program on their minds and is working hard to make everyone proud.
On these boards we talk about the facilities and how they look. Seeing Oregon's pictures online was pretty cool, but what do you think is the coolest thing tOSU has in terms of facilities either individually, or collectively? - ChicagoBuckeye
KT: What I like the most about Ohio State is the vast amount of extra machines, equipment, recreation, anything you want, they've got it all. It's all there in a small, controlled area where I will be at a lot in the next few years. The WHAC will see a lot of me.
In terms of your individual position and in working with your other linemates as a unit, what do you see yourself learning from Coach Warinner? - Hovenaut
KT: I see myself learning from Coach Warriner, honestly, a ton. I learn something new every camp I go to with him. He coaches me in everything — not just football — but also in life situations, with attitude, and other areas. He is a very hard coach, and I know he will ride me until I graduate, but that is what will make me the best possible player.
What does your game bring to the table, and how do you think it will benefit the team? - WeZBuck28
"If there is someone who wants to commit and coast through practice...find a new school."
KT: I am a very quick and athletic lineman. I am also coachable and extremely, almost freakishly, competitive. I will bring hard work, determination and consistency to the team and will benefit them by being a reliable teammate every single down.
Was there a particular influence from any former Lancaster High School or Buckeye players that aided in you making the decision to commit to OSU? and Do you see any current LHS players coming up who could follow after you wearing the Scarlet and Gray?  -TennBuckeye19
KT: No, I always listened to what people had to say and thought about their message but when it came down to it I made the decision that would make me the happiest. Also right now, I am unsure as to who, if anyone, would follow me to Ohio State. We'll see, but Lancaster has always had great players.
I committed because I realized that OSU was — and is — the best place to be right now for me and for the rest of the "Dream '14.". We are trying to win championships and be leaders. If there is someone that is looking to commit and wants to just coast through practices, and recruiting before we get there, and isn't ready to get some bloody noses and broken bones trying to get to that crystal ball — and we're trying to do it more than just one time — then please look at yourself in the mirror and find a new school and team who will put up with that. I know that myself and the rest of the commits want hardnosed men who will grind every day, every down, and will help each other through the good and bad. We will push each other until we have achieved our goals and graduated or died on the field because we worked ourselves to death.
Go Bucks! 
Follow the 2014 Buckeye recruits on Twitter and check out their website.