The 2013 Ohio State Buckeyes have both the talent and the opportunity to contend for a national championship. The former is because of a set of extremely skilled players and coaches, and the latter comes from an almost laughably weak schedule for a national powerhouse like OSU.
Still, the games have to be played and players have to not completely blow it by doing something stupid, so the mental math that we use to calculate how excited we should be for something can change at any given time.
On paper, this Ohio State team is clearly the class of the Big Ten and has more than an inside shot at the national title if they're able to run the table. In reality, there are a thousand little sticking points that could muck up the whole system and cause it to come crashing down to earth at the Outback Bowl.
I believe that one of these sticking points for the 2013 season is leadership. This team does not as of yet have a John Simon to follow the example of, who if he was a cockney orphan would probably have been adopted by Urban and company and raised as their own. Gone too is Zach Boren, who selflessly gave up a pretty solid position to anchor a flagging linebacker corps.
That's not to say that there aren't capable leaders on this version of the Ohio State Buckeyes, but given the tumultuous offseason (and the fact that some perceived leaders were the cause of a lot of that tumult), it's more important than ever that certain players are able to step up and set the tone for what could be an incredible run.
Bradley Roby punched a bouncer in Bloomington and Carlos Hyde swatted at a girl in one of the dankest, urine soaked hellholes that Columbus has to offer. No one is really sure why either of them would be in such horrible pits of despair like southeastern Indiana or Sugar Bar 2, but in any case their actions there have pretty easily eliminated their chances of being captains.
Roby in particular gets hurt by this; he was scheduled to go to media days with with peers and his coach, and instead has ended up in football limbo until Meyer decides what his punishment is going to be. The players selected to go to Big Ten media days has traditionally been a pretty big deal, as usually they are the players most likely to end up as captains once the season starts.
So, instead of Roby joining fellow Buckeyes Jack Mewhort and Braxton Miller, three year starter at safety Christian Bryant went instead. All three are definitely on the shortlist for captaincy, but keep in mind that the 2012 Ohio State team had a whopping five captains, so there might be some surprises to go along with the obvious choices. But let's start with them anyway.
Braxton Miller
I'm personally of the opinion that it isn't a necessity to exclude non-seniors from being captains. I mean, it's possibly a really stupid opinion (especially since I once wrote a post about potential captains that uh... well, let's just say that I was riding high with TPeezy), but my line of thinking is that if a guy sets a positive example and is in a position of importance, it really shouldn't matter too much if they've been in the program four years versus three years.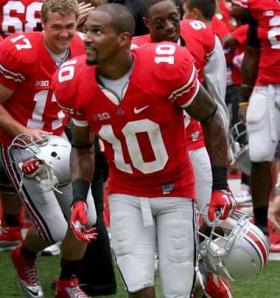 In any case, it's no secret that Meyer expects his quarterbacks to be the leading examples of all that his good and right on his football teams. Braxton could become a captain by being a great leader (and people have been praising his increased vocal presence as of late) or become a better leader by being a captain, but either way it wouldn't be a shock if Urban Meyer decided to place his Heisman candidate in a position of even greater leadership.
Jack Mewhort
Aside from being huge and looking like the albino from the Da Vinci Code, Mewhort is also one of the senior leaders on the offensive line. And, given the relative importance of the offensive line in an Urban Meyer offense, it wouldn't be surprising to see the dude end up as one of the leaders of the team overall.
Plus, you know, he looks terrifying.
Ryan Shazier
I might be overplaying my hand here. Shazier is one of the best players on the team and possibly one of the best linebackers in the entire country, but it may be slightly premature to point him out as one of the leaders on the team. Still, one thing that I think needs to be noted about Shazier is that like Mewhort, he's anchoring a crucial part of the team that is also vulnerable to both injury and overall depth problems. That alone makes him both visible and valuable, and having him as a prominent leader on the team could be very important in the long run.
Philly Brown
Philly, aside from being Braxton Miller's safety net, has emerged as one of the most dependable go-to quote guys on the team for beat writers in need of an opinion. He's smart, well-spoken, and for both of those reasons I was surprised that the guy didn't end up making the trip to Chicago for Big Ten media days.
He also seems to now be in lockstep with Braxton in the offense, which can mean he'd be a powerful force in the huddle if need be. There is a glut of offensive weapons this season, but Philly Brown seems more prepared than any of them to take on an extended leadership role with both the team and the media.
Christian Bryant and CJ Barnett
Bryant and Barnett might surprise some people by being on this list; they take heat for being out of position (which is sometimes justified, but really more than a little overblown) and being reckless. Still, that kind of reckless abandon also plays well in the lockerroom, and Urban has noticed:
Urban: Shazier, braxton, CJ Barnett and Christian Bryant showing great leadership

— Chris Lauderback (@Chris11W) August 11, 2013
I've lumped these guys together because my secret nickname for them is the Bash Brothers and I think oftentimes they are two heads of the same coin. With Roby likely in the doghouse for the foreseeable future, it wouldn't be a bad thing at all to have two guys in the secondary who command the respect of everyone in front of them.
Kenny Guiton
Not a joke! Kenny G proved himself to be an incredibly valuable asset last season and frankly, given Braxton's frequent missing of time last season, it's not inconceivable that Guiton could be called on again to save the day. You'd be hard pressed to find anyone on the team, coaching staff, or in Ohio State fandom who doesn't love the dude for his attitude and patience as a college football player. Sometimes that's the kind of example that's needed in a captain.
---
Overall, there are a lot of options available to replace guys like Simon and Boren. But the key for Meyer and the team will be making sure that they're players who can command respect and set a pattern of behavior for the rest of the team. Last season the Buckeyes needed a serious kick in the pants from their star defensive lineman to fully realize their potential, culminating in a Tebow-esque (eeuugghh I just used that phrase and meant it, feels... so dirty...) speech that seemingly was the turning point of the season.
2013 will have other turning points, and it's important that the right players are there to guide the team through them.