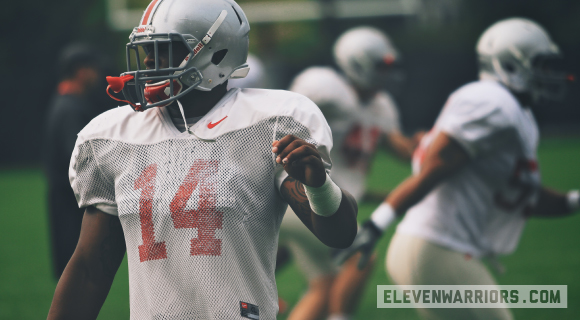 When a team is gearing up for a potential national championship season, negatives are a small portion of the conversation. All summer, the talk surrounding Ohio State has been about Braxton Miller, a high-powered offense, young but talented defensive line and deep, experienced secondary.
With fall camp underway, coaches will focus on the unknown. There's still an ongoing battle at right tackle, but the most anxiety comes across the way at linebacker. It was a black hole last season until fullback Zach Boren came to the rescue. The Buckeyes are now in a similar position. Aside from All-American candidate Ryan Shazier, there is little experience or separation.
There are six linebackers on scholarship and eight of the 11 listed on the official roster are freshmen or sophomores. Shazier is the only one that's started one-third of a season – four games.
The replacements aren't just stepping into the limelight, they're tasked with providing leadership in the absence of Boren and Etienne Sabino, two driving forces – and captains – on the field and in the locker room for the unbeaten 2012 Buckeyes. Boren and Sabino played 14 games combined last season, finishing with 95 tackles, including seven for loss and three sacks.
"I underestimated the quality of the leaders," said head coach Urban Meyer. "To be honest with you, I didn't anticipate it. When you take over a 6-7 team you figure there's a problem. I learned more from those leaders than any other group. It was magical.
"Sabino is an incredible leader. Zach Boren, what he did, it'd be a great (book) to write. Man, I love talking about that."
It's a far cry from the current cast of linebackers. Ryan Shazier solidified his place as a true freshman. He came in as a wrecking ball and improved his skill set in 2012, earning honorable mention All-American honors and placing in the top 5 of the Big Ten in five statistical categories. He led Ohio State with 115 total tackles and finished second in the conference with 17 tackles for loss.
"He still has work to do," Meyer said. "By the end of the season, I thought he was playing at a very high level. You start talking about the list of the great ones, I don't know if I can go there yet. I'm not sure. The way he finished that season last year, he's one of the best linebackers I've had."
Josh Perry is the odds-on-favorite to be Shazier's running mate at strong side linebacker. He played in 10 games as a true freshman, mostly on special teams, and finished with a season-high three tackles against Nebraska. That total is expected to be surpassed 14 times in 2013.
After playing a traditional smash mouth brand of defense for decades, one that's heavy on hard-hitting linebackers, the Buckeyes will field five defensive backs almost exclusively. Playing with just two linebackers will help ease the strain on depth issues. 
"They don't look Ohio State-ish," Meyer said of the linebackers, minus Shazier. "Other positions, you can see three guys, they're all good-looking players. The … linebackers are not where we need to be. We're just going to have to hang in there this fall and not get guys hurt."
Meyer went on to say the problem is solved with another recruiting class. Not a ringing endorsement. But some of the dialogue is coachspeak. Since Meyer arrived at Ohio State, he's welcomed seven linebackers to Columbus. Two have already transferred elsewhere. Names like Mike Mitchell, Trey Johnson and Camren Williams resonate. As does Curtis Grant.
It's now Year 3 for Grant, who still hasn't reached his immense potential. He became a Buckeye as the nation's No. 2 overall recruit. The former five-star prospect has struggled with the speed of the game the past two years. After three starts to begin the 2012 season, Grant's role lessened as the year progressed. In eight games, Grant had just eight tackles. That's the same amount he had in this past April's spring game. Even with eligibility remaining past this season, he's aware it's likely his final opportunity.
"The will and the want-to has never been a question. It's just the ability to continue to mature," said linebackers coach Luke Fickell. "All these players have different things going on in their lives that help them mature. I've seen some of the things he's gone through and I think this has really been a positive."
Grant isn't the only five-star linebacker on the team. Mitchell also carries that tag. The Texan possesses the stereotypical linebacker body. Four days into fall camp, Mitchell has shown why it's so difficult for young linebackers to play immediately. Inconsistency has been the theme. On display has been a high football IQ and knack for being in the right position. But there's also been inexperience and poor technique.
The entire front seven was a concern when spring practice began. However, the defensive line quickly put an end to the worries. They still exist with the linebacker corps, though. A strong D-line could be the ticket to success for the inexperienced linebackers.
But it's not like Ohio State is in unprecedented territory. One year ago, it took six games and the move of an offensive player to linebacker to solidify the unit and, in turn, the defense. Meyer is hoping the pace is much quicker this season.
"Right now, this is all candy," he said. "Camp is terrible. But we're not in camp yet. We're just in practice. Just see what happens next week on Ackerman Field."
Could it be Grant rounding into form or one of the freshmen 'backers taking charge? Meyer doesn't care what the number or back of the jersey says. At the top of his wish list will be developing depth at linebacker.