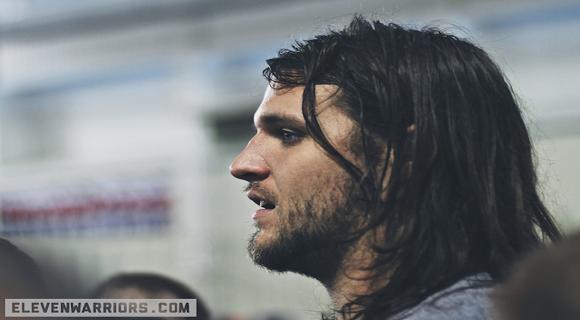 The 2012 Ohio State offensive line appeared in all but 10 plays during the Buckeyes' undefeated season. Their cohesion helped propel a high-velocity offense to more than 37 points per game. But there's a missing link in the five-man unit entering 2013. Plugging the vacancy is a baby-faced sophomore with shoulder-length locks.
Taylor Decker, a little brother to four behemoths, will attempt to rebuild the nucleus of a unit that concocted 37 rushing touchdowns and produced the nation's 10th-best rushing attack. Spring practice didn't manufacture a right tackle; Decker and Chase Farris each executed inconsistently. Just three days into fall camp, though, Decker has performed like a tremendous machine. 
"He's coming along great," said left guard Andrew Norwell. "He's improved a lot since spring ball. He's stronger and faster thanks to Mickey Marotti. I have no problem with him playing right tackle. I think he's a great addition."
To win the line of scrimmage with technique, toughness and a competitive spirit – the philosophy of offensive line coach Ed Warinner – it's Decker that must mesh with his allies. Norwell, Jack Mewhort, Corey Linsley and Marcus Hall have appeared in a combined 132 games and started 78 times.
The group has now welcomed a little brother. And like older siblings tend to behave, the quartet has shown Decker tough love in the form of teasing, name-calling and good-natured ribbing. Norwell, who also sports a lion's mane, said of the light-hearted hazing, "We like to push his buttons."
"It's a rite of passage," Mewhort said. "We've all been through it, us four guys. As you're growing up in the program, it's part of it. It's our job to teach him and show him the way. It's our responsibility as his adoptive big brothers to make sure he feels the heat a little bit."
Said Decker: "It hasn't been anything too bad. They just make jokes. They're very helpful and bringing me up the ranks, and teaching me how to be an Ohio State lineman."
At the moment, it's not such a good thing. The four returnees are on solid footing, but behind them lay a wasteland. The Buckeyes have little in the way of depth after focusing on other areas of need in recent recruiting classes.
"In order to be a starter here you have to show more than glimpses. You have to do it more than one day."
"They don't look Ohio Stateish," Meyer said. "We're going to have to hang in there and not have guys get hurt. We have depth issues."
Decker can ease the worry if he locks up the starting spot at right tackle and reaches his potential. The former four-star recruit entered Ohio State with visions of starting from Day 1. That path was altered, but it wasn't all for naught. 
The experience of battling a senior and then filling a backup role allowed Decker to grow as a player. He understands the objective entering his second fall camp. But it doesn't stop there. The end goal isn't to start at right tackle. Decker's ambition stretches far beyond that.
"I don't want to be the right tackle just because I'm the only one there," he said. "I want to earn the coaches and guys on the line's trust. They're great players, I don't want to be detrimental to their season. I want to help them. They deserve to have a great season."
Decker admitted that playing alongside returning starters makes him comfortable. Everyone inside the locker room is aware of what they've accomplished and their impact on the team. It's a level Decker has not reached, even when given the opportunity for five weeks during March and April.
Instead of hanging his head, though, Decker took ownership, detailing how he didn't play up to his own standards, let alone that of the coaching staff. Decker has held leadership roles on teams since he was in middle school. It's a position of influence, but also one indicative of the caliber of player. Knowledge is essential, and Decker has plays, blocks and scenarios memorized. But that alone won't give him the start against Buffalo. 
"In order to be a starter here you have to show more than glimpses," Warinner said. "You have to do it more than one day. We've told him we'll call him a starter when you do it day after day after day with consistency. That's a trademark with some of the other guys, and that's how they established themselves as starters.
"Taylor is heading in that direction. He's had what I would call three good days in a row. After we have six days of hitting in a row, let's see if he's consistent. That's the mark of a good player."
For Decker, it's 24 days of preparation for the next beginning of a career. For four seniors, it's 24 days until the beginning of an end. The next four months will be filled with lasts. Rankings and standings will not be included.
To duplicate last season's rollicking success, Braxton Miller and his skill set depend on a wall of associates.
"We have to have all five spots working together as a unit," Norwell said. "We set the tone for the offense. With Taylor, he's going to be great. I have no problem. Our mentality is four to six seconds of relentless effort. We block until the whistle blows.
"We expect to be great."