Welcome back to Wednesday afternoon at Eleven Warriors, it's time to talk Buckeye recruiting and today we're turning to you — our faithful and informed readers — and your recruiting questions. Ohio State's summer session is coming to an end and so too is a two-month stretch of Buckeye recruiting that saw Urban Meyer's 2014 class make major moves in the national rankings.
As the football season prepares to kick-off, Ohio State has narrowed its focus to the last handful of 2014 possibilities and while most of the names are familiar, we're all too aware of quickly recruiting can spin on its axis. While there aren't likely to be major changes to the names at the top of the Buckeyes' list, there's little debate that something unexpected will happen before signing day.
Without further adieu, this week's 11W Recruiting Mailbag, featuring: you.
What will come first, the premiere of Breaking Bad or OSU's next commitment? - HotSauceCommittee
Before I answer the question, it's important to remind you all that no matter which of these remarkable events comes to fruition first, American wins. While Walter White may not win any "Dad of the Year," awards, he's an exceptional antihero and I cherish every single opportunity to watch him peddle his devilish wares. 
Of course you're not reading this because I love great TV, so to answer the question: Ohio State will receive its next commitment before Breaking Bad debuts this Sunday evening. 
Does Urban accept a 2015 commitment before December 25th? - Toad1204
It would be a major surprise to me if Ohio State hadn't started its 2015 class before Christmas day of this year. Ohio State's first commitment for 2014 was a Christmas day commitment from Marcelys Jones last December, and it's a safe assumption that Canton McKinley's Eric Glover-Williams will kickstart 2015 before this December. Of course, there are other players, like Friendship Academy (District Heights, Md.) defensive back Ashton White or Memphis (Tn.) University School offensive lineman Drew Richmond, that could decide to pledge Buckeye before then as well.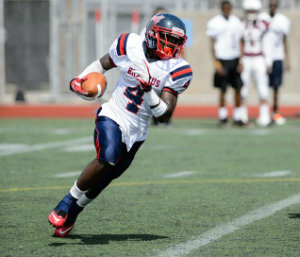 Chris Hardeman just recently decommitted from LSU after being committed for a year. You reported he had an OSU verbal offer. Is this a guy that the OSU staff goes back after, or do you think the staff is satisfied with where they stand with committed and non-committed DB recruits? - Adam21
Hardeman talked a lot about visiting the Buckeyes last summer and was genuinely interested in learning more about the Buckeyes, but pledged to LSU after a visit there and with that Ohio State's recruitment of the Houston (Texas) cornerback ceased. Now that Hardeman has re-opened his recruitment, he acknowledged that he hopes to start hearing from the Buckeyes again. While they may make an explorative inquiry, I would not expect Ohio State to get heavily involved here. The Buckeyes are going to take one more cornerback in this year's recruiting class, and that will be Glenville's Marshon Lattimore if things go according to plan.
What is the latest on Noah Brown? Seemed he was all in and now he is taking more visits and recently said he received his written offers to Vandy, UNC and ND without mention of Ohio State. Are the Buckeyes now slow playing him? - Sin City Buckeye
I've asked a number of people on both sides of this story and everyone insists that Ohio State has 100-percent not cooled on Noah Brown. He is a very talented player at a position that Ohio State is wanting to fill in their 2014 recruiting class. He's a polished athlete, an excellent student and fits the needs for the Buckeyes. What happened here is simple: Brown wanted to see a few more schools before he makes his decision, and that's entirely his right and responsibility to do so. He visited Rutgers yesterday, and hopes to visit Virgina Tech, South Carolina and maybe Vanderbilt (again) as well. 
Why has he not received his written offer yet from Ohio State? That's an interesting question and one I've not been able to get clarification on as of yet.
I saw "Rivals Mike" has Damian Prince to Maryland as of now, any recent news on where he is leaning? - PCuzz1
Not much has changed with Prince since his visit to Ohio State. He's going to come down to signing day and he's going to be making a challenging decision: leave home, or not. There's been speculation that family issues and difficulties could lead to him staying in Maryland as the "better" possibility, but the hometown team should always be considered the favorite. Prince is a player that Ohio State will wait until signing day for if they must, and I still expect this to be an Ohio State/Maryland battle. 
With the potential issues and looming suspension of El Guapo, does filling one of the remaining spots with a RB become more important? Is Jonathan Hilliman still a Buckeye lean? - 1MeCheng
Hyde will be gone following the 2013 season, so the Buckeyes have been recruiting for 2014 under the pretense that he won't be around next year and have decided to forgo the running back position up to this point. Why? Rod Smith, Bri'onte Dunn, Warren Ball, Ezekiel Elliott, Dontre Wilson, Jalin Marshall and potentially Parris Campbell and Curtis Samuel, that's why. Ohio State's bigger task is making sure to keep and develop the players on the current roster and then look at one-to-two stars at tailback in the bigger 2015 class. If a player like California's Joe Mixon or North Carolina's Derrell Scott want to join the fold, the Buckeyes will say yes, but otherwise, running back is not a concern for 2014. 
I said a number of months ago that Ohio State — while interested in Hilliman — would ultimately not look his direction.
What are the chances that the Buckeyes take two more offensive lineman in this class? Both Mavety and Prince seem too good to say no to if they want in. - TheKornIdentity
This is such an interesting question because I don't know if anyone, including the Ohio State coaching staff, knows the true answer. Ideally they'd land one more of Mavety or Prince, but at the end of the day you're probably right; they are both too good to turn away. Does that mean the Buckeyes take a pass on the big outside WR they want? Does it mean they stretch the recruiting class to 23 or more and deal with some potentially negative roster manipulation issues? The answer to both of those questions is yes, or no, or I don't know. When I find out, I'll let you know.
What's the latest on Curtis Samuel? It seemed as though he was ready to announce over the weekend? - Hovenaut
Curtis Samuel is the really talented wide receiver from Brooklyn (N.Y.) Erasmus Hall that has been a focus of Urban Meyer's for a few months. He's dominated every camp he attended this summer and his talent on the football field is perhaps only bested by the five-star's ability to stay quiet about his recruitment. Bottom line: all signs point to Samuel's decision being very close to made with an announcement is looming. Samuel's decision appears to be coming down to Ohio State and Rutgers and most still feel confident that whenever this decision gets made, it will be in the Buckeyes' favor.
Do you think there's any possibility that Jalen Hurd or Quin Blanding could flip if Virginia or Tennessee have terrible seasons? - LLJJGG
First of all, if there were any two players in the entire country that I'd want in this Buckeye recruiting class not named Raewkon McMillan or Curtis Samuel, these two players are the pair I'd choose. Blanding potentially paired with Vonn Bell is a scary thought for opposing quarterbacks and wide receivers and I am still writing "My Condolences" letters to players that Hurd embarrassed and/or ran over when I saw him at the NFTC in Columbus in early June. 
However...
Whether or not Virginia and Tennessee struggle this year — which is likely — has no bearing the decisions of these two stars. As long as Mike London and Butch Jones are those schools, those players are going as well. London and Jones are selling Blanding/Hurd on the idea of representing their home-state schools and being a part of each program's resurgence, and it's an idea that's working well for coach.