In the world of sports, records exist for one reason only: to be broken. Archie Griffin's single-game school rushing record lasted for only 11 years before it was broken by Keith Byars, and his record lasted another 11 before it was broken by Eddie George. So far George's record has stood, but it's only a matter of time before it is broken as well.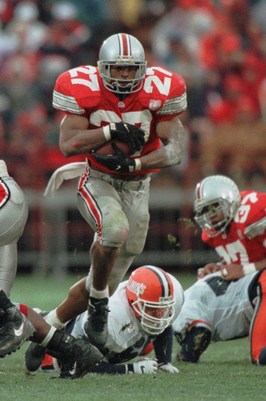 In a similar fashion, school records currently held by the likes of Art Schlichter, Bobby Hoying, Cris Carter, Pete Johnson, and others will fall in due time. With the accelerated maturity of the offense under Tom Herman's tutelage last season and with more explosive weapons available and more experience among the receivers this season, it is possible that some of them might fall very soon indeed.
Not only that, but the quick tempo of Ohio State's offense means more plays and more possessions for opposing teams, which could lead to a few defensive records being broken at the same time. We've already seen the effect in action, as John Simon tied a school record last season by recording four quarterback sacks in one game against Wisconsin. The likes of Chris Spielman and Mike Sensibaugh might be on alert this season to see some of their records broken.
So which records are most vulnerable? It's obvious that no one is going to break Archie Griffin's record of 31 straight games over 100 yards, and most career records are in no danger at the moment. Here are a few suggestions of what we could see this season from what could be an extraordinary group of Buckeyes.
RUSHING YARDS 
It seems safe to say that Archie Griffin's career rushing yardage mark of 5589 yards will not be threatened, although Braxton Miller is currently on pace to pass Eddie George's second-place total of 3768 yards. Likewise, George's season mark of 1927 yards will probably not be reachable in the current offense due to the way Herman likes to spread the carries around. 
Don't go to sleep on the single-game mark though. OSU returns four of five starting offensive lineman, and the stable of running backs is loaded with talent. It is conceivable that one player in particular could be having such a great day that Herman will keep going to him repeatedly because the defense isn't stopping him. The most likely candidate at the moment would be Miller, but considering the praise that Dontre Wilson and Jalin Marshall are currently receiving, they might also be in the mix.
It is tempting to think that there are too many weapons and thus the carries will be distributed too widely for any one player to dominate like George did. But spread offenses have a way of leaving large gaps that speedy players can exploit for big gains. Consider that Oregon's De'Anthony Thomas had 155 yards on only two carries against Wisconsin in the 2012 Rose Bowl, both of which were long touchdown runs. This could happen quickly against a bad defense this season, and the coaches would then do everything they can to get the ball to a player who had that kind of early impact.
TOUCHDOWNS
After a somewhat shaky start last season, the Buckeye offense got rolling and scored an astounding 14 touchdowns in a two-game span at mid-season. Carlos Hyde had 6 of those scores (five rushing, one receiving). When the offense gets in goal-to-go range, Herman likes to go quickly and the first play is almost always a handoff, and it's usually a score. As a result, Hyde totaled 16 rushing touchdowns last season despite missing some time with an injury. 
Hyde will again miss time this season, and so it will be difficult for him to duplicate the 26 touchdowns that Pete Johnson accumulated in 1975. However, the five touchdown record currently shared by Johnson and Keith Byars is clearly within reach. He was only one short of that against Nebraska, and that kind of performance could be duplicated this season, not only by Hyde but also Rod Smith or any of the other talented runners who might be subbing for Hyde during his suspension.
TOTAL OFFENSE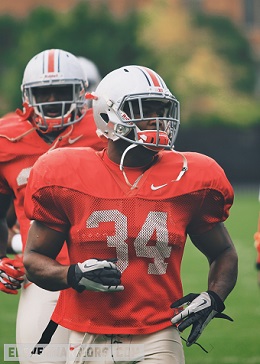 Officially, the total offense record for a season fell last year when Braxton Miller racked up 3310 yards to pass Bob Hoying's 3290 yards from 1995. Unofficially, Terrelle Pryor had 3526 yards of total offense in the vacated games of the 2010 season. Miller is almost expected to break the official record again, and he stands a good chance of making a run at the unofficial record as well.
One thing that would help him along in that quest would be to top the single-game record of 412 yards set by Art Schlichter in a 1981 loss to Florida State. Considering the expected improvements in his passing, it would not be surprising to see Miller break not only this record but also Schlichter's career total offense record of 8850 yards. After only two seasons, Miller is already tenth on the all-time list with 5184 yards. 
TACKLES AND INTERCEPTIONS
As I mentioned, the numerous possessions created by a quick tempo offense will also create opportunities for defensive players to rack up big tackle and interception numbers. Curiously, the all-time tackle records have not been seriously threatened in many years. None of the top 11 single-game tackle totals have been matched since 1986, nor has any of the top 12 season totals. I'm assuming this is due to the more liberal substitution policies of the modern age combined with the trend toward spread offenses that spend more time on the edges than in the middle.
Still, against a team like Wisconsin it might be possible to duplicate Tom Cousineau's record of 16 solo tackles or the single-game total tackle record of 29 shared by Cousineau and Chris Spielman. But I don't think there are enough between-the-tackles running teams on the schedule for anyone to threaten Cousineau's 211-tackle season record. Mike Vrabel's season record of 26 tackles-for-loss might be reachable, along with Vern Gholston's season record of 14 sacks.
Interceptions is an intriguing possibility. With all the scoring expected from OSU, opposing teams will be trailing a lot and will take to the air as a result. Could it be possible that someone will reach double-digits in interceptions? Mike Sensibaugh and Craig Cassady currently share the season record of 9 while Sensibaugh holds the career record of 22. The latter record seems unassailable but the former one could be within reach this season.