Human colostomy bag Darren Rovell and round-the-clock Tatgate coverage producer Justine Gubar of ESPN have filed a report indicating that the NCAA is investigating reigning Heisman winner Johnny Manziel to see if he might have profited from autograph sessions.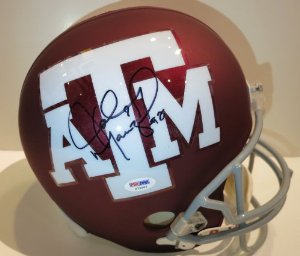 This burgeoning memorabilia scandal is reminiscent of what befell the Ohio State program back toward the end of 2010 when it was found that several Buckeyes had exchanged autographed items (that belonged to them) for cash and discounts on tattoos. The violations grew into a full-blown scandal when it was found that Jim Tressel had known about the violations but failed to report them to the NCAA.
ESPN cites three sources saying that Manziel signed merchandise including photographs, footballs and mini-helmets for memorabilia broker Drew Tieman. They claim that while in Florida to attend the BCS Title game, Manziel may have violated his amateur status by agreeing to the arrangement. 
Manziel, accompanied by his friend and personal assistant Nathan Fitch, visited Tieman's residence and signed hundreds of items in the main room of the apartment despite the fact that there were many people in the room.
Today you learned that Manziel has a personal assistant. Gotta get him on alarm clock duty, son.
The Heisman winner's value is no secret:
Independent merchandiser Aggieland Outfitters recently auctioned off six helmets signed by Manziel and Texas A&M's other Heisman Trophy winner John David Crow for $81,000. Texas A&M's booster organization, the 12th Man Foundation, sold a table for six, where Manziel and Crow will sit at the team's Kickoff Dinner later this month, for $20,000.
Amateurism: Where tens of thousands of dollars are made from your likeness, but you can't have any of it. More as this ESPN pageviews stunt story develops.