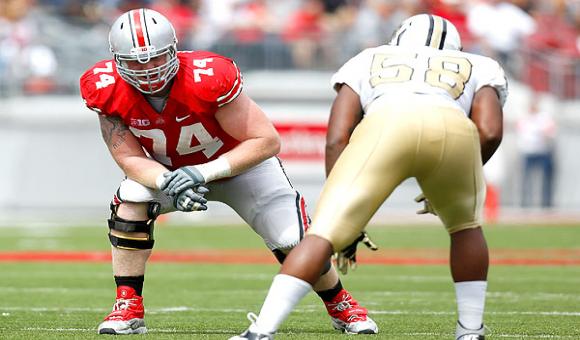 Being named a captain is an honor that comes with great responsibility. The selection process is not taken lightly by coaches and players, or whoever else chimes in. Poor captains can derail even the most talented teams. So it came as a major surprise when Urban Meyer announced in March – during spring practice – that Jack Mewhort would be a captain for the 2013 season.
"It's not a dictatorship at Ohio State, and we let our players choose captains," Meyer told the Toledo Blade. "However, all those votes have to pass by my desk. So I'm going to tell you who one will be."
Meyer thinks so highly of Mewhort, a senior left tackle, that he's leaving an area on the wall of his spacious office for Mewhort's jersey to hang. There are currently two jerseys that reside in the cherished space: Tim Tebow and John Simon.
Both represent leadership not often found in college players. But they were also model students who offered inspiration to teammates with legendary locker room speeches.
"I hope his jersey goes up there, because he's kind of that guy," Meyer said of Mewhort.
As the anchor of the offensive line, Mewhort is a rock that helped guide a once maligned unit back to respectability. In one short season, the Buckeyes' line went from weakness to strength. A large chunk of the team's national championship aspirations rests on the quality of the O-line.
"(Ed) Warinner injected a new energy when Coach Meyer brought him in," Mewhort said. "We were suddenly doing some high-tempo stuff that we had never seen before. Mickey Marotti was also a huge part of that, getting us in shape, losing fat, gaining muscle and preparing us to play in that offense. It's just been a lot of fun.
"We've progressed so far as far as attitude, aggressiveness and tenacity."
Despite Meyer and Warinner's past history of success, there was pushback from the team against the new staff in the beginning stages of their relationship. The feeling out process for any new staff is inevitable and has become part of all coaching changes. But, according to Mewhort, it didn't last too long in Columbus.
"It's hard to second guess Coach Meyer and there wasn't too much of that just because, well, it's Urban Meyer, you know?" Mewhort deadpanned. "We all knew what he had done over the last 10 years, and I think we all really appreciated that and were all really excited when he got here because we knew that he could take us where we wanted to go."
Mewhort is aware of the line's importance and the praises Meyer has heaped upon him. The compliments are welcome, especially from your head coach, Mewhort said, but it still comes down to the quality of your play the next time you're on the field. The next slipup could be detrimental to the overall success of the team, which drives coaches crazy. 
"There's a quote around here that leaders aren't born, they're made. I'm working every day towards that."
"That's definitely an honor, but it also comes with a lot of responsibility," Mewhort said of the accolades. "I have to look within myself and realize that people within the team are going to be looking at me now for leadership. The last couple years I was able to sit back and let other guys take the leader role. But now it's on me that people are going to be looking at."
An incident in the Summer of 2012 led Mewhort straight to Meyer's timeout chamber. He was arrested for urinating in public and then running from police. The end result was an indefinite suspension, loss of scholarship, community service and plenty of hard work with Marotti. Mewhort was reinstated for fall camp, but the lesson was learned.
Since then, there's been nary a problem. 
"One of the most selfless, toughest human beings to ever play the game" is how Meyer describes Mewhort.
"He made one bad decision," Warinner said. "We thought he was a pretty good guy before that. We were kind of shocked that that happened. But that's the youth. He's grown up a lot, he's learned from that. Other guys have learned from that. He paid a price for it, but came back stronger."
Coaches have lauded Mewhort for the leadership he displays. He's prompt in arriving to team meetings, then sits in the front row and takes notes throughout the coach's presentation. Meyer calls him "tough as nails" and his on-field play is evidence of that hard working, gritty characteristic.
But there's another side to Mewhort – a Twitter account that features random thoughts and other oddities in his life.
In the past year he's tweeted about Justin Bieber, a rap song containing the lyrics "Fruit of the Loom" continuously, sneeze-farts and adding an Olympic sport: eating chips on the highway with the windows down.
At Big Ten media days, he showed more of his comical side, offering up bits about the biggest eater on the team. 
"I don't want to say me, that's embarrassing," he said, before adding the names Andrew Norwell and Marcus Hall to the equation. "Those guys can eat. I think it would be a competition between those two."
It's not like they'd get mad if they knew Mewhort was dishing on them. They would just call him weird, a popular refrain in the Ohio State locker room. Mewhort said his thoughts can come to him at any moment of the day – driving, sitting in class, making a sandwich, etc. 
His mind clears once he suits up and walks on the football field. But that doesn't mean small thoughts don't creep in. With Mewhort's final season on the horizon, his focus remains on the required work to author a storybook ending.
"There's a quote around here that leaders aren't born, they're made," Mewhort said. "I'm working every day towards that."