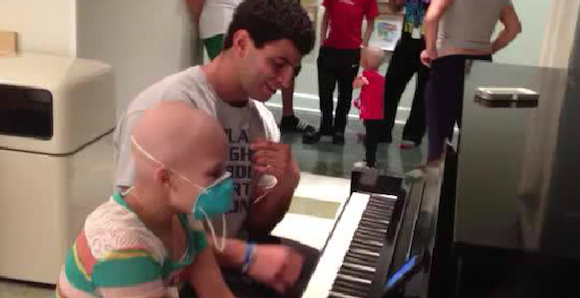 Big-time college football players visiting children's hospitals is as often heart-warming as it is a preconceived photo-op. Gregg Doyel of CBS Sports, however, brings us an organic form of this kind of story.
Jacob Karam, the signal-caller for the Memphis Tigers, recently showed up at St. Jude's Children's Research Hospital and began playing piano for the kids. The thing that makes this neat, however, is nobody in the Memphis athletic department knew about it. Karame wasn't looking for recognition; he did it out of his own free-will, and the only reason we know about it is because the family of Breanna Bercegeay (pictured above in the surgeon's mask) filmed the impromptu concert and the video went viral.
Karameis apparently a hell of an amateur piano player; he can hear a song and immediately play it. The video is pretty sweet and highly recommended.