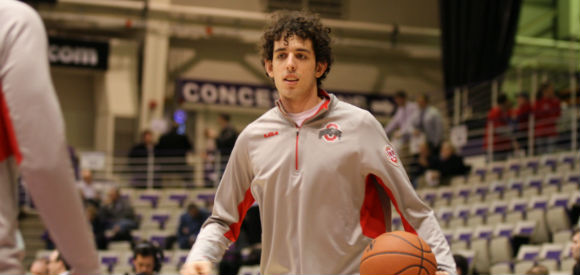 As we told you on Sunday, Ohio State guard Amedeo Della Valle led Italy to the 2013 FIBA U20 European Championship, held in Estonia. For his efforts, he was named the tournament's Most Valuable Player. Della Valle's 19 points in the championship game — including 13 in the final five minutes — secured his country's 67-60 win over Latvia and the country's first ever gold medal in the U20 European Championships.
Without Della Valle's contributions, Italy could not have won the tournament. His triple in the waning seconds sunk Spain, 76-73, in a crucial matchup on July 15. He had a huge game against the Spanish (who finished third in the tournament), scoring 27 points and pulling down seven rebounds. He also knocked down a buzzer-beating bomb off one leg in the quarterfinals against Lithuania to send the game into overtime, where Italy eventually prevailed, 75-72, a week ago today.
Della Valle averaged 13 points per game in the tournament to lead the Italians. He averaged about four rebounds per game (3.7 to be precise) and finished the tourney with eight assists, 14 steals and four blocks. At 1.4 steals per game, it looks like Della Valle's defense is improving. Being Aaron Craft's teammate probably helps a bit in that area. He also drew 4.3 fouls per game against his opponents.
In his 10 games during the tournament, Della Valle finished with a positive plus/minus — meaning his team outscored the opposition while he was on the floor — in seven of them; he was even once and had two minus games. He was a whopping +23 in an 88-70 win over Russia on July 17.
His international experience on the big stage should be a boost for Della Valle's confidence entering his sophomore season.
Craft and Lenzelle Smith Jr. will be the only seniors in the regular rotation in 2013-14, so younger players will have to step up and contribute not only points, but also intangibles. Della Valle is on the roster because of his outside shot, which may resemble Jon Diebler's before ADV's career is over, but developing leadership qualities and his defense will lead to more minutes on the floor. By all accounts, he showed outstanding leadership skills in the U20 Euro tournament, particularly by example, hitting several clutch shots.
Can Della Valle parlay his European vacation into more playing time this season? Maybe. Playing against the best competition Europe has to offer in his age bracket certainly can't hurt, especially considering how well he performed.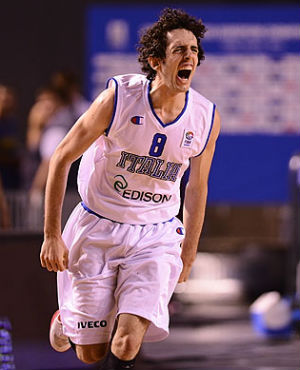 Della Valle is coming off a freshman season in which he saw action in only 15 of Ohio State's 37 games. He averaged 7.2 minutes and scored 2.5 points per game off the far end of the bench, right next to the walkons. The Italian international hit 38.5% of his 3-point shots and 37.5% from the field in general. It shouldn't be hard to improve upon those numbers in his second season.
One of the most important demands Thad Matta makes of his players is that they play sound, fundamental defense. Matta's teams use defensive pressure to fuel offense and choke opponents into submission over 40 minutes.
In order to see the floor more this year, Della Valle will have to become a better defender than he's shown in college thus far. Improving his footwork is the key to doing that — a must if the floppy-haired sophomore is going to expand his role on the team. If Amedeo can earn Matta's trust with solid D, he'll get more minutes.
His steals and blocks totals in Estonia may indicate Della Valle has already started to improve defensively. If he can develop into as good a defender as Diebler was, his skill set speaks of the potential for a similar career path. That would be huge for Ohio State, which must improve its sometimes-dicey perimeter shooting if the Buckeyes are to continue to challenge for the Big Ten championship.
The tools are there. Whether ADV can put them all together remains to be seen.