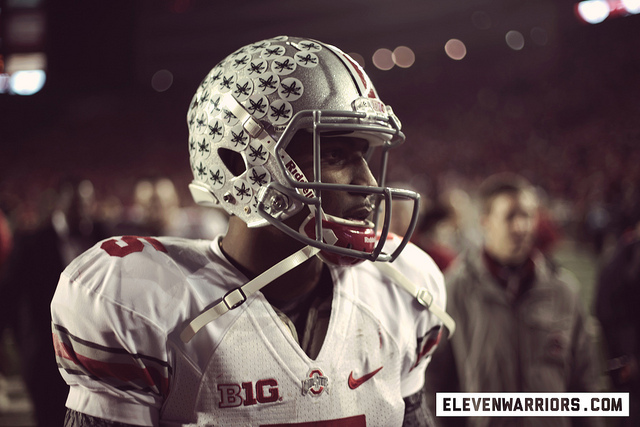 Sports on Earth is doing a QB Countdown, featuring the best quarterbacks in college football. Braxton Miller checks in at #6, ahead of Aaron Murray of Georgia, Jordan Lynch of NUI, and David Fales of San Jose State.
It's so easy to get caught up in the coaching, and it's so hard to assign credit elsewhere. At Texas A&M, Kevin Sumlin and Kliff Kingsbury were revered for providing a platform for Johnny Manziel to succeed … but, as an exception, Manziel transcended them. In 2013, Manziel is Texas A&M football.

Up north in Columbus, however, Urban Meyer is Ohio State football, overshadowing a quarterback who finished fifth in the Heisman Trophy voting while leading the Buckeyes to a 12-0 season. Not that Braxton Miller isn't acclaimed or isn't seen as an All-America candidate, but he falls under the "Urban Meyer Quarterback" label. In his first season as starter, under interim coach Luke Fickell, Ohio State went 6-7 and was hopeless in the passing game. In his second season, under Meyer, Ohio State went 12-0. The variable is obvious.

We attach ourselves to coaching narratives in college football because they are the foundations of the sport. Players can't stick around for more than four years; successful coaches can theoretically stick around for decades. What is odd about the Ohio State situation is that, because of the 6-7 season after Tressel's firing, and because of the Big Ten's plunge into punch-line territory over the last decade since the Buckeyes won a national title, Meyer has been seen as a sort of savior of Buckeye football, ignoring the fact that Ohio State spent the previous decade totally dominating its conference, only coming up short -- yes, often in embarrassing fashion -- in bowl games, until Terrelle Pryor's final year, when they beat Oregon in Pasadena.