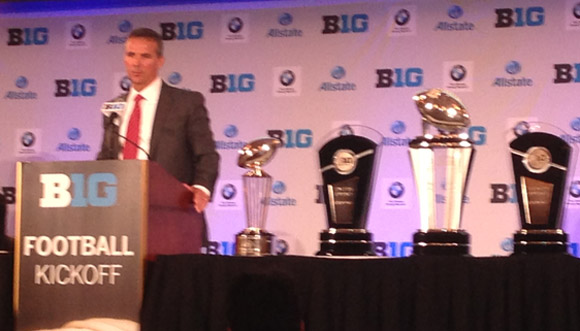 CHICAGO — Eight coaches addressed the media in the Chicago Hilton prior to 1:30 p.m. on Wednesday. But consider them all the undercard. The Northwestern Wildcats could have one of their finest seasons in school history, while Legends Division foes Michigan and Nebraska enter the season as co-favorites. But Pat Fitzgerald, Brady Hoke and Bo Pelini did not attract a crowd numbering in the hundreds.
When Urban Meyer stepped to the podium, the nearly 1,000 credentialed media were all seated with their attention focused on the Ohio State head coach. Instead of a circus, as many predicted, Meyer commanded the room. For 15 minutes, the line of questioning never veered to the inappropriate and Meyer's answers were highly anticipated.
Ohio State always garners the most coverage at Big Ten media days, but in a year when a national championship is on the docket, the meter rises. Then Monday happened.
"It's been a tough couple of days," Meyer said. "But I'm going to focus on the positives."
The positives for the Buckeyes are quarterback Braxton Miller, an offensive line that returns four of five starters, Ryan Shazier, a deep defensive backfield and a recruiting class ranked as high as No. 1.
But the negative news was unavoidable. Before Meyer strode to the podium, Miller tweeted that he received good news about running back Carlos Hyde's status with the team. When asked, though, Meyer said he was unaware of the impending good news.
"I guess I'm not a big social media guy," he said. "We just have to evaluate the facts, and once I evaluate the facts, then we'll make some decisions."
Cornerback Bradley Roby's situation remains murky, though Meyer helped fill in some of the gaps. There's still no suspension with Meyer waiting for facts to emerge. But the heartache of having a leader get into trouble was evident on Meyer's face and in his words.
"That's the most difficult one of them all," he said, with emotion flashed across his face. "That was a crushing blow when I got that phone call."
Aside from depth issues, leadership is the vast emptiness inside the Buckeyes. Meyer referred to the offensive line as "the heart and soul" of the team and has given Roby and Christian Bryant credit in the past. The current crop of players doesn't compare to the legendary 2012 locker room, though.
Meyer has coached successful teams every season of his 11-year career. Two won the national championship, but he continues to point to John Simon, Zach Boren, Etienne Sabino and other 2012 Buckeyes as the gold standard of leadership. Backing that up year after year with new personalities emerging is a tall order.
"I noticed very average leadership in January," Meyer said. "I saw a void in leadership, and that's when we started our process and programs, and even having an outside firm coming in to systemically approach leadership. It's an uncomfortable position for an 18- or 19-year-old kid to be in. Guys are going to have to step out of their comfort zone."
Earlier this summer, Meyer spoke about distractions being the biggest worry for a coach during the off-season. In the past month, he's dealt with being connected to the Aaron Hernandez saga and now legal issues with current Buckeyes. 
"That was a crushing blow when I got that phone call."
"I go back to when I was 18 years old, there are distractions everywhere," Meyer said. "Imagine people telling you how good you are. There's only one thing to do – educate them and the fear factor, 'Don't screw this up, you're not going to play.' That's my biggest concern when I have a high expectation team in the summer."
It's understandable for coaches' stress level to be an issue. They can create a culture of discipline for wrongdoers and hope college-aged kids listen. But the saying 'boys will be boys' wasn't started simply to be an overused cliché. There is indeed truth to it.
Player arrests are inevitable. At some point, a coach is going to get that dreaded late night phone call. When it comes three times the same weekend, however, the topic must be addressed. That's what Meyer and athletic director Gene Smith did Monday at a team meeting. The strong-minded duo, with a stern message, made it clear the tolerance for trouble was long gone.
"I'm disappointed. I think furious might be the word that would best describe when I first got the phone call, because, like I said, for 12 months it's been really, really good," Meyer said.
"I don't want a disruption for this team. The guys work too hard. To have a couple of knuckleheads make some decisions that reflect the entire program, I guess it's part of the deal. It's something that bothers me and bothers our staff. We work very hard to avoid with our players."
The commotion isn't just a team issue. Meyer also has been swept up into the firestorm due to Hernandez's murder case. Because of the high-profile nature of Hernandez's career and his relationship with Meyer, many brought the coach's name into the discussion.
During his career at Florida, Meyer counseled Hernandez with bible sessions, which bonded the two. But having his name brought up in a murder devastated Meyer.
"I felt awful," he said. "It's a sick feeling. Your thoughts and prayers are with the family of the victims. Every player situation and every recruiting situation, that will always be in the back of my mind. That's all I can say."
A dejected vibe came from Meyer during part of his question and answer segment, which just means he is human. He's upbeat about the coming season and spoke glowingly of family time in the Bahamas. However, criticism and doubting his good intentions hurt Meyer.
2013 B1G Media Days
"I'm human," he said. "I don't watch it. I'll hear from other people. I stay completely away from. I learned several years ago, no matter how I feel about it, it's a battle I'm not going to win.
"The one thing that bothers you is when you start stereotyping a group. There have been incredible kids at Florida and Ohio State, unbelievable coaches with great hearts, and some guys make a mistake and it impacts everyone.  We aren't the only program that makes mistakes. We've had too many, and I've self-evaluated myself and our staff and how we do our business, and we're continually changing it to make sure we do it the right way."
As Aug. 4 looms, the day can't come soon enough for Meyer. With a bowl ban, it's been almost nine months since the Buckeyes played a game. Spring ball gave the players and coaching staff a brief moment to regain their football, but one month since Nov. 24 is all both parties have
"One of the best things that happens in 12 days is we move into a hotel, we wake up every morning and go to work," Meyer said. "They don't have to worry about all the what-ifs. The hardest part is when they're away form you, so I try to temper all those things. Let's just worry about getting better day-to-day. I think the approach we take is really important."
A sign at the far end of the Woody Hayes Athletic Center reads "The Chase," but the new message for the 2013 Ohio State Buckeyes is "One day at a time."