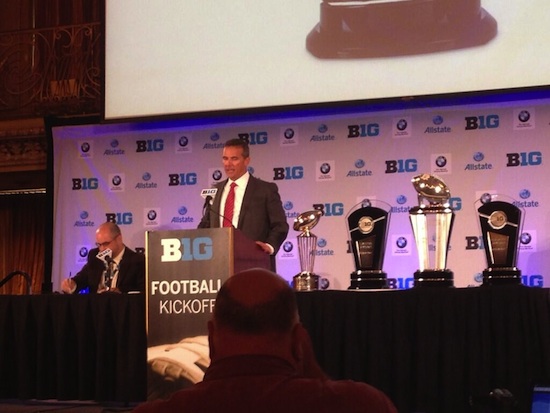 ... Urban Meyer says Braxton Miller is "one of the best quarterbacks in the country. Says he's grown as a leader and Urban has a lot of respect for him.
... says he would be "disappointed" if the offensive line isn't one of the best units in the country.
... singles out Jeff Heuerman and Nick Vannett as talented, and says they will use two TE sets.
... defense is where the issues are as Ohio State lost a lot in the front seven. Singles out Mike Vrabel for the recruiting job he's done on the offensive line.
... Curtis Grant was "disappointing" last year but has "had a great spring."
... Ryan Shazier was "average" as they started the season but became "one of the best" as the season concluded. 
... Urban expects the secondary to be one of the better secondaries in the Big Ten.
QUESTION PORTION:
... Urban has not yet received "the good news" regarding Carlos Hyde as he's "not a big social media guy." Once he "evaluates the facts" he'll "make some decisions."
... "Last year I spent all summer worrying about how to approach the season [with no postseason available]... We're not worried about November, December, anything past that."
... Urban says he found out after-the-fact the OSU compliance forwarded an article about a potential bump violation. Says there is no intent to go after Florida.
... "In the last 12 months we've had three legal issues, and they all happened in about three days... it drives you insane you have to deal with his stuff. My concern is I don't want to disrupt this team." 
... "These guys work too hard... to have a couple knuckle-heads make bad decisions that reflect on the whole team, I guess it's part of the deal."
... "Infuriating is the word to use" about when he first got the call about the legal problems.
... Urban says he has "great respect" for Barry Alvarez and was "honored" when he asked him his opinion on hiring Gary Andersen. "I put Gary Andersen in the top two three hires I've ever made. I couldn't be more proud about who he is as a person. I think he's at the right school."
... Is there anything he could have done to prevent the legal issues? "I think you could always do more. That's something you wake up every day with." Points out freshman haven't had a time to be educated yet, and coaches have left on vacation when they show up. Something he's thought about changing in light of the two troubles. "Extremely disappointed" in the upper-classmen who have erred with the law, and it will "be dealt with very seriously." As for the responsibility of the head coach, the head coach "needs to set an example and direct these guys, but every person is responsible for the decisions they make."
... Urban says Ohio State discussed Florida's off-the-field problems with him before he was hired. "We had a good discussion about it."
... On media's accusations, Urban admits he's "not a big reader," but "some people need to get the facts," before they cast judgment. "There's never been one time I've thought we've done wrong with the person." Admits though he might have given too many second chances in the past. "When I see some of the situations some of these players are from, it's been tough to walk away from them."
... Urban sighed deep as Aaron Hernandez is finally broached. Says he only responded to accusations via text to quell the "inaccurate information" floating about. "You have to move on," he says, "and we certainly have."
... Urban view on his own reputation on player discipline: "I don't think about it."
... Urban says "leadership" is the most important attribute for team success. Signals out "our quarterback" as somebody who has to step up. Says the offensive line is the "heart and soul" of the team. Where leadership has to improve on the defensive side of the ball with the loss of Simon and company. Says Shazier and Curtis Grant are going to have to step up. Mentions the team has "leadership classes."
... BTN anchors note only one question was about the 2013 team, a national title contender, while the rest were about off-the-field stuff. "Very professional approach," says the other.
... FULL TRANSCRIPT CAN BE FOUND HERE.