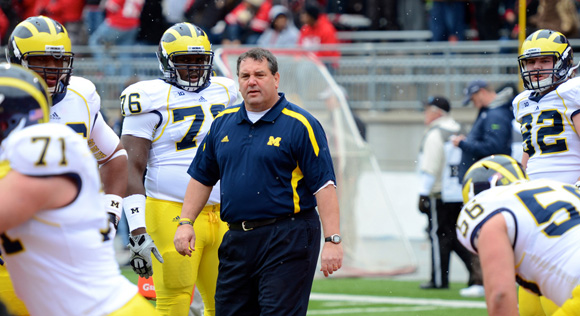 Brady Hoke was not pleased with 8-5 last year, calling it unacceptable. He noted turnovers were a big problem with his team, and something that he keyed on. "I normally don't say this," he added, "but I really like this [2013] team."
Yet, it was these comments about the pride in his team that raised some eyebrows:
Hoke says he likes the way his players have represented the university off the field. Shot at Ohio State and Urban Meyer?

— Kyle Rowland (@KyleRowland) July 24, 2013
... Fair play to Hoke, however, who said he was "glad" when he heard Grant Reed, the cancer-stricken boy who named his tumor "Michigan" and beat it. (Hoke went on to offer him four tickets to the OSU-Michigan game.)
... Hoke also said Michigan "looked around" for a backup quarterback, but didn't feel comfortable enough bringing anybody in to back-up Devin Gardner. He said he felt "very good" about the back-up position should anything happen.
... He also didn't deny Devin Gardner being a better "pro-style" quarterback than Dernard Robinson. He said Devin's height helps him, he spins a tighter ball, and also has the dual-threat ability.
... Michigan is "pulling for Detroit."
... Hoke is "very excited" about Jake Ryan's rehabilitation progress. Says he could return "sometime in October."
... Brady Hoke puts "a lot of effort" into recruiting the state of Michigan. "The high school coaching is very good; the caliber of the athletes we really like. They understand playing at the University of Michigan. Always an important part of recruiting."
... Hoke says the goal every week is to get better in a question about their loaded November schedule. "We've got a great schedule."