Let's face it, this week got off to a really horrible start. We never like to read or hear about Ohio State players getting into trouble, or even being linked to wrongdoing.*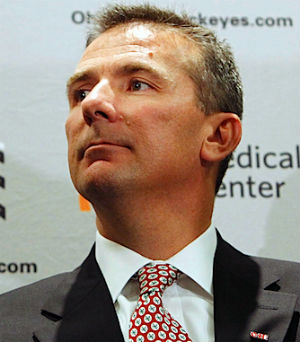 A byproduct of even the slightest appearance of unacceptable behavior at Ohio State is that once again pundits lash out at Urban Meyer. Our guest this week, Gainesville Sun sports columnist Pat Dooley, puts Meyer's handling of events in rational perspective.
Dooley covered the Gators during the Meyer era (and still does) and brings his informed perspective into this insightful interview. Pat lays out the reasons why the media goes after some coaches so aggressively, and he provides interesting background into Meyer's time in Gainesville, including his handling of Aaron Hernandez.
In addition to "Black Monday," Johnny and I discuss Friday Night Lights, Big Ten Media Days and the NCAA. And of course we answer your "Ask Us Anything" questions in great detail (and you can always hit us up at elevendubcast@gmail.com to ask us literally anything).
0:30- Johnny and I talk about the upcoming Friday Night Lights, Big Ten Media Days, NCAA bashing and the bad news from Monday.
32:50- Pat Dooley hops on to share his unique perspective of Urban Meyer, whether his critics are unfair, and the way he dealt with his players.
49:05- Ask Us Anything! We do go on, don't we?
1:08:00- If you could go anywhere, where would you take the entire 2013 Ohio State team?
Music for the Dubcast this week was First Day of Summer by Tony Carey, Dodo/Lurker by Genesis, and Wintercoast by Touchstone. That does it for our July Dubcast. See you in August!
*This Dubcast was recorded at about the same time this story was giving us a glimpse of what may turn out to be fantastic news.