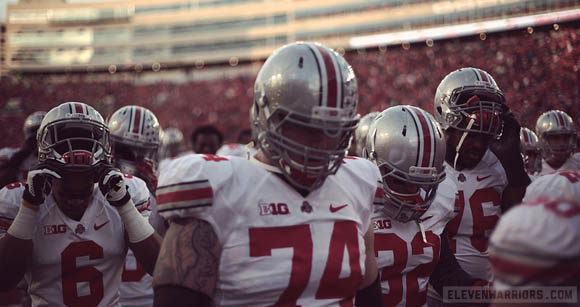 Braxton Miller is all the rage when it comes to the beastly machine Urban Meyer and Tom Herman have constructed. Then there is a stable of running backs at the front of the line. Philly Brown and Devin Smith are split out wide, and all of a sudden the Buckeyes' offense is moving like a tremendous machine.
But without a capable offensive line, plans for an early January trip to southern California can be put on hold, especially with the rumblings coming out of Columbus. After nearly a decade of fan frustration over Jim Bollman's line philosophy came to a crescendo in 2011, any replacement would have garnered Hosannas. And that's what happened when Ed Warinner was brought into the fold.
Months later, the transition was applauded much louder when it became evident Warinner's brand of football was elevating the Ohio State offensive line back to elite status. But it took a series of lows to reach the apex.
"I wanted to hire a tough guy that's very involved in the game-planning, because sometimes line coaches just go live in their world," Meyer said. "Ed's got a great concept of the big picture."
When players were absent from a team meeting in January 2012, warning signs were illuminated for the coaching staff, but most especially Warinner since they were part of his group. Already intense, Warinner's temperature rose to triple digits. 
"The message was pretty simple. It was the culture we were adapted to at that point needed to change," said offensive lineman Corey Linsley. "The coaches knew we weren't maximizing our potential. It was apparent because you just don't miss the first team meeting of a new head coach unless there is something wrong with our attitude. It was a warning sign to let everyone know things are going to change, and if you weren't up for the changes you might be on your way out."
As it turned out, no one went through the exit door of the Woody Hayes Athletic Center. They stayed, bonded and became champions. A different attitude emerged, contributing to a remade unit that allowed 30 sacks after ranking 118th nationally in 2011.
The biggest beneficiary was the run game, which amassed nearly 3,000 rushing yards in 12 games, almost 500 more than a 13-game season in 2011. The Buckeyes ranked 10th in the nation in rushing and had the 21st-ranked scoring offense. In all, they scored 37 rushing touchdowns. 
It was the group prior – the Brew Crew – that was tabbed to restore the glory to Ohio State, not a set of players that included a former tight end and multiple players that had moved up and down the line. But Linsley, Jack Mewhort, Marcus Hall, Andrew Norwell and Reid Fragel – and their position coach – made people forget about the No. 1 recruiting class that fizzled out.
"Coach Warinner is always on us," Linsley said. "If we aren't getting better, he's pushing us to get better. He's a maniac. He doesn't let you slide one bit. That's what makes him a great coach."
All but Fragel are back. And it's possible his loss is the biggest on the team. Spring practice left Meyer yearning for what he witnessed the previous fall – a stout offensive line with cohesion. Nagging injuries and the inability for a right tackle replacement to seize the job were both factors in the underwhelming line play during the spring.
"Coach Warinner is always on us. If we aren't getting better, he's pushing us to get better. He's a maniac."
"That's real bothersome to me," Meyer said. "That offensive line was, I don't want to say they were perfect, but their chemistry, their toughness, the way they handled their business is either 1A or 1B in why we won 12 games (in 2012)."
Neither Taylor Decker nor Chase Farris were able to create any separation in the right tackle derby. Establishing a clear pecking order would go a long way in determining the line's prospects for the coming season. If it continues to be a strength, one will take that next step in their development.
But as the head coach frets about what may or may not be, Warinner show little worry about what transpired in the spring.
"I feel like we're in good shape compared to last year," he said. "Last year we were still battling with that all the way up to the first game. I feel like we're ahead of that."
The pace has quickened more over the summer with intense workouts directed by strength coach Mickey Marotti. There's no time for rest, though, when Marotti is done with them. It's on to the practice field to improve the team chemistry.
Linsley is listed on the Rimington Award watch list, while Mewhort and Norwell appear on the Outland Trophy watch list. From there, the question becomes depth. Where is it, and how reliable can it be?
Ohio State was fortunate last season to start the same five players on the line in all 12 games. But in Meyer's first two recruiting classes, the number of offensive linemen has been the one think missing.
Still, Warinner insists all will be right come Aug. 31.
"We're not going to get pushed around," he said.