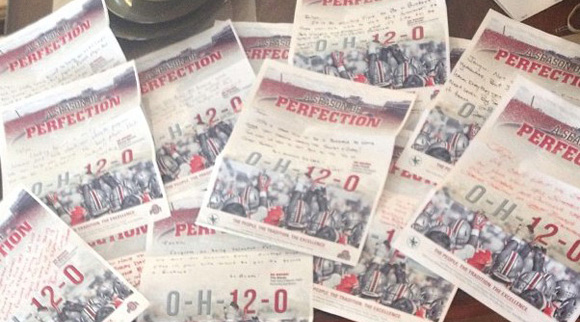 Jim Tressel and Urban Meyer actually have a lot in common. Like most coaches that win at high rate, they share an attention to detail and expect excellence for their subordinates and players. Both have national titles in their second seasons at FBS stadiums and both were born in the great state of Ohio.
You don't have to compare press conference audio to know that they're also very different. Another difference shows up in the recruiting strategies employed by each of the coaches.
Under Tressel, many Ohio State fans laughed whenever they heard the phrase "non-commitable offer," but it's become a part of our vernacular since the arrival of Meyer. Due to the volume of prospects offered by Ohio State under Meyer, the staff will many times make an offer contingent on further evaluation. It's a way of saying, "We really like you, and you have an offer from Ohio State if you can show us more." It's not just Ohio State, either. Offers at many major powers now come in both the commitable and non-commitable type.
Meyer casts a large net, offering many of the top prospects in the nation in addition to top Buckeye State kids. Tressel, on the other hand, was stingier with his offers, usually focusing on the top in-state talent, while chasing a few select prospects outside of Ohio. Tressel's offers were almost always committable and an offer usually signified interest on the recruit's part. Both strategies resulted in highly-rated recruiting classes and wins by the dozens, but which approach is better?
Some have argued that the meaning of an Ohio State offer is diminished when it's handed out so freely. Ultimately, the value of an Ohio State offer hinges on winning along with other fixed factors such as the quality of education. Both approaches have worked for Ohio State, with the Buckeyes finishing in the top five in recruiting rankings under Tressel and Meyer.
So, let's get to the data. But, first a note: This data is compiled from a variety of sources and is a best-guess. A good, but still just an estimate. Determining the true number of scholarships offered by each coach is largely impossible.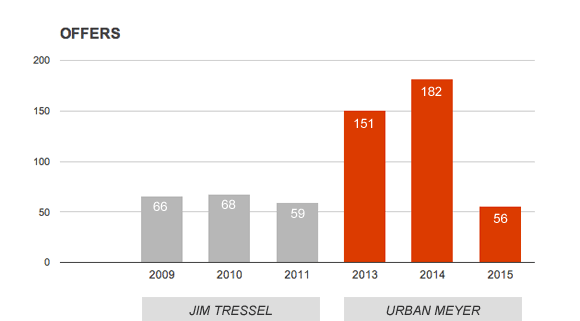 As the data clearly shows, Urban Meyer is offering nearly three times as many prospects as Jim Tressel did at Ohio State. In Tressel's last three recruiting classes at Ohio State, he offered a total of 193 prospects. That's just slightly ahead of Meyer's pace for 2014, and we're still seven months away from National Signing Day.
In fact, Meyer has offered as many prospects in the 2015 class – prospects that won't sign with a school for nearly two years – as Jim Tressel would offer in a single year.
Meyer offers many of the nationally elite prospects, some of which have little to no interest in Ohio State.  An offer from Urban Meyer basically means that the staff views the prospect as someone with Ohio State talent, like another 150-200 kids scattered around the country.
| School | 2014 Offers |
| --- | --- |
| Tennessee | 263 |
| Ohio State | 182 |
| Alabama | 173 |
| Florida | 156 |
| Oklahoma | 151 |
| Notre Dame | 140 |
| USC | 113 |
| Michigan | 108 |
| Texas | 74 |
The data appears to support the widely held belief of Urban Meyer offering prospects at a much faster rate and at an earlier rate than Jim Tressel. New offers are reported almost daily, leaving some fans wondering if Mark Pantoni and Co. ever sleeps. It takes a great staff to scout, contact, offer, and actively recruit the amount of prospects this staff has been after. Pantoni's database of a brain doesn't hurt, either.
But, how does Urban Meyer stack up with peers?
Ohio State's 182 offers to members of the 2014 class rank near the top of all schools, placing the Buckeyes behind only Tennessee and Butch Jones' 263 offers this cycle. Jones is trying to kick-start a program, but we're going to make "Honk if you have a Tennessee offer" bumper stickers, anyway.
Nick Saban and Alabama currently have 173 offers out to prospects in the 2014 class, which comes as no surprise, as Alabama is another program with a full staff and plenty of resources dedicated to recruiting.
February is still a long way away, so expect these numbers to continue to grow. And we'll be here to bring you the news on them as it happens.