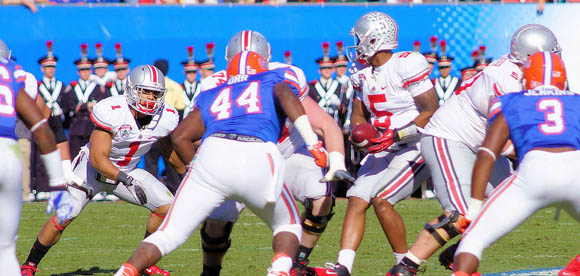 One hour southwest of Toledo sits one of the most confused towns in the state of Ohio: Florida. The village of 231 people sits on the banks of the Maumee River in Henry County and even has a market by the name Miami.
Cruise down High Street, through the center of town, and you'll see rows of middle-class houses on the river. People sitting on their front porch will wave as you drive by on Route 424 to destinations such as Defiance and Napoleon. And Ohio State, Michigan and Notre Dame flags fly from the flagpoles.
But any beach is on a riverbank, not an ocean, and the snowbirds you'll find are actual snowbirds. A winter locale this Florida is not. It actually was designated as a "semi-ghost town," towns that have less than 10 percent of the business and/or population they once had.
With barbs flying between the state's two flagship football programs, all the venomous talk about Florida in the Buckeye State could have residents of Ohio's Florida in a tizzy. Fear not, many of them being Ohio State fans, they understand the back and forth.
Florida fielded its first football team in 1906, and it went 100 years without playing Ohio State. Neither school gave the other much thought until the 1996 season. They each finished with one loss, but the Gators were crowned national champions after beating No. 1 Florida State – a team it lost to in November – 52-20 in the Sugar Bowl. The Buckeyes finished second, which gave t-shirt entrepreneurs an opportunity to cash in. Shirts featuring both schools' helmet with the words "Let's Play Now" became popular in Columbus. Still, there wasn't venom between the universities.
But they have been adversaries ever since the 2007 BCS National Championship Game. The animosity started on Dec. 23, when the Gators embarrassed the Buckeyes on the basketball court, 86-60. It reached a fever pitch 15 nights later when Florida, coached by Urban Meyer, beat Ohio State for the football title, 41-14. Incredibly, the two schools would meet again for college basketball's national championship, and again the Gators won. 
Three Florida wins sparked a Cold War-esque rivalry. The teams have played once more in football – a Florida victory in the 2012 Gator Bowl – and three times in basketball – all Ohio State wins – but the bulk of the action has been a war of words.
A segment of the Florida fan base did not take kindly to Meyer being retired for just one season before stepping back into the limelight at Ohio State, two national titles be damned. Meyer has spoken highly of his experience in Gainesville many times, but that was all dismissed when it came to light that the Buckeyes turned in the Gators for an apparent recruiting violation not once, but twice. And don't forget Florida swooping in and taking punter Johnny Townsend on National Signing Day in February. 
Meyer denied any NCAA involvement, though it was reported he was "aware" of the situation and "endorsed it." The relationship between Meyer and Florida head coach Will Muschamp can be described as lukewarm at best. Muschamp and the Florida media have directly and indirectly chided Meyer for leaving the current regime with little talent and a fractured locker room. The Gators finished 7-6 in Muschamp's first season, but an 11-2 campaign a year ago erased the impression that he was handed a talentless, broken team.
The spat intensified this week at SEC media days when Muschamp sarcastically acknowledged Ohio State for referring them to the NCAA while taking a jab at the Buckeyes' recent improprieties.
"We appreciated our friends from Ohio making sure we're compliant with NCAA rules," he said, channeling his inner Brady Hoke. "They certainly know a little bit about that subject."
Muschamp called it a "dead issue," but clearly it left him miffed. The incident in question was an illegal "bump," when coaches make contact with recruits during dead periods. Ohio State believed Florida running backs coach Brian White, who Meyer hired at Florida, had some sort of communication with a recruit. No rule was broken, according to the SEC.
Aside from the cheating or no cheating, Meyer was upset he was connected to the case, especially when it is routine for teams to turn other teams in for suspected violations. 
"It is absolutely not true that I turned in the University of Florida," Meyer said. "Weeks after, I learned our compliance guy (without any coach involvement) forwarded an article to the conference office. This is standard procedure. Once again, zero coach involvement."
Meyer's detractors, and even Florida fans, would say coach involvement, or a lack thereof, contributed to Aaron Hernandez's downward spiral. Asked about a coach's responsibility in relation to players' off-filed conduct, Muschamp said, "It's my job to be an extension of what's happened at home. You're 100 percent responsible for the young man. You can't stick your head in the sand and pretend everything's OK."
It had the appearance of being a shot across the bow at Meyer, who's arrest numbers at Florida are well-documented. Thirty-one players were apprehended by police during his six-year tenure. In the past year, multiple national media outlets have run stories about the run-ins with the law.
Florida players gave the impression of a win-at-all-costs program that was powerful and flying out of control.
"Toward the end of Coach Meyer's time here, a lot of guys were out for themselves," defensive lineman Omar Hunter said. "Not buying into the team concept. He was out for himself, so they thought the same thing.
"A lot of things were sliding. Guys were showing up late to practice and workouts. Guys were supposed to be back on Sunday and didn't get back until Monday. There was no discipline."
But Meyer suspended and kicked several Gators off the team, including Cam Newton, who would go on to have arguably the greatest season in college football history. It was not a lawless program, and it hasn't been all rainbows and sunshine at Florida since Muschamp arrived. The Gators had nine arrests in the first 13 months after he took over. The bottom line, though, is wins and losses. Fans might not want thugs associated with their alma maters and favorite teams, but the number in the "W" column remains the ultimate grader.
In Meyer's first two seasons, Florida was 22-4 with a national championship and SEC title. Muschamp is 18-8 and the only championship he has came from a second-tier bowl game.
The change in attitude of Florida fans in such a short timespan has been remarkable. It's possible no national championship-winning coach is a bigger pariah at the school he brought titles to than Meyer, save for Nick Saban at LSU. Meyer was beloved by Gator Nation, a level that approached the outpouring of gratitude Steve Spurrier receives every time he returns home.
To free fall from that high up is remarkable. Because of the hostility, Ohio State is now in the same class as Florida State, Georgia, Tennessee and Alabama when it comes to the most hated opponents in Gainesville. Even a player Meyer recruited to Florida said recently that he "really wants" to play Ohio State in a bowl game.
If the two teams played for the national championship in the social media age, Twitter would be a land of trash talk, the storylines would be abundant and Meyer could give Gator fans a lifetime of ammo for dislike. Losing to the coach who elevated your program to mountainous heights is akin to an ex-girlfriend showing up to a party with a good-looking guy.
Even worse for Florida supporters would be Meyer orchestrating a resounding victory.    
They certainly know about the subject.