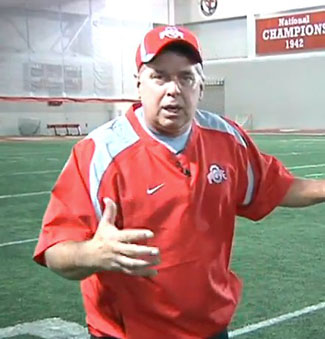 Ohio State fullbacks/tight ends coach Tim Hinton was in Perrysburg on Tuesday to speak to recent high school graduates about managing life experiences with a competitive spirit. During the course of his speech, he revealed some interesting nuggets. 
Most notable was the revelation that the Buckeyes recently stopped recruiting a highly sought-after player after less than glamorous posts on his social media accounts. 
"Pause before you hit send," he said. "Once you've said it, you've said it for a lifetime. Employers pull up your Facebook and Twitter."

"The things on his Twitter were awful," Hinton said. "He is disrespectful to women, and his language is awful. We decided not to recruit this kid and he is a big timer. So be smart men."
Any guesses as to who this modern day Yuri Wright may be?
Hinton also spoke indirectly about Marcus Baugh's recent arrest and the poor decisions that accompanied it. 
"We work really hard at Ohio State, but we make mistakes. We had one recently ... ," Hinton said. "But we work really hard to educate."
Education: a combination of talking to players about doing the right thing at all times and Mickey Marotti's DeathChamber™.