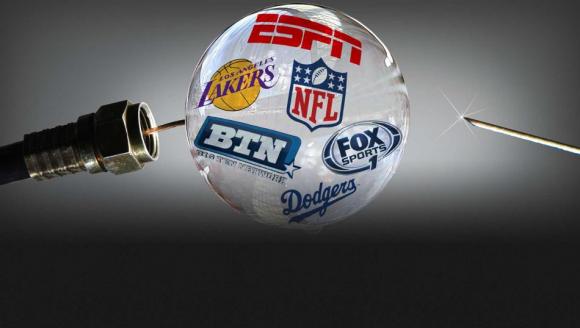 Relevant bit about the BTN:
Take the Big Ten, which recently added sports non-powerhouses Rutgers and Maryland. Why? To broaden the conference's geographic sports tax base. The Big Ten Network currently reaches a reported 53 million pay television subscribers and charges a monthly affiliate fee that ranges from $0.15 for subscribers outside its core markets to $0.80 for subscribers inside those markets. As Pete Thamel of Sports Illustrated explains, welcoming Rutgers and Maryland means potentially welcoming an estimated 15 million additional pay television households in the New York, Philadelphia, Baltimore and Washington, D.C., markets, many of which would be considered "core." If the network can get on to basic cable in those same markets, the conference could end up pocketing as much as an additional $200 million annually. Even if far less than 15 million cable and satellite viewers ever bother to watch a Rutgers-Maryland football game.
A la carte cable subscriptions aren't going to happen anytime soon, if ever. But it will be very interesting to see what happens when cable providers start offering packages that give subscribers more flexibility than they currently enjoy. As the article points out, 65% of ESPN's profits come directly from cable subscriptions, which in an age of internet TV and so on, may not be sustainable long term.
With that said, given the live nature of sports programming and the fact that ESPN already implements things like ESPN3 to counteract this, it may be up to the consumers to take the initiative and call for any real change.