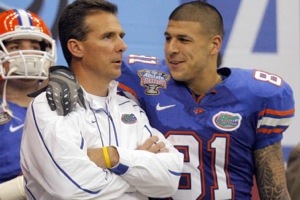 With it being July 10th and national media members still concern trolling Urban Meyer in connection with Aaron Hernandez's gangland-style execution of Odin Lloyd, SportsPickle has finally brought some needed levity to the situation:
Former New England Patriots and Florida Gators tight end Aaron Hernandez admitted to prosecutors in Rhode Island today that Urban Meyer, his former Gators head coach, is really the man behind the many murders surrounding Hernandez.

"It's what we've expected all along," said a source in the district attorney's office. "I mean, we've all heard the stories about what kind of program Urban Meyer runs. That he would have done these murders is not remotely surprising. You know how things are in the SEC."

Hernandez and his lead attorney met with prosecutors this morning and upon admitting the truth, the tight end was immediately released from custody and cleared of all charges.
How many national media figures would read this and not realize it's satire? I think you could fill an elementary classroom with them.