The 2014 class has taken shape, perhaps only missing a coveted big man.
With Jahlil Okafor competing for a gold medal in the Czech Republic with Team USA U19, he's no closer to making a decision on where to play college ball. 
So, we can briefly turn our attention to the classes of 2015 and 2016. Since coaches were allowed unlimited contact with rising juniors, the Buckeyes have substantially increased the amount of scholarship offers to the 2015 class.
With that in mind, most of your questions focused on what might happen past 2014: 
The 2015 and 2016 Ohio high school classes seem to be filled with national-level recruits.  Who all is OSU recruiting hard right now?  Who has offers, or can be assumed to probably gain offers in the near future? – OLDCOLUMBUSTOWN
No additional scholarship offers over the past few weeks have gone out to Ohio kids, besides Carlton Bragg (VASJ) and Luke Kennard (Franklin), who already had offers. 
Versatile forward Esa Ahmad (Shaker Heights) is on Ohio State's radar, and has visited the campus this year. He won his conference's player of the year award over 2014 OSU commit Dave Bell (Garfield Heights), and also outplayed him in a Raiders – Bulldogs matchup. A.J. Harris (Dayton Dunbar) is another guy drawing interest, although he is undersized.
It's tough to project out to 2016, as a lot of guys make a leap in their sophomore years. V.J. King (SVSM) is the only one to get a Buckeye offer so far. There are two other guys to keep an eye on. Lanky shooter Seth Towns (Northland) played well at a School Up North basketball camp and Willie Jackson (Garfield Heights) has already received offers from several Big Ten schools.
Speaking of King and the 2016 class…
What's the latest and greatest on V.J. King? Are we the team to beat to land his services? – MH277907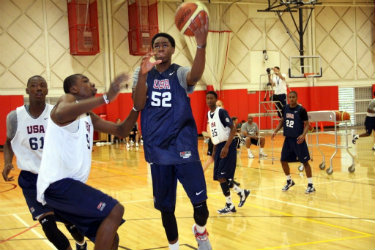 Seeing as how Matta and staff got their offer out to King ahead of any other school of their caliber, you have to think so. OSU was in on King before he even took the floor for St. Vincent–Saint Mary. It'll be about three years before we know what he'll do, though. (It's a long time. I mean, three years ago we had Johnny Cash, Bob Hope, and Steve Jobs. Now we have No Cash, No Hope And No Jobs.…)
Towards the end of June, N.C. State and the University of Miami offered King, and more will follow, once the Duke's, Kansas', Kentucky's, North Carolina's, etc., start focusing more heavily on the 2016 class. 
Also, King just wrapped up winning a gold medal with the USA U16 team in Uruguay. He's probably due for a slight break from basketball.
Luke Kennard has visited UM and has said it went great. He and his family are UK fans. Is there any kind of in-state loyalty that gives OSU an edge or is Coach Matta and co. fighting an uphill battle? – EAZYELMO 
He has been to Ann Arbor multiple times over the past couple years. John Beilein and his staff noticed Kennard at a camp before his freshman year – although, he didn't get an offer from them until last month.
Kennard attended another camp in Ann Arbor, last weekend, and showed how gifted he is with the ball in his hands. The residual effects of the camp, visiting the campus and being offered by the Wolverines in the last month leaves him high on the school.
However, he's not even sure that he'll play college basketball yet. He recently spoke with ESPN.com's Michael Rothstein about choosing whether to play basketball or football:
"Honestly, I don't know... I just feel like I would play [basketball] any time of the day. It's just my passion, pretty much. I like football a lot, but I am getting more looks for basketball right now, so that's probably why."

- Luke Kennard to ESPN.com, about choosing to play basketball or football 
Louisville offered a football scholarship, and several Big Ten schools are interested, as well. Once he chooses between the two sports, we'll get a better indication of where he's leaning.
Is there any possibility Tyus Jones ends up a Buckeye? – RAIDERRED
There's always been a chance, especially with his best bro Jahlil Okafor's affinity for the Buckeyes. It's a question of what kind of fit Jones is with the rest of the group, assuming they even have a scholarship available for him.
Regardless of your opinion on Kentucky coach John Calipari, he has some interesting thoughts on the so-called "package deal," in general:
"If players want to play together, that's OK, but it must benefit ALL the players. If not, it's a huge mistake for one or more of those guys. Ultimately, what I think a kid should be thinking about is what's in the best interest of his individual career."

- John Calipari, from a post his web site
At this point, D'Angelo Russell is working to improve his point guard skills – he's even said as much. Clearly, the Buckeyes are comfortable with him being in their long-term plans for that role. He's great for this class, versatile enough to slide over to the 2-guard and play off the ball, as well.
Jones can fit in with this group, but Duke is still considered the favorite to land him.
How is the Schott and related basketball complex perceived by recruits when compared to high profile venues in the B1G and around the country? – OSU_ALUM_05
I think this ridiculous spending on basketball facilities is a result of the following: schools being really good at fundraising for relatively unimportant things, excess revenue and/or – as it directly relates to basketball – the idea of showing commitment to your basketball program.
So, in Ohio State's case, it shows that the basketball program does not take a back seat to football in the administration's eyes. Therefore, everyone down the ladder feels more comfortable at OSU and makes it a desirable program to be a part of.
Thad Matta and the athletic office felt that they needed more opportunities to develop talent, and a new facility allows that to happen (no conflict of time and space between the men's and women's program, for example). Maybe they don't have a pretty little waterfall next to a hot tub in the facility, but it puts them on par with other schools in the country. Just another way to make sure they don't fall behind in recruiting.
Self-promotional closer: By the way, a month ago, I wrote about all the new basketball facilities popping up around the Big Ten.