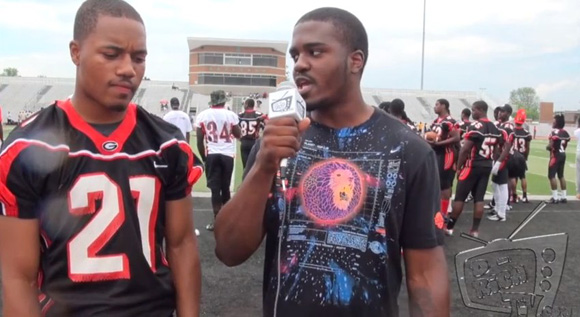 Courtesy of D-Rich TV, comes this video of Glenville's Marshon Lattimore following a 7-on-7 event at Bedford High School Saturday. Lattimore, a corner, is considered Ohio's top prospect in the class of 2014, and holds offers from Ohio State, Alabama, and Oregon among others.
Glenville has long been an Ohio State pipeline school and the Buckeyes already have one Tarblooder committed for next year, offensive guard Marcelys Jones. They'd love to add Lattimore and his teammate, safety Erick Smith. When asked about whether Smith and he would be a package deal, Lattimore said, "Yeah, we've been talking about going to the same college."
Lattimore said the pipeline to Ohio State would not play a role in his decision.
"No, not at all. I'm going to go where it fits me. I don't care about the pipeline. I'm going to go to the school that I feel like I'm comfortable at and I like the coaches."
Lattimore plans to visit Alabama, USC, Ohio State, Michigan, Tennessee, Louisville, and Oregon before announcing his decision at the U.S. Army All-American Bowl in January.