Welcome to another edition of the Ohio State football recruiting notebook. There has been quite a bit of major news on the Buckeye recruiting front since last Friday and we're here to tell you all about it.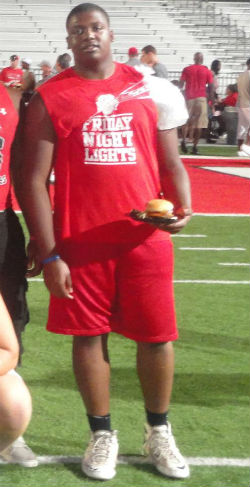 The biggest news of the week came last Friday, Saturday, and Thursday when the Urban Meyer and the Bucks scored their 12th, 13th, and 14th commitments of the their 2014 recruiting class.
Leesburg (GA) Lee County quarterback Stephen Collier started this week's string of commitments last Friday. Indianapolis (IN) Cathedral wide receiver Terry McLaurin followed by committing to the OSU last Sunday. Finally Chicago (IL) De La Salle Institution offensive tackle Jamarco Jones ended the week with a bang by committing to the Bucks yesterday.
There were also a couple of Ohio State's top targets in town last week for Ohio State's one day football camp, the last major recruiting event in the month of June. We'll tell you about the major visitors later in the notebook.
A couple of prospects who had offers from the Buckeyes committed to other schools last week. We'll tell you which players decided to commit elsewhere and where they decided to go after the jump.
Let's deep dive into the latest happenings in the world of Ohio State football recruiting.
THE BUZZ
As I mentioned in the open, this past week was a big one as far as commitments go. The Buckeyes have added three players to their 2014 class since this time last week.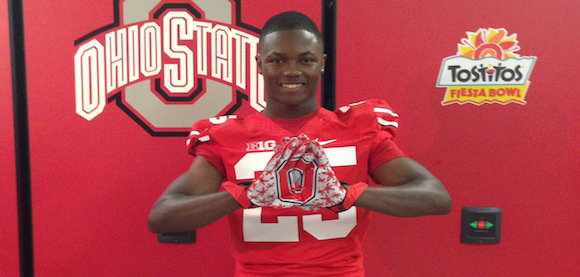 Stephen Collier started the run of commitments by committing to Urban Meyer last Friday night, only moments after receiving a scholarship offer to play for the Scarlet and Gray. He is the first quarterback to join the 2014 class.
Some people might think the Collier commitment put the Bucks out of the running for Bossier City (LA) Parkway quarterback Brandon Harris. However, Harris told me that he is still strongly considering the Buckeyes.
Terry McLaurin was the next player to join the class committing a few days after earning an offer at Ohio State's one day camp on Friday. He is the second future wide receiver to join the class joining Gary (IN) West Side wide receiver Lonnie Johnson.
The biggest commitment the Buckeyes picked up was the final commitment of the week when Jamarco Jones chose Ohio State over Michigan State and Michigan Thursday afternoon at 2 ET.
Urban Meyer's hot streak continues as Ohio State lands a commitment from four-star offensive tackle Jamarco Jones. http://t.co/nOvBNcf0Jd

— Eleven Warriors (@11W) June 27, 2013
Jones is the third offensive linemen in the 2014 recruiting class. He is joined by Cleveland (OH) Glenville offensive guard Marcelys Jones and Lancaster (OH) offensive tackle Kyle Trout. The Buckeyes could end up taking five or six offensive linemen in this class when it's all said and done.
There will also many major visitors on campus last week. Most of them were in town for Ohio State's on day camp last Friday, while others were only in town to take a look at the football program.
The biggest visitor was Scranton (PA) Lackawanna C.C. offensive tackle Jermaine Eluemunor who his currently committed to the UCLA Bruins.
Urban Meyer and his staff made a great impression on Eluemunor and really got him thinking about eventually flipping to the Buckeyes. I think he'll end up flipping from the Bruins to the Bucks in the next week or two.
2014 JUCO OT Jermaine Eluemunor is having a great visit. He really likes the Buckeyes and is not 100% committed to UCLA.

— Miles 11W (@Miles11W) June 23, 2013
Another important visitor was Havelock (NC) running back Derrell Scott who was in Columbus for the first time last week. He was thought to be a major South Carolina lean coming into the visit, but he told Jeremy he really liked Columbus and seems to be seriously considering Ohio State.
2015 Canton (OH) McKinley athlete Eric Glover-Williams was another top prospect on campus for last Friday's camp. After the camp he told me Urban Meyer wants him to be the leader of the 2015 class. I could see that happening this fall when he plans to commit to a school.
Other major visitors included Matt Elam, Lorenzo Carter, Johnnie Dixon, Elisha Shaw, and a couple other prospects.
HAPPY TRAILS
Three players who held Ohio State offers committed to other schools last week. However, none of these prospects expressed serious interest in the Bucks over their recruitment.
Orange Park (FL) Oakleaf linebacker Darrion Owens committed to Miami last week. Next Tucker (GA) linebacker Detric Dukes committed to Georgia. He is a teammate of Buckeye target Elisha Shaw. Finally Fort Worth (TX) All Saints Episcopal School fullback Daniel Gresham committed to Louisville. Gresham is a teammate and good friend of Buckeye offensive line target Demetrius Knox.
In short, the Buckeyes did not miss out on any players that were high on their recruiting board.
LOOKING AHEAD
There isn't going to be too much going on in the next few weeks on the Ohio State recruiting front.
The one major thing we could see happen is the Buckeyes picking up a commitment from Scranton (PA) Lackawanna offensive tackle Jermaine Eluemunor. We could see something happen on this front as early as this weekend. 
Eluemunor has been touted by many as the top junior college offensive linemen in the class and could come into Columbus and start from day one if he decides to flip from UCLA to Ohio State.
Finally, Nike's "The Opening" will run from next Monday thru Thursday. There will be nine Buckeye commits in attendance for the event including the likes of Stephen Collier, Terry McLaurin, Kyle Trout, Jalyn Holmes, Dylan Thompson, Kyle Berger, Dante Booker Jr., Damon Webb, and Parris Campbell.
The Eleven Warriors recruiting team will keep you up to date on all things Ohio State recruiting.
Have a great weekend!