What comes to mind when you think of Chicago? The "windy city"? Michael Jordan? Blues music? Really, REALLY good pizza? Harry Carey and the hard-luck Cubs? Steve Bartman? Maybe "da Bears" or "da Bulls"? Bill Murray? The Great Fire? The World's Fair? Perhaps any or all of those things, but probably not the small suburb just north of the "second city", or the university located there with which it is inextricably entwined. 
The city of Evanston was actually founded after the University of Northwestern was built there, and it was named after John Evans, an Ohio native and one of the founders of the university. Northwestern is still a private institution, the only one left in the Big Ten Conference. Its journalism school, Medill, is excellent. If you like read or watch things, you encounter someone that went to Northwestern. Its research and its programs for Engineering and Management are known and respected throughout the world.
As for football, that's a different story. During the 70s, the Wildcats were perennial cellar-dwellers in the Big Ten, and despite a brief run of success in the 90s and a highly-celebrated victory over Michigan in 2000, the program still does not strike fear into the heavyweights of the conference. But fans are hopeful for this year's campaign, and with good reason.
Last season Northwestern won 10 games and earned their first bowl victory since 1949, a 34-20 Gator Bowl triumph over Mississippi State, an SEC team that had dusted Michigan only a year before. The win left them ranked #17 in the final AP rankings and #16 in the final coaches poll. These days, even recruiting is looking up for the Wildcats.
Of course, not having Ohio State on the schedule will help any Big Ten team get to 10 wins a little more easily. Looking at it the other way, not having to play a good Northwestern team helped OSU finish undefeated. No such luck this year, as the Buckeyes must travel to Northwestern for night game on October 5th. If you are going to the game, here are some attractions you might want to check out.
DURING THE DAY
Being the home of a research university, it should surprise no one that Evanston is a center of good places for learning and teaching. If you're into the museum and/or history scene, you will want to check out the Evanston History Center at the Dawes House. The old mansion has been restored and there are docents there who will tell you stories galore about the Dawes family and the other families that lived there. You might also check out the Mary & Leigh Block Museum of Art on the NU campus (for culture lovers) or the Kohl Children's Museum (for large families like mine) in nearby Wilmette.
The Grosse Point Lighthouse is normally a great place to go in Evanston, but unfortunately they don't offer tours in October. You can still go and tour the grounds for free, but you won't be able to go up in the tower. Still, it might be fun to just check out the old structure since you'll be so close.
But then again, you're just eight miles north of the Chicago Loop and you might as well enjoy the big city while you have the chance. The list of attractions in Chicago proper is almost endless, but of special note is the SkyDeck at the top of the Willis Tower (formerly the Sears Tower) where you can see four states all at once in the panoramic view offered by America's tallest skyscraper. The Windy City has amazing museums and cultural centers, including the Art Institute of Chicago, The Field Museum, Shedd Aquarium and Adler Planetarium, but for my money there's nothing more cultural than chomping down a genuine Chicago hot dog.
Seeing the Michael Jordan Statue is a must and if shopping is your thing, Michigan Avenue has it all. Wrigley Field is located about halfway between downtown and Evanston and although you won't be able to tour it in October, you can still trek to Addison and Clark to experience a great American ballpark.
FOOD AND NIGHT LIFE
For lunch in Evanston, hit Edzo's for amazing burgers or Lou Malnati's for pizza. Mustard's Last Stand serves up delicious dogs just feet from the stadium, but it's small and gets packed, so be prepared to wait. To pregame, you can do worse than Bluestone on Central.
The choices for Evanston night life are small but still adequate. The Rhythm Room Bar & Bistro is a jazz and cocktail joint that evokes the Rat Pack sensibilities of the early to mid 60s. For the younger crowd, there's Club Helium. If you're into the BYOB scene and don't mind a little smoke, you can relax at the Kush Hookah Lounge. For a late night dinner in a relaxing bar-style environment, amazing food and a killer beer selection, you could try Andersonville's Hopleaf, which is technically in Chicago but still close to Evanston.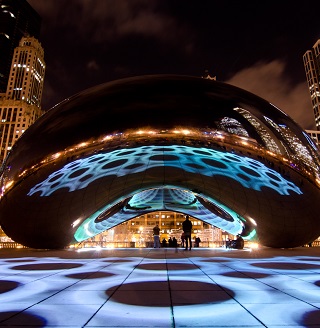 The dinner options increase exponentially once you go into Chicago proper. Of course, I prefer one of the pizza options linked above, but if you're into a more sophisticated form of culinary experience, you could try one of the city's famous upscale restaurants like Alinea, Girl & the Goat, Avec, Mercat a la planxa, or Schwa. But if that's too high-brow for you, a seat over at Harry Carey's Italian Steakhouse in Rosemont might feel a little more comfortable.
Just walking around the city at night can be pretty entertaining, and the lights of the city reflecting on the the "Bean" at the Millennium Park can keep your attention for a while. But if you need to do a little dancing and have a drink or two, you might want to check out the Board Room or the Enclave to get your fix. For those who prefer a sports bar, the Public House might be more to your liking. For a great selection of exotic beers, try Maria's Packaged Goods & Community Bar.
Eleven Warriors plans to host an event the night before the game, so stay tuned for details on that, too.
Getting Around
The "L", Chicago's mostly-elevated subway system, is the nation's third busiest and consists of eight lines laid out in a spoke-hub system. Luckily for you, you may only need to use two of the lines: the Red Line, which runs along the lake from the south side of the city to its northern edge, and the Purple Line, which you will take from the Red Line terminus at Howard to the Central St station, where it's just a short walk to Ryan Field.
You haven't really lived until you've ridden a train full of Buckeye fans singing and O-H—I-Oing into Evanston, but be sure to make a practice run on the "L" before your trip up for the game. Thousands of Ohioans unfamiliar with mass transit can make for long lines at the station following the game.
There are plenty of cabs in Chicagoland and although the driving may scare some, the meters run slower than they do in Columbus, so there's that.
---
Whatever your taste or speed, you will find something that suits you in Chicago. The only problem (besides running out of spending money) is you may find that you don't want to leave. It will take you a good week and then some to do everything that you want to do there, so keep that in mind when you plan your trip. The football game is a fun time, but it will probably be a small footnote if you get to stay for a while and experience all the city has to offer.