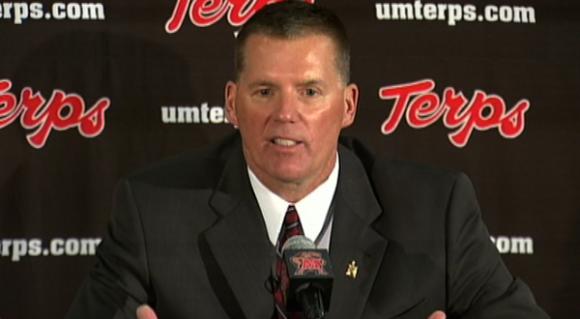 One year from becoming a member of the Big Ten, the University of Maryland athletic programs are in the midst of a push to attract more fans, documented nicely by the Baltimore Sun. The football team has traveled across to state to drum up support, while basketball coach Mark Turgeon is busy bringing former players back into the fold.  
The Terrapins have had a rough go of things on the athletic fields in recent seasons which has turned away fans and deep-pocketed donors — a key cog in successful athletic departments. Maryland is hopeful that its journey to the Big Ten will be paved with yellow brick roads.
Season ticket sales for football are up, and the same can be said for luxury suites at Byrd Stadium. The Terps are confident those numbers will continue to rise with big-name teams venturing to College Park on a weekly basis beginning in 2014. Through the Big Ten Network and other financial avenues, Maryland believes its athletic department, which has been low on cash, will thrive once again.