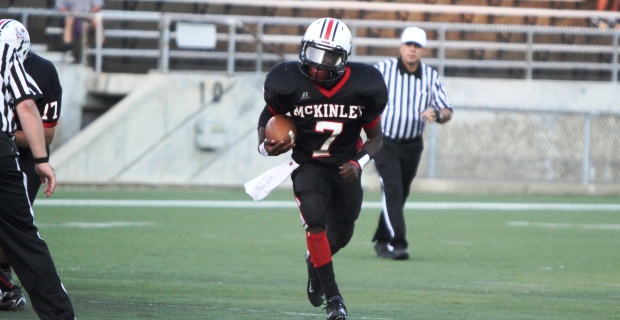 Canton (OH) McKinley athlete Eric Glover-Williams is one of the top prospects in the state of Ohio for the class of 2015. He already holds an offer from the Buckeye and attended Ohio State's one day camp today.
"Overall I felt my grade was a B. I feel like I could've done a lot better. I was kind of tired, I've been to a lot of camps and have been working out with my team, I felt kind of tired today, but I still grinded it out to show out for my team."
While Glover-Williams was less than impressed with his performance, he did win the "smokehouse" which took place at the very end of today's camp.
"That was more of just a quick thing. I'm just good at getting a jump off the line, so that was pretty much what I did is get a good jump off the line."
Glover-Williams was one of the select few players Buckeye head coach Urban Meyer pulled aside during the camp to talk to.
"We talked and he just kind of told me that he wanted me to be the head person in my class," he said. "I feel that's a big accomplishment, every kid wants to be a big poster for the Ohio State Buckeyes, but right now I'm just looking forward to my season."
Glover-Williams is only going to be a junior in high school, so he hasn't paid too much attention to recruiting just yet.
"I really don't put to much attention to it, I just let it come, I just come and show out and do what I have to do to get better."
He may not be too far away from committing though.
"I'm not sure, I'm just going to go into the season and after the fall is probably when I'm going to commit," he said. "My top five is Ohio State. Tennessee, Nebraska, Michigan, and Louisville."
When asked about Ohio State, the junior star had a lot of good things to say.
"I just like how much the players love the university, all of the fans love the university and everybody loves the program and they have one of the top graduation rates in the nation."
There are multiple factors that will go into his decision when he sits down after the fall to decide on his future school, but the most important one will be feeling at home.
"Just when I go, I can feel like I'm at home, to feel like I'm right in Canton, Ohio, where I'm from and feel like I'm at home with everybody and all of the players."
Finally Glover-Williams is very interested in being the leader of a class, which is part of the reason he wants to make an early decision.
"I want to be a leader of the class and try to get recruits to come to that school for my class," he said.
Glover-Williams is only planning one more visit this summer, which will be to Tennessee. He will also be participating in the National Seven-on-Seven tournament for the Cleveland Browns team.