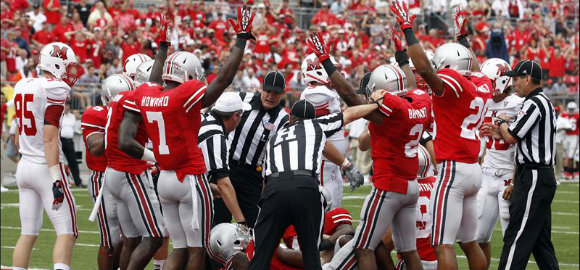 Last week we broke down the first half of the 2013 schedule according to normalized offensive and defensive yards per play (YPP) data and found that things are looking pretty good for the Buckeyes. Will that change through the meat of the conference games? 
In case you don't remember from last week, yards per play numbers are highly correlated with overall successful units, and most of the top teams in terms of YPP are the usual suspects: Alabama, Georgia, Oregon, Texas A&M, and Florida State, for instance. 
Once I normalized this data to better compare how much better or worse the Buckeyes are than their opponents, I found that the Ohio State offense and defenses were both good, but not excellent squads. The defense gave up about half a yard less than average per play, while the offense gained a little over a third of a yard more per play. 
Because this is normalized data, positive numbers on offensive YPP indicate offenses that are above average, while negative defensive YPP scores indicate better than average defenses (in number of standard deviations from the mean).
Remember those bell curves from college statistics and you'll get the idea. The absolute value furthest from zero is our winner in these projected matchups between units.
Iowa
| OSU Offense vs. Iowa Defense | OSU Defense vs. Iowa Offense |
| --- | --- |
| .61 vs .0001 (OSU) | -.72 vs. -1.47 (OSU) |
A few years removed from the 2009 nail-biter finish that saw Devin Barclay become an OSU legend, the 2013 matchup is decidedly lopsided in favor of the Buckeyes. 
The 4-8 Hawkeyes were average on defense and terrible on offense under first-year offensive coordinator Greg Davis. The 2012 Iowa offense was much, much worse than average and does not match up well with the Buckeye defense. Even Shazier remains the only viable linebacker (which I think is unlikely), the Hawkeyes will be breaking in a new starting quarterback. 
Putting it mildly, the Buckeyes should be heavily favored in this matchup. 
Penn State
| OSU Offense vs. PSU Defense | OSU Defense vs. PSU Offense |
| --- | --- |
| .61 vs. -1.00 (PSU) | -.72 vs. -.44 (OSU)  |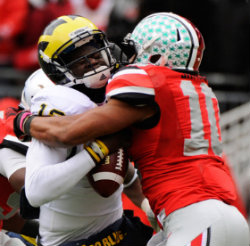 One of the most surprising findings from the offensive yards per play data was that Ohio State's offense was just .61 standard deviations from the mean – it was good, but not elite in 2012.
Even with offensive explosions against Indiana and Nebraska, Braxton and company had room to be more efficient. 
They will go up against the Penn State's defense that limited opponents to just 4.9 yards per play (which was 22nd in the country). This will be the crucial matchup next season, as the already sub-par Penn State offense will likely need some help with a new starting quarterback. 
Purdue
| OSU Offense vs. Purdue Defense | OSU Defense vs. Purdue Offense |
| --- | --- |
| .61 vs. .27 (OSU) | -.72 vs. -.31 (OSU) |
I just don't understand Purdue. They were outmatched on both offense and defense (and generally are every year), but came the closest to ruining the Buckeyes' 2012 season. 
The Boilermakers might look even worse on offense for Darrell Hazell's first year as head coach since the quarterback situation isn't looking very great. The defense doesn't look to be too much more efficient, surrendering an average of 5.7 yards per play on defense. That's not great, but somewhat in the neighborhood of Iowa and Illinois. 
Illinois
| OSU Offense vs. Illinois Defense | OSU Defense vs. Illinois Offense |
| --- | --- |
| .61 vs. .41 (OSU) | -.72 vs. -1.81 (OSU) |
Illinois, Purdue, Indiana, and Iowa are the middle of Ohio State's schedule and all look very similar statistically: fairly average-to-poor defenses and average to bad offenses compared to the rest of the country. 
Tim Beckman should be pleading with his offense to get it together in 2013, as they had one of the worst OYPP scores in the country at just 4.47 YPP. The Buckeyes gained over a yard and a half more per down last season. 
Indiana
| OSU Offense vs. Indiana Defense | OSU Defense vs. Indiana Offense |
| --- | --- |
| .61 vs. .89 (OSU) | -.72 vs. -.005 (OSU)  |
Indiana's near upset of the Buckeyes in 2012 gave us a pretty good picture of the team: middling defense and decent offense. Of course, this "decent" offense was still slightly worse than average in YPP, but has greatly improved since passing guru Kevin Wilson was hired. 
The Hoosiers actually led the Big Ten with 311.2 passing yards per game (though this was only sixth in the Big Ten in passing yards per attempt). 
The Buckeyes shouldn't have any problem scoring on the Indiana defense, but the question will be whether Indiana's passing offense will still be able to exploit the Buckeye linebackers and secondary. Purely looking at the YPP data, Ohio State should be just fine. 
Michigan
| OSU Offense vs. UM Defense | OSU Defense vs. UM Offense |
| --- | --- |
| .61 vs. -.96 (UM)  | -.72 vs. .60 (OSU) |
While it's not quite accurate to say Ohio State has a one game season in 2013, The Game is absolutely the tightest matchup the Buckeyes will have. Michigan's pass defense led the country for much of the year (but then again, so did Nebraska's). However, the Buckeyes were able to run Hyde over and over again in the fourth quarter and completely control the Michigan defense. 
The Michigan rushing offense should improve with Derrick Green at running back, but there isn't much depth behind him and the line must replace several guys. The key matchup should be between Devin Gardner and the Buckeye secondary.