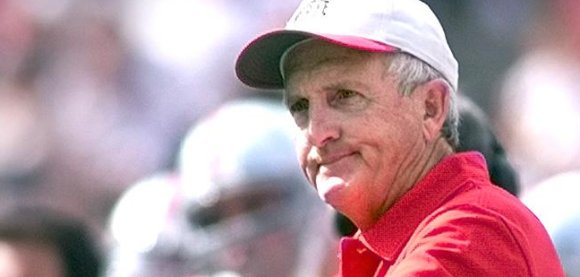 I turn 40 years young later this year which puts my sports-formative years squarely in the crosshairs of the John Harold Cooper era at Ohio State. 
Sure, properly raised, I was a already a Buckeye diehard, having cut my teeth on the Earle Bruce era but it's those mid-teens to mid-20's that truly first bring out all the emotions and experiences come with being an "all-in" fan of any team. 
To have those said sports-formative years bump against JHC's tenure in Columbus can only be summarized as both a gift and a curse. 
The southern gentleman, already enshrined into the College Football Hall of Fame, will now also be inducted into Ohio State's Athletics Hall of Fame, and rightfully so. That said, is anyone surprised it took longer to make into the Ohio State version?
Probably not. And you know why. 
There's simply no denying the unmet expectations born out of tremendously talented teams that, almost robotically, saw their national championship aspirations go up in smoke, most often at the hands of the Dream Killers Up North. 
At the same time, in between those painful defeats, hot tub commercials, and wonderfully simple sayings about football, Cooper took the Buckeyes from what had become a just-good-enough-to-not-be-great program since Bruce's second year in Columbus and brought them back to national prominence. 
Coop will never shake what is simply known as 2-10-1, it just doesn't work that way. And it shouldn't. 
But amidst those 11 times he came up short in The Game, he did push Ohio State's recruiting boundaries and on-field expectations to heights not seen since Woody roamed the sidelines.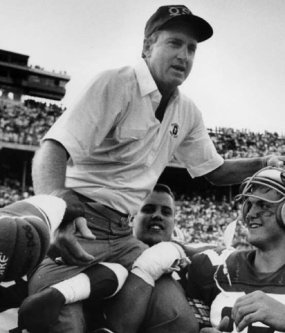 I'd argue, quite frankly, that it is Bruce who should be recognized as the weakest link since Woody set a standard that will likely never be equaled. Not Cooper. 
Cooper's regime reeled in talent like Eddie George, Antoine Winfield, Orlando Pace, Dan Wilkinson, Mike Doss, and David Boston.
I could've turned that sentence into a comma-fest adding guys like Joey Galloway, Korey Stringer, Shawn Springs, Andy Katzenmoyer and Joe Germaine.
Nevertheless, having inherited what he infamously called a bunch of "slow white guys" from Bruce's roster, it took awhile for Cooper to first gain footing then begin hauling in blue chip replacements. 
To be fair, the lack of existing talent wasn't the only reason Cooper dug himself an early hole. He was an outsider. He looked scared to death late in games, biting his nails to the quick. He seemingly did virtually everything you sat on your couch or stood in the stadium and screamed for him not to do. 
The results weren't pretty as Ohio State went a rancid 35-21-3 over the first five seasons of Cooper's tenure (59%), including a staggering 0-8-1 mark against Michigan and and in bowl games. It's okay. I just dry-heaved, too. 
Things started to turn beginning in 1993 as the Buckeyes started the season on a 9-0-1 start including Top 25 wins over Washington, Michigan State, Indiana and Penn State. Like clockwork, Cooper would lose 28-0 at Michigan but did lead OSU to a 28-21 win over BYU in the Holiday Bowl to finish 10-1-1. 
After a 9-4 campaign in '94, Cooper's Buckeyes went on a four year run in which they won 43 of 50 games. Ohio State finished in the top-12 of the AP Poll each of those seasons including a 6th place finish in 1995 to go along with 2nd place finishes in '96 and '98. 
So, while he was rightfully panned for a dismal first five seasons and his striking inability to win the big one, Cooper still racked up five 10+ win seasons over a six year span. His predecessor, by comparison, experienced exactly two 10+ win seasons in nine seasons at the helm and one of those came in 1979 with a roster full of Woody's boys.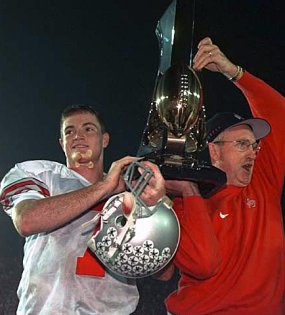 Speaking of '79, that was the only season in Bruce's tenure that the Buckeyes carried an unblemished record as late in the season as the third week of October. Conversely, Cooper's squads took an undefeated record into November four times in a span of six years. Yes, the championship-derailing losses to Michigan stung like the fury of a 1,000 Biakabatuka's but that's because there was so much on the line. Again. Finally. 
Bruce rarely set us up for such heartbreak as his Buckeyes entered The Game with an undefeated or 1-loss record just twice in nine years and as you'd probably guess, those occurred in his first two years in Columbus. 
To be clear, defining Cooper's legacy is not about comparing him to Bruce but it shouldn't be lost in history that despite Cooper's shortcomings, the man did pull Ohio State's offense and recruiting out the proverbial dark ages, essentially modernizing how the Buckeyes went about the business of winning football games. 
Cooper's shortcomings in big games along with slipping discipline within the program proved his undoing and he was canned after 6-6 and 8-4 seasons in '99 and 2000. 
Though the 2000 season marked the end of the Cooper era on paper, his impact on the program wasn't quite yet finished as just two years later, Jim Tressel would lead Ohio State to the national championship with a stacked roster built largely of Cooper's recruits. 
It's beyond fair to assume Cooper might've squandered elite talent once more but there's no denying the impact guys like Mike Doss, Michael Jenkins, Craig Krenzel, Will Smith, Darrion Scott, Matt Wilhelm, Tim Anderson, Will Allen, Cie Grant and Alex Stepanovich had on the championship season. In all, no less than 17 starters were lured to Columbus by Cooper and his staff.
Of course, that national championship season – the one and only of my lifetime thus far – brightens the lens with which Cooper's OSU coaching career can be viewed. For me, Cooper's tenure is the conduit that took Ohio State from Bruce's "good" to Tressel's "champions" while reestablishing Ohio State as a national powerhouse and creating the near-annual championship expectations that we as fans are so privileged to enjoy.
That may not be all Cooper had hoped to achieve but a man could certainly do worse with his legacy.