2012 was a banner year for the Buckeye ground attack. The Scarlet and Gray's 242 rushing yards per game was good enough for 10th in the nation, churning out 37 of the team's 60 total TDs in the process.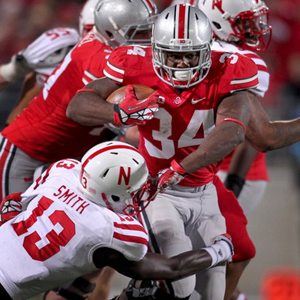 Nearly 80% of the squad's 2,907 rushing yards came via Braxton Miller and Carlos Hyde. The tandem was downright deadly running Urban Meyer's newly installed spread. 
Miller, is tailor-made for Meyer's offense. His speed, athleticism and shiftiness are exactly what Urban looks for in a playmaker. Hyde is the exact opposite; a bruising 235 lbs back that would rather go through opponents than around them. 
Hyde doesn't fit the mold, and that's exactly what the coaches love about him. Just listen to Running Back Coach, Stan Drayton.
"The beauty of this offense is that it fits the skills of our players. It can always be adjusted to the skill that we have with them, our personnel. (Meyer's coaches) have always been a power, inside-zone outfit, no matter where we've been. It's just that down in Florida, you were doing it with guys who weighed 185 or 190 pounds. Now you're doing it with a 235-pound back, and these guys when they hit it they break a tackle or two."
With a full year operating Meyer's system, an entire offseason to study its finer points, and the offensive line returning four senior starters Miller and Hyde are primed and ready to obliterate last year's ground performance.
It seems its not really a question of will they…but how will they? So instead we'll shift our focus to which of the duo will have more rushing yards in the 2013 season?
Miller won that battle last year with 1,271 yards on the ground to Hyde's 970. With that said, Carlos missed two games due to injury. If you look at their per game averages the yardage seems much closer at 106 (Miller) to 97 (Hyde). If you consider their yards per carry the chasm draws even closer at 5.6 yards per carry for Miller and 5.2 for Hyde.
But 2013 won't occur in a 2012 vacuum, particularly for Hyde. A number of talented players will challenge Carlos for carries including sophomore Bri'onte Dunn, junior Rod Smith, the embattled Jordan Hall, and incoming freshmen Ezekiel Elliott and Dontre Wilson.
That's about as stocked as a Buckeye backfield has ever been, and that's exactly why I think Hyde will have more rushing yards that Miller in 2013.
That doesn't make any sense you say? Just hear me out.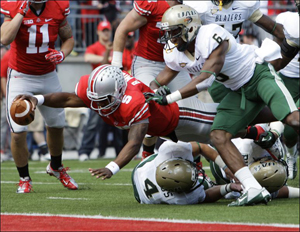 Throughout the offseason it was clear the coaching staff was trying to hammer home a point to reporters: Braxton's fundamentals still need some work.
This from Urban Meyer:
"Tom Herman and Braxton Miller understand they have to get better. And Braxton fundamentally, if he becomes fundamentally the best quarterback in America, I think he will be the best quarterback in America."
And this from QB Coach, Tom Herman:
"As improved as [Miller] got, he's not the best fundamental quarterback in the country and they pay me a lot of money to make sure that he is. So we are going to do whatever it takes to get him there sooner rather than later, but understanding you can't do a thousand drills and go to bed that night and you're the best fundamental quarterback in the country."
Seeing a pattern? To think that Braxton can only get better is downright frightening. With that said, the coaching staff will look to protect Miller throughout the season so we don't have a repeat of this no good, very bad day.
The best way to do that is to get the ball out of Miller's hands, and Meyer and company have been coaching up Braxton's supporting cast to do exactly that.
As aforementioned, there will be an embarrassment of riches at the RB position. In addition, Jordan Hall, Dontre Wilson and Jalin Marshall will look to fill the H-Back "Percy Harvin" role missing for most of the 2012 season due to Hall's injury.
The three players have the ability to make something happen on end-arounds, pitches and quick passes; all of which are intended to create defensive mismatches and take some of the impetus off Miller to carry the load.
Braxton will also have a much-improved receiving unit made up of veterans Devin Smith, Philly Brown, Chris Fields and Evan Spencer as well as budding underclassman Michael Thomas. In addition, the group will have incoming four-star James Clark as well as the aforementioned Marshall to work with.
Finally, Braxton will have TEs Jeff Heuerman and Nick Vannett to rely on. The two earned high praise during the offseason, particularly from Meyer who said, "The tight-end area is the best I've had." It's all the more meaningful coming from this guy's former coach.
Even the most casual observer could see Miller WAS the offense in 2011. While that changed markedly in his second season, there was still a perception Miller was being relied on too heavily to move the ball in 2012. Right or wrong, an improved supporting cast will curtail Miller's share of ball, most likely increasing his passing yards while keeping constant or possibly even decreasing his yards on the ground.
On the other hand, we have Hyde who will still get a majority of the carries despite a number of challengers nipping at his heels.
All signs point to Hyde having the best season of his collegiate career. His trajectory has been impressive, increasing his total yardage by over 400 yards from his freshman to sophomore season and from his sophomore to junior season.
In 2013, Hyde will run behind the most talented offensive line he's ever had. Couple that with a spread offense aimed at keeping a defense guessing and the holes Carlos will see should be as plentiful (and as large) as they've ever been.
So many times during Hyde's first two seasons everyone in the stadium knew when he was getting the ball. Even in 2012, Meyer was forced to line-up, show his hand and run the I-formation at times because he simply did not have the personnel to do the things he wanted to do.
That's not to say the Bucks wont run the I, but I simply don't see it happening as frequently. With so many playmakers on offense it will be mandatory to have most of them on the field at once, necessitating a more wide-open set.
That will do two things: 1. Allow Braxton to spread the ball around and 2. Keep the opponent guessing, allowing Carlos to run roughshod on a defense that doesn't know he's coming.
While Braxton will get his yards on the ground, Carlos will be the team's leading rusher in 2013, ultimately leading to a more well-rounded offensive attack for a squad poised to chase a Championship.