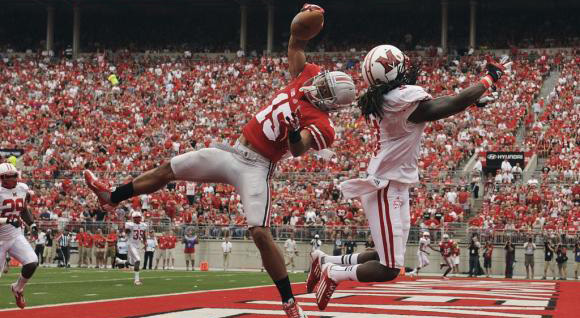 He's played just two seasons, neither in what one would consider a pass-happy offense. Still, Devin Smith has managed to become a household name to Buckeye fans with receptions at the most opportune times.
During his freshman year, he etched his name into Buckeye lore with a game-winning 40-yard reception on a desperation heave from then-freshman Braxton Miller to stun Wisconsin in the closing seconds. In the 2013 season opener, the red carpet – or scarlet – was rolled out for Urban Meyer's first game as head coach. But it was Smith who grabbed the headlines – and the football. His acrobatic one-handed touchdown catch – the Buckeyes' first of season – would win play of the year honors.
Weeks later, Ohio State was shell-shocked after a second-half onslaught from California, when Smith again stepped up. This time it was a 72-yard touchdown reception from Miller. In the Big Ten opener at Michigan State the Buckeyes would need Smith's heroics once more for a game-winning touchdown.
The picture is clear, and the finished produce reveals big-game Devin. But with a lack of consistency, Smith hasn't been able to truly establish himself as Ohio State's top target.
In 2012, he caught only 14 passes and did not eclipse the 300-yard barrier. Thirty receptions for more than 600 yards and six touchdowns represented an improvement during his sophomore season, but Smith – and Meyer, Tom Herman and Zach Smith – is expecting more production.
"Last season was a taste of how this offense is supposed to run," he said. "All I have to do is take the great coaching here and the sky's the limit."
If he reaches the heights he's set out for, Smith won't have to worry about any lingering anonymity. Critics have voiced their frustration about the inability to depend on Smith every game. He's prone to disappearing, they say.
To some, he might literally disappear this season if they're looking for No. 15. Reverting to his high school days, Smith will wear No. 9. But with Philly Brown, Chris Fields, Jordan Hall, Dontre Wilson and Jalin Marshall all likely to share the field with Smith, one and two reception games could become a thing of the past.
Ohio State's wide receivers have been on an uphill climb the past two seasons, and more upward movement is expected in 2013. Quantity and quality have each seen an upgrade. 
"We're a lot better than we were last year at this time," Meyer said in the spring. "I couldn't tell you, first of all, probably who they were a year ago, because we were not very good."
Meyer became aware of who Devin Smith was and the potential in his game. So did Zach Smith, who coaches wide receivers.
"You're not going to find a more talented guy than Devin Smith," said Zach Smith. "He's got to take his game to the next level, and I've got to take his game to the next level. That's what we're expecting out of him. You can see the growth, but he's not where we expect him."
Meyer said he believed Smith would be "pretty good" this season. Motivating is one of the coach's greatest assets, and it's a quality that has rubbed off on his staff. Last season, Meyer famously referred to the offense as a "clown show." It spurred them to vast improvements from the spring to the fall.
"I want to be the guy everyone can count on. I don't want to be the guy everyone remembers as the one-handed catch."
Comments from players on that side of the ball revealed Meyer's antics worked, just like they did in the 2007 BCS National Championship Game against Ohio State.
"In the spring, with (Meyer) on me a lot, I couldn't stand it," Smith said. "I knew I had to make a change and I worked very hard in the summer working on my speed and my strength, and getting the timing down. It carried over to camp and we had a great camp."
During this offseason, the extra oomph has come from dropped passes. Smith allowed multiple passes to deflect off his hands a season ago, several which hit him in the numbers. To improve the 105th passing offense, letting catchable balls drop to the ground is a no-no.
The team isn't focusing on offensive numbers to improve. The only number they have in their crosshairs is one, as in the No. 1 ranking. But Smith and his fellow offensive players understand where they stand in the pecking order of importance – high.
"We've gotten a lot better at everything," he said. "But there's still room for improvement. Everyone has their role and knows what they need to do to get better."
Said Zach Smith: "Our offense is built around the receivers and the throw game. We rely heavily on them. They didn't know how significant the expectation was last year. Now they know."
Football is one of the ultimate team games in all of sports. Another is track. Without total contribution from all facets, team-wide success is in peril. But that allows the individual aspect of the sports to creep in. Smith has lived it on both fields of play. As an honorable mention track All-American, Smith knows what flawless and botched relays can do to a team performance. Miraculous catches and indefensible drops have a similar impact on a football game.
With that in mind, Smith wants to be in the limelight because he knows if he can excel, team accomplishments will follow.
"I want to make more plays this year," he said. "I want to be the guy everyone can count on. I don't want to be the guy everyone remembers as the one-handed catch.
"The one thing I'm really focusing on is I want to be an All-American. I want people to know that I'm a great player."
Another series of game-winning touchdowns in an undefeated season – this time culminating in a national championship – would cement Smith's status on the list of all-time Buckeye greats.