Last Saturday, Ohio State head coach Urban Meyer and Lee County High School (Leesburg, Ga.) quarterback Stephen Collier had a conversation that Collier had been waiting on for some time. While the call didn't answer all his questions, it gave Collier a timeline for when he might hear back from Ohio State.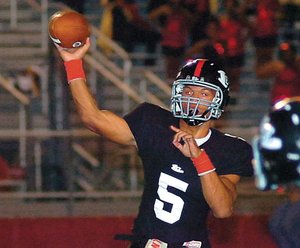 "He told me that I was their guy," Collier told Eleven Warriors. "(Meyer) said that he needed to sit down and talk again with the coaching staff and Coach Herman after Father's Day because he'd been fundraising since all the stuff happened on (last) Friday night."
"The stuff" Collier is referring to was the news that Apopka (Fla.) QB Zack Darlington and Bolivar (Mo.) QB Rafe Peavey, who were both scheduled to make their play for a Buckeye offer — as Collier did at Ohio State on June 9th — would both be passing on their chance; Darlington committed to Nebraska and Peavey reconfirmed his commitment to Arkansas. That opened the door for Collier, who has been a primary target for the Buckeyes since they first checked in on him in late April, to get the offer he was most coveting.
"Coach Herman called me a little bit after the camp tonight, and he said 'let's cut to the chase,'" Collier told Eleven Warriors. "He asked me if I would like a scholarship offer from Ohio State and I said yes. So, as of right now, I'm committed to Ohio State. My family and I are so grateful and excited. I've been holding back tears."
With that offer, and that call back today, Collier became Ohio State's 2014 quarterback and it's something he could not be more excited about. 
Collier was hoping for this chance for a while, and he made it a point to come to Columbus to earn the offer he wanted. He's not the type of person who is happy to receive something he didn't work hard to attain.
"At the camp, I got a chance to workout for Coach Meyer and Coach Herman," he said. "I felt like I impressed them but the coaches told me that they needed to evaluate two other players that had promised they'd look at. I spent a lot of time with Coach Meyer and I have just been trying to be patient."
There's no more being patient for Collier, he wanted the offer from Ohio State and was sure that if it came he would not take a chance on missing the opportunity to play for the Buckeyes.
"It felt like an environment I could do really well in," he said. "They get the most out of their players because they do a really good job of mixing a demanding yet nurturing atmosphere."
As the last few weeks had passed, Collier began feeling a bit more confident that the offer would come, but he never let it get the better of him.
"You could see all the pieces starting to fall, but I've been patient," he added. "I knew that I wanted to play for Coach Meyer because as great as I personally know I want to be, he makes me want to be even greater."
Collier is working hard to improve his game and it's paid off in spades for the 6-foot-4, 210-pound quarterback. He doesn't have the look or the game of a "three-star" quarterback as he's "rated", but it's a ratings system that's as much about politics as it is about talent. This spring Collier went to work on the camp circuit and impressed everywhere he's been, earning an invitation to the Elite 11 final camp in Oregon at the end of this month as well as a number offers from schools he'd visited along the way. 
"This spring really was great. I knew I had to go out and make a name for myself due to the limited playing time I had last year. We averaged 45 points a game so for almost half the season our starters were pulled at halftime," he said of junior season at Lee County. "This spring I felt like I had to show everyone what I was capable of so I just worked as hard as I knew how, on and off the field. I knew I was going to have to get to a few camps to get my name out and it was hard at first because I was just finishing up with my basketball season. I think I hit my stride finally around the time of the Elite 11 and NFTC and it paid off with the Elite 11 invitation, which is an incredible opportunity and blessing."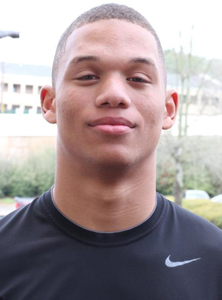 "Last year, I had to beat the returning starter out, a senior, for the starting job. I've never been so concerned with rankings and stars and all that because those things are superficial, but I know why they matter to fans," he continued. "Ratings can't judge work ethic, character, and the will to succeed, and that it seems to me is far more important thing. The priority for me was uniting my team in order to make this year one of the best in school history. We fell short last year and I take responsibility for that, so the focus was — and is — striving for greatness as a team. I knew if I did the right things offers would come."
Collier's physical prowess aside, his competitive nature his well-measured approach to the recruiting process might have been what separated him from others that the Buckeyes were still considering at their most important position.
"With quarterbacks recruiting is different. While a coach can see a wide receiver on film and call and offer the next day, quarterbacks will one day be the leaders of programs so coaches have to make sure they're 100-percent positive that that recruit can handle the responsibility," Collier said. "That means making visits to campus, having coaches watching you throw multiple times, breaking down game film with a coach, etc.; it's a tedious process. So being patient is a must. It was hard at first because I didn't know all of this beforehand but once I learned the ropes a little I just had learn to let things work out on their own."
"I'm going to get to work on getting the best guys in our class," he said. "I've already been talking to a lot the guys and getting to know the other commits. Next week is The Opening and that's a big opportunity for being out there with that many great people."
Ohio State fans have been waiting for months to find out who would be the quarterback in their 2014 recruiting class and today you met him.
Say hello to Stephen Collier.