When Maryland transfer Danny O'Brien started his Wisconsin career last season going 19/23 for 219 yards and 2 touchdowns in a win over FCS school Northern Iowa, the Wisconsin faithful must have been feeling a bit of deja vu. After all, the previous year they had watched N.C. State transfer Russell Wilson dazzle the country in his one season as the starting quarterback at Wisconsin. A repeat of that magic was scripted for O'Brien.
Unfortunately for them, things didn't work out that way. O'Brien was ineffective in subsequent games against Oregon State and Utah State, and in the latter game was benched in favor of Joel Stave. He eventually dropped to third string behind Stave and Curt Phillips, and then this spring dropped again to fourth string. Apparently, he's had enough, as he now is poised to transfer again.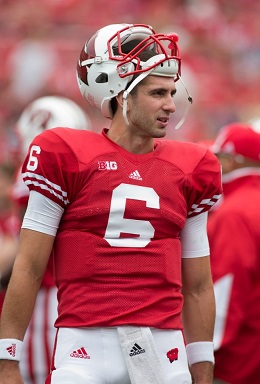 Transfers among college football players have become more commonplace in recent years, even as conferences like the Big Ten have enacted punitive rules to try to deter them. Ohio State has had their share both ways, with reserve linebacker David Perkins the latest to jump off of the Buckeye train in search of greener pastures. For his sake, I hope he's more like fomer Buckeye hoopster Walter Offutt and less like Duron Carter.
The offseason is the time when player movement stories are more plentiful, although most of the news concerns players who are on their way in. Still, occasionally a big-name player like O'Brien decides to pack it up and take his game elsewhere in hopes of getting enough playing time to get a look from some NFL team. In many cases, a change of scenery is just the ticket to resurrect a flagging college career.
Sometimes a player moves to a "lesser" school in order to be a "big fish in a little pond". The theory there is that a big-time recruit buried on the depth chart at a major power can rack up insane stats against weaker competition if he goes to a school that ordinarily would never have a chance of landing him. In some cases, this strategy can even lead a player to transfer to an FCS school.
This worked out pretty well for Joe Flacco, the reigning Super Bowl-winning quarterback for the Baltimore Ravens. Flacco was behind Tyler Palko at Pittsburgh, but transferred to Delaware and made a name for himself racking up over 3300 yards passing his last year there, good enough to earn him first round pick status in the NFL draft. On the other hand, that same kind of success never materialized for Robbie Schoenhoft. It's been hit or miss for some other blue-chip former Buckeyes as well: for every Dorian Bell, there's a James Louis.
Moving to an established major school that is looking for someone to step in and play at your position can also be a good option, but for every Russell Wilson, there's a Danny O'Brien. Or a Rob Marve. 
Let's look at some high-profile transfers from the past that actually had great success, and examine why things clicked so well for them.
TROY AIKMAN
Aikman was a pocket passer from California, but somehow he decided to play for Barry Switzer at Oklahoma. He became a starter in his sophomore year, but broke his ankle in the fourth game and was out for the rest of the season. His backup, freshman Jamelle Holieway, led the Sooners to a national championship running Switzer's usual Wishbone offense, and so Aikman figured he had no future there. And so he decided to transfer to a school that was both closer to home and more likely to have a need for his type of talent: UCLA.
The rest is history. After a mandatory redshirt season, Aikman led the Bruins to a 10-2 season and final #11 ranking his junior season and then another 10-2 season and a final #6 ranking as a senior. That last year he passed for over 2700 yards and was named first team All-American. He would be the first overall pick in the NFL draft the following spring, and of course he won three Super Bowls as starting quarterback for the Dallas Cowboys. As it turned out, that broken ankle, and the subsequent transfer, was the best thing that ever happened to Aikman.
RANDY MOSS
Moss was an eliite high school player coming out of West Virginia, and he was coveted by every major college program including Ohio State. He originally signed to play for Notre Dame, but some problems with the law led to the school denying him admission. He switched to Florida State, but the NCAA considered him a transfer and so he had to sit out his freshman year. Before he could take the field with the Seminoles, he tested positive for marijuana and was kicked off the team. A transfer to then Division I-AA Marshall allowed Moss to move again without losing another year.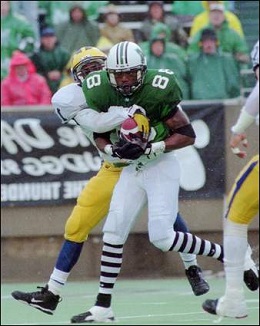 Moss quickly acclimated himself to the weak competition, catching 78 balls for 1709 yards and 28 touchdowns. The next season, Marshall moved to Division I-A and Moss continued his dominance, collecting 96 receptions for 1820 yards and 26 TDs. He then left school to enter the NFL draft, and was chosen in the first round by the Minnesota Vikings. A player as talented as Moss would probably have been dominant wherever he went, but it helped that he just happened to team up with future NFL starting quarterback Chad Pennington while at Marshall. 
RYAN MALLETT
Mallett was a 5-star recruit out of Texas who somehow decided that Michigan would be a good place to play college ball. His skill was almost a perfect match for the Lloyd Carr offense of 2007, and Mallett saw action for a few games while starter Chad Henne was injured. But when RichRod brought his spread offense from West Virginia to Ann Arbor, Mallett could see that he would not prosper in that type of attack, and so he decided to transfer to Arkansas.
Not only was Arkansas closer to home, but their new head coach, Bobby Petrino, was known for a pro-style offense that suited Mallett's drop-back passing skills. Mallett immediately took to the system, passing for over 3600 yards and 30 touchdowns during his first season of eligibility (after the mandatory redshirt season). He did even better the next season, passing for almost 3900 yards and finishing 7th in the Heisman Trophy balloting. He then entered the NFL draft, where he was chosen in the 3rd round by the New England Patriots and now stands as the heir apparent to Tom Brady at quarterback there (ironically, they took him with the pick they received from Minnesota in a trade for Randy Moss).
Moss's transfer was a necessity, Aikman's was the only way to save his career, and Mallett's was a successful escape from hell. In each case, the player moved to a school that was closer to home. Moss could have gone anywhere and succeeded on the field (off the field is another issue entirely), while Aikman and Mallett required a certain kind of offense to take advantage of their skills. Danny O'Brien is no Troy Aikman, but he might be a Chad Pennington. If he could find a school where someone as good as Moss (or even close) is suiting up at WR, then maybe he could rack up the stats necessary to impress some NFL team.