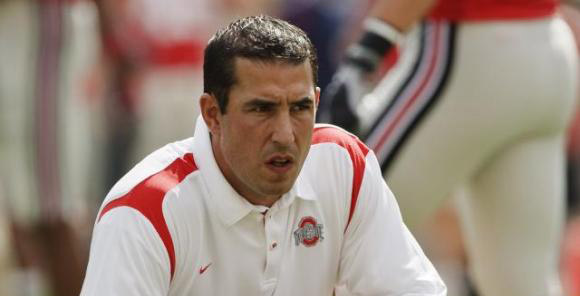 During Jim Tressel's decade at the helm of the Ohio State Buckeyes, the football program enjoyed an unprecedented period of success that included more than 100 wins, a national championship and eight Big Ten titles. He was compensated handsomely for the victories, raking in a salary that ranked among the top-10 of the country. But his assistants did not join that elite group.
Arms races have existed in college athletics for years, and Ohio State athletic Gene Smith wasn't about to get caught up in the hoopla. It started in 2009 when Lane Kiffin was allocated $2.5 million to pay four of his prominent assistants at Tennessee, including $1.2 million for his defensive coordinator – and father – Monte.
The rise in assistant coaches' pay started in the deep-pocketed SEC but has since spread around the country like an out of control wildfire. The increases weren't thought to be sustainable when first processed. That mindset seems to have gone the way of the dodo. In a win-at-all-costs era, athletic departments are able to attract big boosters willing to help Old State U. keep up with the Jonses.
Texas athletic director DeLoss Dodds infamously said, "We are the Jonses," when referring to the Longhorns. But they've fallen on hard times in recent seasons, posting a 22-16 record since 2010. However, don't think that's affected salaries on the football staff. Coordinators received raises after a 5-7 season in 2010.
At the same time, the Buckeyes' four top-level assistants – Jim Bollman ($275,400), Jim Heacock ($260,510), Darrell Hazell ($236,250) and Luke Fickell ($183,600) – made less than $1 million combined.
Those numbers pale in comparison to Urban Meyer's current staff.
"Assistant Coach salaries have continued to rise, especially over the last two years," Smith told Eleven Warriors. "Considering that, we needed to compensate our staff consistent with the market and talent."
While he was tormenting the SEC and accumulating national championships at Florida, Meyer assembled an impressive collection of assistants, many who've gone on to become head coaches. Meyer's pedigree helped lure them to Gainesville, but the pay also factored into the decision-making.
When he was hired by Ohio State, Meyer, who is due more than $4 million this season, vowed to hire the best group of assistant coaches in America, saying it's what the Buckeyes and their fans deserved. To attract them, it would take a sales pitch that included tradition, winning, facilities, and money. Consider it a success, as all three of Ohio State's coordinators – Fickell ($600,000) Everett Withers ($580,000) and Tom Herman ($550,000) – make more than a half-million dollars.
"We are at the top of the Big Ten and probably in the top third nationally," Smith said.
"we needed to compensate our staff consistent with the market and talent."
Less than three years ago, he – and other influential figures in college sports – called skyrocketing salaries for assistants "irresponsible" and even said money derived from fans could be better spent. Then again, all fans want is a winner.
As the SEC and other leagues have upped the ante – LSU pays two assistants more than $1 million and Clemson offensive coordinator Chad Morris is the highest paid assistant in the country at $1.3 million – the Big Ten has been left behind not only in salaries but respectability.
That era is quickly coming to an end. In times when CEOs get chastised for oversized incomes, fans encourage the athletic department of their favorite team to open up the checkbook. The Big Ten listened.
The Detroit Free Press reported that the conference is investing $1.72 million more into assistant coaches for the upcoming season (Data was gathered from 10 schools – Northwestern and Penn State are not required to respond to open-records requests) than in 2012.
"I think Michigan had stepped up with their coordinators, so we were already going to that before Urban Meyer came, but we bumped it up a little more," Smith said at the Big Ten meetings in May. "Any time there's change, you have that opportunity."
Over the past four years, assistant coaches' salaries have risen 29 percent, eight percentage points higher than head coaches during the same timeframe. Not surprisingly, the SEC leads the pack with its average assistant coach pay at $315,000.  The Big Ten average is $268,000, with Michigan defensive coordinator Greg Mattison – Meyer's coordinator at Florida – topping the list at $750,000.
And it's not just Ohio State and Michigan who are paying more money, every school in the conference, even the Purdues and Minnesotas, has made a stronger commitment.
Six years ago, 42 head coaches made at least $1 million. There are now 42 that make $2 million. Still, it's the upsurge in assistants' pay that is drawing headlines.
"Everyone's always focused on head coaches salaries, but I think really when you look at the changes, it's really been assistant salaries across the country, not just in the SEC – the Big 12, the Pac-12, all across the country," Smith said.
The effects were felt most at Wisconsin. First, head coach Bret Bielema fled for Arkansas, and one of the biggest reasons was what he felt was a lack of commitment in compensating assistants. Enter new head coach Gary Andersen and a group of assistants that will receive nearly $2.5 million – $500,000 more than Bielema's 2012 staff.
It's separated the haves and have-nots even more. When it comes to hiring head coaches, mid-majors are finding it more difficult because high-profile assistants would be required to take a paycut in some cases to become head coaches. If you're a coordinator at a major conference program making more than $500,000, taking comparable pay with more stress and less stability isn't attractive.  
All of a sudden, being the head man in-charge isn't always the most desirable career route.