The 11W Community Interview is truly of the people, by the people, and for the people. You submit the questions, vote on them, and then we pass the top ones on to the biggest names in the world of Ohio State athletics.
Welcome back to Sunday night and with it, the next phase in the 11W Community Interview series, this week featuring the first Ohio State commitment from the 2014 recruiting class and the latest in a line of Buckeyes from Cleveland Glenville High School, offensive lineman Marcelys Jones. 
The Tarblooder guard will rap about his decision to commit to Ohio State so early, the pressures of his continuing recruitment and whether or not those rumors about his desire to check out other schools is accurate. 
Let's get with Marcelys Jones, Buckeye commitment.
Coach Ginn usually makes his players wait on their commitments, if this is true, then what makes your commitment different from any other to allow such an early commitment from you?
What are you looking forward to the most at Ohio State? - Wezbuck28
MJ: Coach Ginn has never held us back, just to be clear. It's just a lot of players want to see their other options but with Coach Meyer being at Ohio State it made it easier for me to commit. I was always been a big fan of Coach Meyer, even when he was at Florida. Honestly though, I always wanted to a Buckeye so as soon as I got the offer I knew were I was going. What I am looking forward to the most? Winning a national championship, because that's what we're going to do.
Glenville is known for being a football power and for putting kids into top college programs (& the NFL). What is it like to be coached by Ted Ginn Sr. and be a part of such a successful high school program that's produced guys like Troy Smith, Ted Ginn Jr, & Donte Whitner, among others? - TennBuckeye19
MJ: It's a honor to be coached by Coach Ginn, period. I don't think there's a coach in America who does what Coach Ginn and the Glenville program does for us. It's truly incredible.
Are schools other than tOSU still recruiting you?  What do you do during the offseason to hone your skill?  What sold you on tOSU to commit early in the process? - Toad1204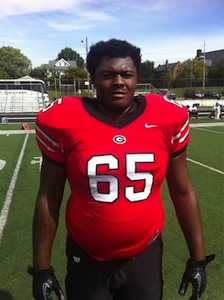 MJ: Yes, I am still getting recruited, it's part of the "game" now, it won't stop until February. When it comes to my  offseason stuff, I just go through the weight lifting program because I am trying to get stronger and other than that I just train and work on technique to become a better football player. You can't ever rest.
What other Ohio State commits have you gotten to know the best since your commitment? - ColoradoBuck
MJ: All of them we talk almost everyday in some way, whether it's in a group message or on Twitter. We are always trying to about what's next and who we're recruiting, so we know each other pretty well. They are a bunch of great guys, I'm happy to know them.
Coach Meyer likes his team to play angry.  Your highlight video shows that you have a bit of a mean streak. Do you? - BuckGuyFan1
MJ: Haha, yeah, I definitely play with a mean streak. I don't think you can be a nice guy playing offensive line, or at least a real good one. I try to be a nice guy off the field, but on it is a different story.
What drives you as a linemen. The contact? The one on one battles? Pancaking your man? keeping your QB upright? What is it about line play that you like the most? - Luckynutz
MJ: Honestly, all of those things. I mean, it's fun just getting to smash someone into the dirt while keeping your guy's jersey clean. What could be better than getting pancake people (laughs).
Do you hate it when people ask if you're 100% committed? - BuckeyeVsTHeWorld
MJ: I do kind of hate it, I am not going to lie. Because honestly, if i wasn't going to stay a Buckeye, or if I didn't want to be a Buckeye i would've never committed. Yes, I like to have fun and I see that other schools have good opportunities too, but if I wanted to be somewhere else, I wouldn't have been the first guy in this class to commit to Ohio State.
(So naturally the next question is...)
I hope this isn't considered an offensive question, but how committed are you to Ohio State? What other schools are you looking to visit? It none, why do you think there are so many rumors about you being interested elsewhere? - AWarren84
MJ: Like I said, I'm 100-percent a Buckeye. I know there were rumors about Kentucky, but it's all just rumors. As far as visits or that stuff, I'm not focused on it. I still have a season ahead of me that I'm worried and need to focus on, with my teammates at Glenville. I don't know why people think I'm interested in other schools, I guess because I'm cool with recruits committed to other places. Some of the stuff, like the Kentucky stuff just comes out of nowhere.
How has social media affected your particular experience of recruiting? Has it been mostly positive, negative, or a mixed bag of both? - Ahh Saturday
I'm 100-percent a buckeye. those other things are just rumors.
MJ: It could have an effect on some people, and I can see how it could. I'm not real big on who likes me or who doesn't, so how I'm viewed because of social media doesn't impact me. I mean, I am just myself, and if people don't like that, then I really don't care (laughs). I am working hard to be to be the best teammate I can be and the best football player I can be, so what those guys think is more important.
Thanks Buckeye fans for giving me the chance to say what's on my mind.