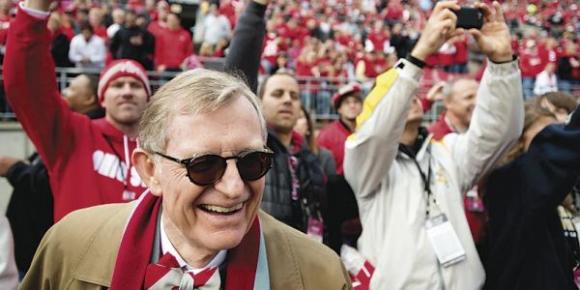 University presidents have the same characteristics as referees – you don't know their names until they screw up. For much of the nation, that model fits precisely when it comes to Ohio State president E. Gordon Gee.
He's recognizable from his bow tie and horn-rimmed glasses – an Orville Redenbacher look-a-like. But many only heard about Gee when he had a verbal gaffe. Unfortunate for Ohio State and Gee himself, who will retire July 1, is that he accomplished much during his two stints as the university's president.
Few could speak, fundraise and inspire students and alumni like Gee. When he spoke, people listened. Oftentimes, they did so with checkbook in hand. In the past year, Ohio State topped the list when it came to growing endowments among the 50 largest university funding pools.
The National Association of College and University Business Officers reported that Ohio State's long-term investment pool grew by $2.4 billion – 11.6 percent. Second most during the same span was Texas A&M's 9.1 percent increase, while the rest of the schools had little movement or decreased.
In a year hindered by an unprecedented football scandal, the university took in a record number of gift givers. Ohio State raised $365 million from more than 211,000 individual donors in fiscal 2012. And as positive as the number of donors was, the amount of money was down from the previous year, which produced a record $408 million.
E. Gordon Gee Steps Down
But Les Wexner and Limited Brands also pledged the single highest donation the university has ever received that year, all of $100 million.
At the heart of it all was the charismatic Gee. Now he's gone the way of Woody Hayes and Jim Tressel before him, outsized personalities that became legends but had a far from graceful end. 
Ohio State's gargantuan athletic program is the doorstep of the university. There is little debate on that topic, and Gee's departure will be felt. He may have ended the athletic department at Vanderbilt, integrating it into the university's structure under the Division of Student Life, but he always understood the importance of athletics at Ohio State.
The move at Vanderbilt came with plenty of jeers and sneers. In the past decade, though, the Commodores have enjoyed one of the most successful decades in school history.
Ohio State's handling of the NCAA case two years ago raised eyebrows, with many calling for the ouster of athletic director Gene Smith. But Gee never made any secret of the fact that he held Smith, who also holds the title of vice president, in high regard.
In sports, whether it's general managers or athletic directors, there is often talk of those with hiring and firing power having "their guys." That doesn't mean Smith will be on the hot seat when a new president is installed, but his comfortable seat atop the university hierarchy could be a little less cushy.
Gee's impact at Ohio State will be lasting – the university is positioned better than at any point in its history. The next leader will have a large bow tie to fill and an endowment to continue to grow. It's a job that won't come easy after Gee's effectiveness had the appearance of being effortless.
It's hard to say what Ohio State is looking for in its new leader, aside from being a remarkable fundraiser. Having involvement or a past history with big-time college athletics would probably be wise, and along those lines Oregon State president Ed Ray fits the profile.
Ray is the current chairman of the NCAA Executive Committee and has been in headlines recently in regards to the ongoing changes in college sports and his role in the Penn State sanctions. As chairman, Ray gave NCAA president Mark Emmert the go-ahead to use unprecedented powers to punish Penn State.
Ray famously referred to the Jerry Sandusky sex abuse scandal as "a conspiracy of silence at the highest levels" of Penn State. He could have trouble making friends in State College, but Ray has the credentials to step into the job at Ohio State.
Prior to his appointment at Oregon State, Ray spent 33 years at Ohio State in a variety of positions. He was a member of the economics faculty for the duration of his stay, serving as chair from 1976-92. For one year, 1992-93, Ray was the associate provost before being elevated to senior vice provost and chief information officer from 1993–98 and executive vice president and provost from 1998-2003.
Ray's wife, Beth, was a counselor and assistant dean in the College of Arts and Sciences at Ohio State.
He currently makes in the neighborhood of $600,000 per year, 52nd among public school presidents. A move to Ohio State would come with a considerable pay raise.
In his annual State of the University speech this year, Ray announced two major initiatives made possible by private gifts. A $40 million engineering research facility will be supported by multiple $20 million donations and a $5 million donation that will improve the school's performing arts.
During Ray's tenure, Oregon State has become the leading institution of higher education in the state. Forty percent of in-state students have a grade-point average of 3.75 or higher. The university has also doubled its international enrollment. That has led Oregon State to hiring nearly 200 tenure track faculty members in the past two years.
"I know of no other university in the nation that has hired this many new faculty," Ray said.
Oregon State received $281 million in research funding last year and the university has raised more than $900 million since 2006.
At 68-years-old, though, Ray's age could be a deterrent.
Another college athletics oriented president is Florida's Bernie Machen. He's the chairman of the SEC presidents and chancellors and was a leading voice on conference expansion.  Machen was also at the University of Utah when it hired Urban Meyer and again at Florida. Meyer remains close with Machen and even mentioned him in his introductory press conference in November 2011.
As provost at Michigan, Machen had a major part in the vetting process for hiring a new head football coach after Gary Moeller's dismissal. The group eventually landed on Lloyd Carr, who would go on to win a national championship and become one of the school's most success head coaches.
Perhaps the most high profile sports role Machen has had was serving on the board of trustees of the Salt Lake Olympic Organizing Committee for the 2002 Winter Olympics.
Machen's tenure at Florida includes growth in the annual research funding from $470 million in 2003-2004 to $644 million in the current fiscal year, more than 2.8 million square feet in new construction on campus and the completion of Florida's $1.7 billion capital campaign.
Age too could be a factor in Machen's viability. At 69, he has already retired once before backing off.
Barbara Snyder, an Ohio State alum and the former vice president and provost of the university, is perhaps the most appealing candidate for the position. The current president at Case Western Reserve, Snyder's impact was felt almost immediately. In her first four years at the Cleveland-based private school, Case overcame a $20 million budget deficit while increasing fundraising by $60 million and research dollars by more than $15 million.
Her entire tenure includes an 85-percent increase in fundraising. Less than two years ago, Case launched a $1 billion fundraising campaign, which has brought in nearly $800 million so far.
The 57-year-old has built a reputation as one of the up-and-comers in higher education. A return to Ohio State would finalize a career that is soaring.
These are three names that would fit the profile of an Ohio State president. All, some or none could be considered for the prominent position. One thing is certain, though, it will be the toughest task a Buckeye has undertaken since 1979 when Earle Bruce ran onto the field in Ohio Stadium to end the Woody Hayes era.