In the competitive world of recruiting, coaches will fight for any edge their programs can get – whether perceived or real.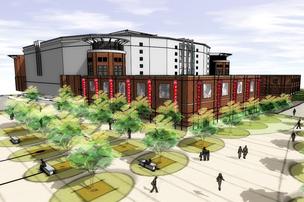 Ohio State has been at the forefront of throwing money at any slight disadvantages they identify, as the school usually is. Construction is already well underway for a $19 million basketball practice facility. 
Buckeyes assistant coach Jeff Boals made his debut on Vine with a quick look at the new facility (featuring a Jon Diebler cameo). Construction is expected to be completed within the year, giving head coach Thad Matta a sparkling, new building to showcase for the class of 2014.
It's been a long process – one that started in 2007, according to athletic director Gene Smith.
"Working with Thad and [former women's basketball coach] Jim [Foster], it was critical to evaluate what we need to help keep our facilities top-notch," Smith told Eleven Warriors in December. "It was apparent the Schott needed to be enhanced."
Apparent to only those on the inside of the program, perhaps – the rest saw it as an arena with modern amenities but lacking the charm of many older college gyms.
It's now a full-fledged competition among Big Ten schools, seemingly triggered by Michigan State's upgrades in 2002. Any school that felt committed to basketball suddenly had the urge to try to catch up. In the last five years alone, Ohio State is one of six Big Ten schools that have made or are currently in the process of upgrading their basketball facilities.
Although Smith insinuated that the new practice facility isn't a response to the rest of the conference, it isn't likely that OSU would match the other schools – almost dollar for dollar – unless it was to ensure that they didn't lag behind in recruiting and developing players.
"We do not strive to 'keep up with the Joneses,'" Smith said, in December. "We strive to do what is best for OSU to recruit the best and brightest and have in place the best tools and teaching environments and facilities."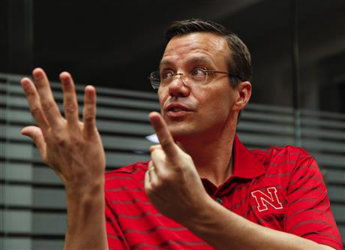 With large alumni bases able to provide generous funding, fellow Big Ten schools aim for the same goals as Ohio State's. Indiana, for example, received a $15 million gift towards a "basketball development center," which opened in 2010.
Iowa, Michigan, and Purdue followed suit. Combined, it's almost $190 million in renovations and upgrades for those schools.
Program history, stability and the ability of a coaching staff to develop talent are, usually, the primary reasons why recruits sign at their school of choice. However, if any doubts about a program's commitment to basketball sneaks into a recruit's mind (lack of upgraded facilities might do that), it negatively affects the ability for a coach to recruit. Plus, it helps to have a place where players can work on their game routinely.
An interesting experiment is underway this year at Nebraska. The school has added a publicly funded, $179 million arena and a $19 million practice facility, all for a program which has accomplished little, in terms of on-court success.
They haven't won a regular season conference title since their Big Eight championship in 1950 and haven't made the NCAA tournament since 1998. They've only had six total NCAA tournament berths in their history. Which is to say, the Huskers don't have much much history, stability and a track record of producing NBA level talent.
With some of the most glamorous facilities in the nation, can a program, such as Nebraska, start bringing in four or five-star talent? That will test the true value of these multi-million dollar facilities in recruiting, rather than the elite – e.g. Ohio State – bolstering their basketball programs.