The 11W Community Interview is truly of the people, by the people, and for the people. You submit the questions, vote on them, and then we pass the top ones on to the biggest names in the world of Ohio State athletics.
Of the nine current Ohio State commitments, perhaps none of them have been talked about less than the subject of this week's 11W Community Interview, Montini high school's (Lombard, Ill.) star defensive lineman, Dylan Thompson. Dylan is on his way to Columbus not just for his college career, but was also on campus this weekend as he and a handful of Buckeye commitments participated in the Nike Football Training Camp that took place today at Ohio State. 
After the show he put on this afternoon, where he earned an invitation to Nike's "The Opening," a prestigious invitational only camp on Nike's campus, Dylan might find himself being talked about a bit more. 
While 6-foot-5 and 270 pounds doesn't often get overlooked, yet Thompson's recruitment was over so quickly that his chance to ascend the recruiting rankings never happened. He'll discuss why it his recruiting ranking is on his mind, why he chose Ohio State and what players he is most interested in playing alongside of him and more. Check it out.
What part of the Ohio State facilities impressed you the most? Do you or any other recruit actually like when a school sends you 100 letters in one day? It always just seems bothersome to me.  - D1145Fresh
DT: With all of the social media and You Tube videos available, I had done extensive research and visited some of my top choices already, but when I walked into the Woody Hayes Athletic Center, I knew that was where I wanted to spend my college years. The place is amazing. It was spring practice time so the place was buzzing like crazy. I sat in on a D-Line meeting led by the high energy of Coach Vrabel, then we poured out into the halls filled with coaches and players and family. Not just player's families, but coaches family. They were everywhere. It was awesome, and so welcoming. My family and I just felt like we belonged. Then we went into the weight room, and wow. Coach Mick was awesome, and I can't wait to work with him and his staff. They were all great. Words can't explain Coach Meyer's office, either. If he isn't amazing enough, his office speaks volumes about him. Yes, there's lots of celebrity pictures and stuff there, but even more family. His framed commitment to his family really got to me.
The letters? At first it was cool, but then it seems kind of like they sit around a table like an assembly line. It wasn't very personal, even though they were hand written. The attention is great but that's not really what it is all about.
Who are you recruiting the hardest? Who do you want to play with most, already committed or not? - BuckeyeGuy0615
DT: I see Nyles Morgan and Jamarco Jones at some of the local events and have talked to them about how it would be great if they were Buckeyes and remind them of what The Ohio State University has to offer them. Lining up opposite DaShawn Hand would be awesome, too of course.  When you flush a QB out of the pocket or run down a RB, strength on the other side of the field is key.
Tell us about Dylan Thompson off the football field. Favorite food. Favorite music. Any hobbies or favorite things to do when not maxing out bench-presses or sacking opposing QB's? - TennBuckeye19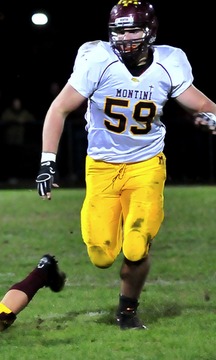 DT: Dylan Thompson off the field? Well my favorite food is anything homemade, it seems like my Mom is cooking all the time. I don't eat much of anything out of a box or bag. I am currently on a Chipotle kick, but homemade dumplings are my all time favorite (Thanks Mom!). Favorite music? I am a country boy through and through. As for hobbies, I like to eat, I shoot some hoops, and just hang out with family and friends. I don't have a lot of free time. Strength, speed, and agility training at Acceleration Pro take up most of my time and football camp starts next week.
What are your thoughts playing alongside, Noah Spence, Adolphis Washington and Joey Bosa? - JesterTCF
DT: Having my name included with the names in that question is amazing all by itself. Spence and Washington had a great year last year as freshman, and I look forward to learning from them and sharing the same field. As far as Joey Bosa, he is just one year ahead of me, so he is definitely somebody I have been watching closely over the years. Practicing with him on a regular basis and lining up next to him is going to be awesome and only make me better.
Does a recruit like yourself get hung up on the star rating and level of national recognition at this stage in the recruitment process?  - BuckGuyFan1
DT: At first it was important to me to be ranked, but I am committed to study and play football at the university that was my first choice, so compared to that, rankings are nothing. The only reason I would like a higher ranking now is to help Ohio State have a higher ranking in the recruiting process, but again, once the season starts, none of that will matter. That is part of why I committed so early. I saw no reason to wait around to collect more offers when no other school would draw me away from The Ohio State University and all they have to offer.
What area of study do you plan to pursue? How much did that impact your decision? - DMcDougal24
DT: At this time I am focused on studying Sports Medicine/Exercise Science. If, for some reason, I am unable to pursue my football dreams, I want to stay close to the game. Ohio State has an outstanding medical center, so yes, that was definitely a plus when I was making my decision.
Since you and Jamarco Jones are both Core 6 guys, Have you gotten a chance to talk to him or get a read on him? If so, do you think he favors the Buckeyes? - TDIBLE2132
DT: I am no longer training with Core 6 but have had opportunities to spend time with Jamarco at other events. He seems to be very interested in Ohio State and I believe when he makes his final decision, OSU will be in the mix. The opportunities for Jamarco at Ohio State are endless. I know that lining up against him in practice would certainly make me better.
Thank you everyone. I am so excited about coming to Columbus and becoming a Buckeye. The Buckeye Nation has been amazing. I cannot believe the overwhelming interest and support. I am an only child, from a very close knit family and feel like the Buckeye Nation has embraced me from the moment I committed, maybe even sooner. Any recruit that is on the fence would be crazy not to join this amazing Buckeye family. I am a Montini Bronco and always will and I am looking forward to being a part of our "Drive for Five," as we go for Montini's 5th state championship in a row. Montini has taught me how to win, how to be a champion, and I can't think of a better place, a better set of teammates, a better coaching staff and surely no better fans to continue this journey with than those I have found at the Ohio State University.