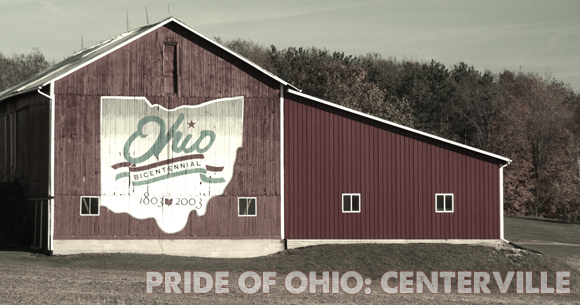 Centerville High School first opened its doors in 1885. Football didn't begin until 1948, but that hasn't hampered the Elks in becoming one of the top high school football powers in the state of Ohio. The school owns more than 20 state championships, though surprisingly none have come in football. However, don't let that sway you on their success.
Along the way Centerville has won 27 conference championships and been home to legendary head coaches. Bob Gregg served as the Elks' leader for 26 seasons. During his Ohio high school coaching career, Gregg won 301 games, 11th most in state history.
When Gregg retired in 1999, the administration at Centerville didn't have to look far to find his replacement. Ron Ullery began his career as an assistant at Centerville in 1977 and never left. And when you factor in overall success and community support, it's no wonder why Ullery chose to stay in the city of 24,000 located 10 miles south of Dayton.
"Fridays are what you would expect: special," said Centerville athletic director Rob Dement. "There is no doubt about it. Friday nights are incredible. The culture and tradition that has been established for so long is unexplainable."
Prior to his current stint with the Elks, Dement coached at another area school for 14 years. But he said he never truly understood what make Centerville tick until he was immersed into the everyday life.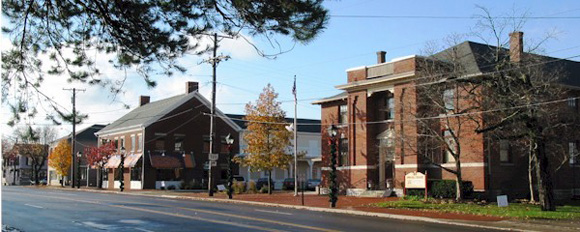 There hasn't been a losing season since 2001 and that's the only under .500 campaign dating to 1975, an incredible rate of winning. The consistency isn't totally unexpected. Centerville's enrollment is the third highest in the state. Located in southwest Ohio, arguably the most fertile recruiting ground in a talented state, the Elks aren't hurting for capable players. Still, it takes more than coaching and talent to pile up victories.
There's a smorgasbord of examples from the past where supposed super teams fell well short of expectations. In the same time period, Centerville has nine seasons of double-digit wins.
"We are blessed with a lot of individual talent, but what makes it unique is (the coaches) get the most out of the average kids," Dement said. "Because of the excellence that exists, those kids compete at a higher level. I think that's what makes it special.
Centerville, Ohio
Population: 24,109
Where: 39.639, -84.148
County: Montgomery
Zip Code:

45440

Area Code: 937
Fun Fact: Centerville has the largest collection of early stone houses in the state of Ohio.
"Yeah, they have talent. There's no doubt about it. But these kids work their behinds off, and I'm not just talking football. You pick a sport and watch them. Yeah, we have kids that live on a golf course. But they play every day and work at it every day. That's why they are good, because the kids work hard and the parents do whatever it takes to support them. They understand what it takes to be successful."
It's a community filled with college-educated adults. Nearly half the adult population has earned a bachelor's degree. You don't just show up at college and get a degree, it's something that's earned over time. Parents instill that work ethic into their kids. It rubs off and they realize success isn't handed to them.
Entitlement is verging on the norm these days. Even in a well-off area, though, kids grow up with a belief in working towards a goal. Ullery said people are often perplexed trying to quantify the continuous level of winning that takes place at Centerville due to the community's affluence. 
"What people forget is the affluence wasn't just given to people," he added. "They worked very hard for what they got and they've passed that work ethic to their kids. So, in many cases, kids are already motivated to succeed."
When Dement took the athletic director position at Centerville, he immediately heard horror stories about parents. His job would be tough because parents would get involved in decision-making he was told. Instead, the outside influence of parents has been minimal.
"These parents just want every opportunity to make sure their children are a success," Dement said. "It's such a competitive community."
It comes from a longstanding winning tradition. Expectations arise due to the past. The present and future are supposed to be in lockstep with the bygone eras.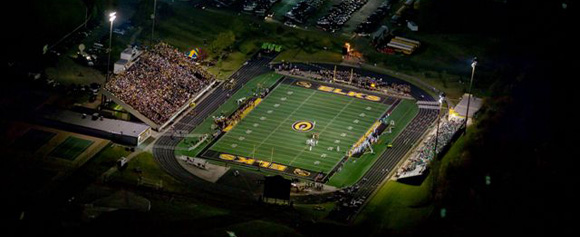 "Hard work is the only shortcut to success," Ullery said. "Everyone talks about how hard they work, but I welcome anyone to come here and watch these guys in June or July and leave and say they've seen a team that works harder than them. That's not just something we do now, we've done it for almost 40 years."
Inevitably, Division I caliber players will appear, as is the case in Centerville. Kirk Herbstreit, AJ Hawk, Mike Nugent, Michael Bennett and Evan Lisle ventured to Ohio State by way of Centerville.
The group has continued to be involved in the community, even after being removed for a significant period of time. They give their time by speaking and fundraise with autographed memorabilia. Paying forward and helping out remains an objective. When kids get to the high school level and strap on the shoulder pads, the measuring stick becomes the all-time greats that ended up at Ohio State.
"They want to follow in those footsteps," Dement said.
Hawk and Nugent are eligible for the school's hall of fame this year. Dement joked that ballots won't be necessary.
"We don't always talk about how great of a linebacker AJ Hawk was, we talk about his work ethic, his humility, how he treated people and how he worked out in January when nobody was watching."
"We don't always talk about how great of a linebacker AJ Hawk was, we talk about his work ethic, his humility, how he treated people and how he worked out in January when nobody was watching," Ullery said. "All those guys have that 'it' factor."
On a recent recruiting trip, Virginia Tech offensive coordinator Scott Loeffler, a former Michigan assistant, reiterated a story about Hawk that occurred in 2005 after Ohio State's dramatic last-minute victory over Michigan.  
In the tunnel leading to the locker room, an Ohio State player was talking trash to a Michigan player when Hawk intervened.
"Hawk grabbed the guy, pushed him up against wall and said, 'Shut your mouth, you don't talk like that. You just participated in the greatest game played every year. You don't talk like that to other people that played in this game.'"
It's that kind of sportsmanship and quality in Hawk's personality that sticks out. And while Centerville is considered an Ohio State town, a local son from a few miles up the road is popular.
"Brady Hoke is from this area, so a lot of people respect Michigan and like Brady," Dement said. 
Centerville has an abundance working in its favor. The rallying around football is akin to a cult, support that many colleges would revel in. With just 10 games, and only five of them at home, each season, there's a greater sense of urgency and togetherness.
"As far back as I can remember high school football in Ohio has been huge," Ullery said. "People plan their weekends around Friday night. It's schools like Centerville that has built up a lot of tradition over the years that makes all the young people want to be part of that. Tradition breeds more and more tradition. People here don't take it for granted, but they assume that hunger for high school football will be here every year."
Workouts are just around the corner, and already Centerville is rife with anticipation. Hard work is a hallmark of the community, passed down through each generation, just like wins on the football field.
Pride of Ohio: St. Henry | Martins Ferry | Piqua | Amanda | Lakewood | Centerville