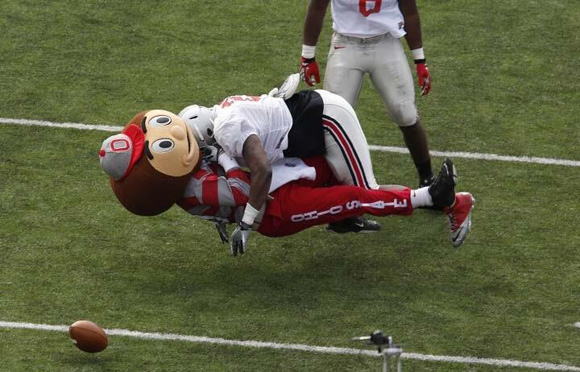 Linebacker David Perkins has left the Ohio State program, Urban Meyer confirmed today.
Urban Meyer confirms that David Perkins has left the Ohio State football program. Meyer called it a mutual decision.

— Kyle Rowland (@KyleRowland) May 30, 2013
"He's going to move on," Meyer said on Thursday. "I don't know where. But that's mutual, and I wish him well."
"I think anytime you lose someone it's disappointing. But that's business. If he sees himself behind another player that's going to be here for a couple years and someone's guiding him (that's his decision). It's not like it was a nasty break up. We wish him well."
Word of Perkins' departure first surfaced three weeks ago. Bowling Green, once mentioned as a possible destination, has been ruled out, according to a spokesman at the school. The Falcons have been ruled out because Perkins was arrested on while on a visit to campus Memorial Day weekend (mugshot).
We wish Perkins the best of luck, wherever he ends up. And Brutus, you have your revenge.