Ohio State and Alabama. Alabama and Ohio State. Meyer vs. Saban. The legend vs. the devil. The script almost writes itself. Ohio State waltzes through a relatively easy schedule while the Tide emerges from the intense internecine warfare of the SEC battle-tested and ready to deflate the massive collective ego of Buckeye Nation.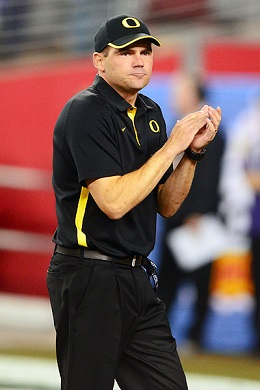 That is how the story is supposed to go. But things have not been that simple over the past few years, even in this era of dominance by those schools down south. Going over the list of schools that have made it to the biggest of all college football games lately will give you pause in making the easy prediction. 
Did anyone have Notre Dame in the championship game last year? That's an easy one, you say. A one-year aberration. The year before, the two final teams were LSU and Alabama. But the pre-season polls both had Oklahoma at #1. In 2010, the two teams that made the championship game (Auburn and Oregon) were not even ranked in the top 10 in the pre-season polls!
The fact is, even if the season goes largely as predicted, it is still likely that at least one of the participants in the mythical national championship game (thankfully, the last year I'll have to employ that phrase) will be a surprise. Just like Ohio State in 2002 (AP #13 pre-season), LSU in 2003 (AP #14 pre-season), Florida in 2006 (#8), Auburn in 2010 (#22), and the Irish last season (unranked).  
So if it's not 'Bama that Ohio State will be playing for the crystal football after this season (going for the best possible outcome here), what other team might be able to get there? There are many candidates, but based on last year and what I'm seeing in pre-season rankings, I think there are at least 3 solid candidates and a couple of might-be contenders.
It's not going to be easy for any of them though. Alabama has won three championships in the era of Satan, including the last two. It will probably take 2 losses and not getting to the SEC championship game in order to keep them out of the final 2 this season. If that happens, one of these teams will be ready to fill the void.
Oregon
The Ducks are an obvious choice. Last season they continued to set the standard for offensive efficiency, averaging over 530 yards of offense and almost 50 points per game. Their average scoring margin was an astounding 28 points. They dominated every team they played save one, and that one gave them their only loss. 
A quick look at the schedule shows that Oregon will not have much of a challenge until they go on the road to face Washington on 10/12. Then there is a road date at Stanford, the only team to beat them last year. Get past those, and the sky is the limit.
The one thing that complicates Oregon's post-season plans this time around is a pesky NCAA investigation into allegations of recruiting improprieties. The problems are well documented, and the NCAA might be getting close to a ruling. Already they have admitted that "major violations" have occurred. Will the Ducks be slapped with a post-season ban in 2013? That might be the only way to stop them.
Stanford
The Cardinal, as mentioned above, were the only team that had enough defense to slow down the Oregon attack, holding their own in a 17-14 overtime victory last season. That game was typical of their season, winning close games with tough defense and a strong running game.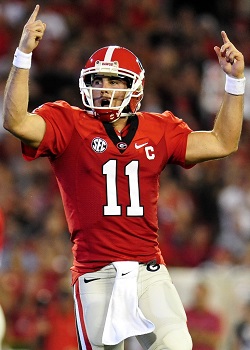 The loss of star RB Stepfan Taylor will hurt, but the entire offensive line returns to help senior Tyler Gaffney try to pick up where Taylor left off. Gaffney was not on the team last season but in his career he has averaged over 5 yards per carry. Also returning are QB Kevin Hogan and most of his receiving corps.
Stanford gets Oregon and Notre Dame at home, while playing Oregon State and USC on the road. That's just difficult enough to earn some strength-of-schedule points while still favorable to the idea of making a BCS run.
Texas A&M
Johnny Football's opening act was as good as it could get, but what will he do for an encore? Indeed, his team made their debut in the SEC a sparkling one, going 11-2 overall and pulling off the upset of the season, a 29-24 victory at Alabama.
The Tide is on A&M's schedule early this year, but it's at College Station and so if the SEC sophomores can hold serve at home then they will have overcome a major hurdle to making a run at the title. A late trip to Baton Rouge could be their Waterloo, but even with a loss in that game they might still make it to the SEC championship game. In that case, they could use the same script that Alabama used last season to get to the final game.
Georgia
The Bulldogs were one short TD pass away from defeating Alabama in the SEC championship game last season, a win that would have vaulted them into the BCS title game. QB Aaron Murray and most of the offense returns to try it again this season, but the defense must rebuild after losing 9 starters. A huge recruiting class of 33 players comes in to provide a fresh infusion of talent. Will it be enough to get them through their murderous schedule that includes a road trip to Clemson and home games against LSU, Florida, and South Carolina?
Clemson
The Tigers return star QB Tajh Boyd, who passed for over 3800 yards and 36 touchdowns last season while leading his team to an 11-2 record and a victory over LSU in the Chick-fil-A Bowl. Boyd will be missing his top receiver DeAndre Hopkins, but there is plenty of talent on offense ready to step up. The defense was a problem for much of last season but should be much improved in 2013. Clemson gets Georgia at home to open the season and has revenge games at home against FSU and on the road at South Carolina. These games are spread out and as such they give the team time to work out some kinks against inferior opponents. 
Other teams that might challenge for the title game are South Carolina, Louisville, Michigan (haha...Ok maybe), and Florida. Do you think it might be one of these? Or is there another surprise team that I'm missing?