It's the return of the summer Dubcast and 11W's own Johnny Ginter and I are back. It's been a month since you last heard from us, and they say that absence makes the heart grow fonder. We'll gladly test that theory.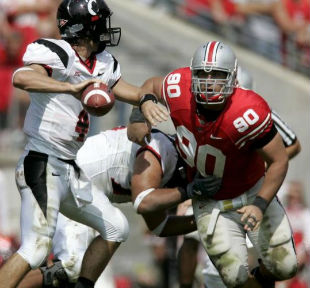 We start out by talking about the Big Ten's schedule for 2014, which was recently released. We scoff at Wisconsin's ease of schedule and we spend a lot of words talking about Rutgers and Ohio State's non-conference foes.
We also touch on a potential new B1G-ACC bowl game in...Detroit? Other topics for discussion include pre-season watch lists and polls, and whether or not we should care about non-revenue sports.
But the big news is that former Ohio State defensive lineman Quinn Pitcock (@QPitcock on Twitter) drops by the Dubcast to discuss his NFL Draft experience, playing for the Colts, his depression-fueled video game addiction, arena football with the Orlando Predators, and more! Keep in mind, you're getting all this entertainment completely gratis.
In our Ask Us Anything segment, Johnny and I try to figure out the whole Game of Thrones thing, relative to college football. Spoiler: we fail miserably. Don't forget, the Dubcast is in the midst of its Summer schedule, meaning you'll hear from us next in June. The good news there is every time there is a new Dubcast, you're one month closer to the off-season's end! But by all means, please keep sending us your questions! You can do so at elevendubcast@gmail.com.
Grab yourself an ice cold glass of your favorite beverage and lend us your ear for awhile. Here's the breakdown:
0:22 – The 2014 football schedule, bowl games no one wants to go to, pre-season watch lists and polls, and non-revenue sports talk!
23:00 – Quinn Pitcock jumps on and generously shares basically everything he's done since leaving Ohio State.
43:13 – AUA: Game of Thrones? OK, sure.
This week's music includes Malignant Narcissism by Rush, New Song by Howard Jones, and Gentle Art of Swimming by RPWL.