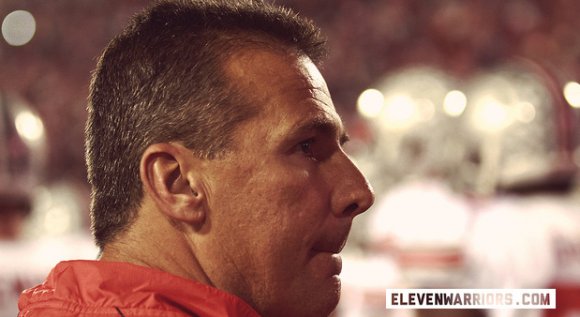 For Ohio State to fulfill expectations of themselves, fans and the national media - aka winning the 2013 BCS national championship - the Buckeyes will most likely have to post an undefeated 13-0 record. 
Sure, a healthy smattering of one-loss teams have won the national title, including six of the last 11 squads to hoist the crystal football since Ohio State ran the table back in 2002, with Alabama taking back-to-back titles despite dropping a game each season.  
Not surprisingly, all six of those one-loss champs hailed form the Southeastern Conference. 
Meanwhile, the B1G was busy morphing into the nation's punching bag. That fact, along with Ohio State's unquestionably weak schedule, makes it pretty safe to deduct the Buckeyes must run the table if they have any designs on meeting the growing expectations by capturing the final installment of the BCS national championship. 
Looking at the unimpressive schedule, the march to 13-0 would have to feature a non-conference win at Cal, and shortly thereafter back-to-back wins over Wisconsin and at upstart Northwestern, both under the lights. 
Five consecutive wins over decidedly-meh conference foes following the trip to Evanston would set up a a date in the Big House, with the Buckeyes looking to use their 11th win in the last 13 tries against That School Up North as a springboard into their first appearance in the B1G conference championship game. 
A victory in Lucas Oil stadium, most likely over Michagain, Nebraska or Northwestern would almost certainly set the Buckeyes up for a shot at their first national crown of the Urban Meyer Era. 
Where it gets dicey, beyond the fact Ohio State would more than likely have to defeat an SEC foe such as Alabama for the national championship, is that a victory in the BCS title game would also mean the Buckeyes had reeled off 26 consecutive wins, spanning two perfect seasons. Just how big of a deal would that be? For some perspective, here's a list of teams over the last 40 years to win at least 26 straight games:
26+ GAME WINNING STREAKS IN LAST 40 YEARS

| YEARS | TEAM | CONSECUTIVE WINS | SPOILER |
| --- | --- | --- | --- |
| 2003-05 | USC | 34 | Texas |
| 2000-02 | Miami, FL | 34 | Ohio State |
| 1990-02 | Miami, FL | 29 | Alabama |
| 1991-93 | Alabama | 28 | Tennessee |
| 1978-80 | Alabama | 28 | Mississippi State |
| 1973-75 | Oklahoma | 28 | Kansas |
| 1994-96 | Nebraska | 26 | Arizona State |
 As you can see, 26 straight wins is pretty rarified air. The reality is that the beauty of college football is that anything can happen on any given Saturday. 
Unfortunately, that reality is often overlooked until you're reminded of its presence via an unmerciful heel-stomp to the marbles, as absorbed back in 1998 when the mighty Buckeyes let a potential national championship season slip away against Michigan State.
Plus, as I touched on last week, as loaded as the 2013 Buckeyes appear to be on offense, a realistic and all-encompassing evaluation of this group identifies a defense that will be replacing its entire starting defensive line from a year ago and six total starters from the front seven.
In talking recently about the 2013 season outlook with Beau Bishop and Bill Rabinowitz, Bishop mentioned the noted ground swell that the season is setting up as a national-title-or-bust scenario and that accomplishing the feat would also mean Urban and company had racked up 26 straight victories which, from looking at the chart above, would be nearly as historic as capturing the crystal.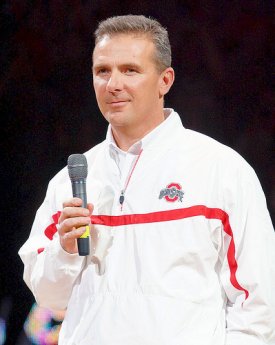 Conversely, failing to do so would be a crushing disappointment, especially if at the hands of an SEC opponent, that could have downstream implications on the program and Meyer's reputation among a subset of fans.
As great as Tressel was, delivering the 2002 national championship didn't save him from harsh criticism delivered by a faction of fans and media following back-to-back embarrassing losses to SEC foes in the 2006 and 2007 national championship games. 
With Urban's sometimes polarizing persona which showcases a more aggressive and intensely honest approach to anything and everything about Ohio State football, the expectations have done nothing but escalate since his arrival in Columbus. 
Taking all of these factors into account, it will be interesting to see if some fans experience any shift in feelings toward Meyer and the OSU football program in general should the Buckeyes fall short of the ultimate goal.
It seems preposterous to imagine Meyer's coaching and/or leadership abilities taking a hit should the Buckeyes fail to win it all but achieving the highest levels of success breeds the highest levels of expectations. 
I'm pretty sure that's just fine with Urban Meyer.
But what about you - if the Buckeyes do fall short, does your opinion of either Urban or the state of Ohio State football as a whole get knocked down a peg, or will you be able to keep sight of the bigger picture?