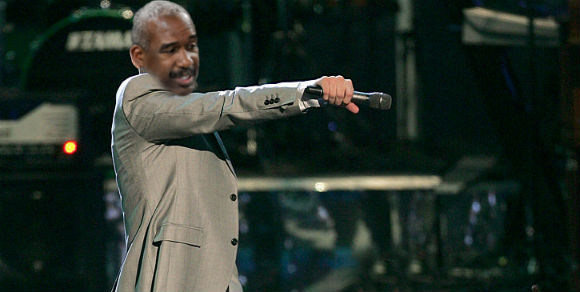 The Big Ten athletic directors' meetings generally provide some mildly interesting tidbits of information in the midst of the desolation we call the off-season. It gives them a chance to congregate, discuss matters integral to college football, smoke stogies and eat endless supplies of Ro-Tel — at least that's what I imagine happens at these meetings.
Among the many topics the ADs discussed was the current game day experience and how to make it more exciting. The B1G might be widely considered a stodgy, old boys' network of stuffed shirts, and perhaps deservedly so, but at least the athletic directors are trying to change that perception, as Chad mentioned earlier this morning. They want to make the B1G fun again, which in turn should help the league's coaches recruit better players and produce a more exciting on-field product.
Michigan State AD Mark Hollis said:
"It's not your grandfather's conference any more. There's so much greatness and so much tradition that needs to be continued and talked about, but also try to add a little unique freshness that's unique to young kids."
Making the football better is the critical factor in growing the B1G's brand and changing the national perception that the conference's best days are long gone. There are two ways to make that happen — improve the coaching and land better players in the recruiting process.
Improving the coaching means attracting the best available talent, both on the head coach and the assistant level. You do that with money. The Big Ten may be catching up in the coaching salary race, relative to the other major conferences, but it still has a way to go when it comes to paying assistant coaches. Ohio State and Michigan are more-or-less keeping up with the nation's other elite football programs, but the Minnesotas and Purdues of the world still have some catching up to do.
Urban Meyer is the league's only "rock star" coach and it didn't take long for him to recognize the Big Ten's problem is that it's largely failing (as a conference) in the national recruiting picture. Meyer wasn't shy about his opinion on the matter, and a glance at the recruiting rankings backs up what he said.
Outside of Ohio State and Michigan (and perhaps Penn State), recruiting is not what it needs to be for the Big Ten to challenge the SEC as the nation's best conference, top to bottom, regardless of what Bob Stoops says.
Kentucky and Louisville are starting to grab the kinds of kids that used to end up in East Lansing and Iowa City. Some B1G schools are having trouble keeping their state's best prospects at home. It's early in the 2014 recruiting cycle, but healthy Iowa, Nebraska and Wisconsin programs shouldn't be getting beaten by Baylor, Vanderbilt and Duke. But here we are.
There are several components to improving recruiting, such as hiring charismatic coaches that can relate to today's players, impressing them with the best facilities and stadium experiences, and appealing to their sense of style with exciting uniform combinations. The B1G's athletic directors have direct control over all three of those phases.
In Meyer, Brady Hoke and Bill O'Brien, the conference has three guys who have proven their ability to land top recruits. (And it's especially impressive what O'Brien has done with an essentially crippled program that can't lure kids with the promise of a bowl trip.) The rest of the conference has to catch up. Purdue's hiring of Darrell Hazell may prove fruitful in that regard, but as of yet he's unproven and the rest of the league is not quite measuring up right now.
But there are things that can be done to help the coaches with recruiting, and that's what our ADs have been focused on. Stadium upgrades, new state-of-the-art facilities, flashy alternative uniforms, and improving the game atmosphere are all ways to bring sexy back to the B1G — to make it the kind of conference in which the top kids will want to play.
Penn State has taken an interesting approach. The Nittany Lions are working on putting together a trip to Ireland for a game, which could mitigate a lost bowl game in a recruit's eyes. Wouldn't you rather visit the Emerald Isle than Jacksonville or Houston?
The overall experience of attending a game, an aspect that the ADs can influence, is a big part of recruiting. Many schools have been addressing that on their own already. Minnesota recently built a new stadium. Ohio State and Michigan State upgraded their video screens. Sparty is renovating Spartan Stadium to the tune of $20 million, while Ohio State is working on upgrading cell service. Things are happening.
Getting fans in the seats hasn't been an issue for some schools, but at places like Northwestern, Minnesota, Purdue and Indiana, it's been an ongoing problem to solve.
Indiana AD Fred Glass says his focus is squarely on the game day experience:
"More highlights, more scores, more fun, coloring outside the lines a little bit," Glass said. "We'll play to our strengths — the band, the cheerleaders, the pageantry of college football, flags and color, engagement of students — and spent a lot of time really trying to enhance that. That's not only a great thing for our fan experience, it translates into the cool factor for recruits who come in."
But even places where attendance has been strong, it's the overall atmosphere that has suffered — and it's the students that provide the atmosphere and the energy that programs crave and coaches can sell to recruits. Even That Team Up North has had issues with getting students out of their beds and into the stadium. Some have even (hilariously) resorted to bribery to get kids to show up:
Word from Coach Hoke: Free glazed donuts for all students before noon home games. #goblue

— Laura Raines (@itsraininglaura) April 24, 2013
Minnesota used school resources to study the problem and find solutions.
(Minnesota athletic director Norwood) Teague had a group from Minnesota's Carlson School of Management study student attendance at the school. They found that students want a gathering place before games, so the school is providing an entire parking lot near the stadium, Teague said, which will be monitored.
And of course, night games are a big part of building atmosphere. The athletic directors have opened their minds to more games after dark, leading to the league's most extensive slate of night games ever this upcoming season. They're even rethinking the whole "no November night games" policy. Just don't tell Gene Smith you want The Game played after dark or he'll question your well-being.
Personally, I think The Game at night would be outstanding. A conference should absolutely showcase its best games in prime time. It would be an ideal way to package the Big Ten for potential recruits and probably wouldn't hurt television ratings either. It would certainly help bring sexy back.